Once more into the breach for the drunks that populate Gandermonium. Apparently, life was an obstacle for the blog's resident author for the Tuesday trip to Northampton; what the fuck is life when the U's are playing? Actually, what is it full stop? Is it what you make of it or a Minestrone?
The county of Northamptonshire has not always been kind to yours truly. On the afternoon of the 1973 Amateur Cup Final, I ripped my face open on barbed wire in a rural setting near Wilby, resulting in five stitches in my left cheek. I screamed the place down as they injected the anaesthetic into the wound. Kettering hospital rather than Northampton because the latter were butchers, allegedly. Local knowledge, not mine. My aversion to needles ever since has been diluted somewhat with the recent Covid vaccine programme though.
Last season's victory at Sixfields also boasted a casualty, my left boot, that following the incessant rain that fell that afternoon, disintegrated a week or so later. Loved those boots. Leather uppers, £25 from M&S outlet at Portsmouth Harbour. Bargain or so I thought. As with most away trips this season with train travel subject to disruption the reliance on the Supporters' Club coach is a Godsend and the dutiful John P continues to do his best for the hardy travelling fan. There appear to be a few rumblings in that direction at present although I am not fully aware of the facts.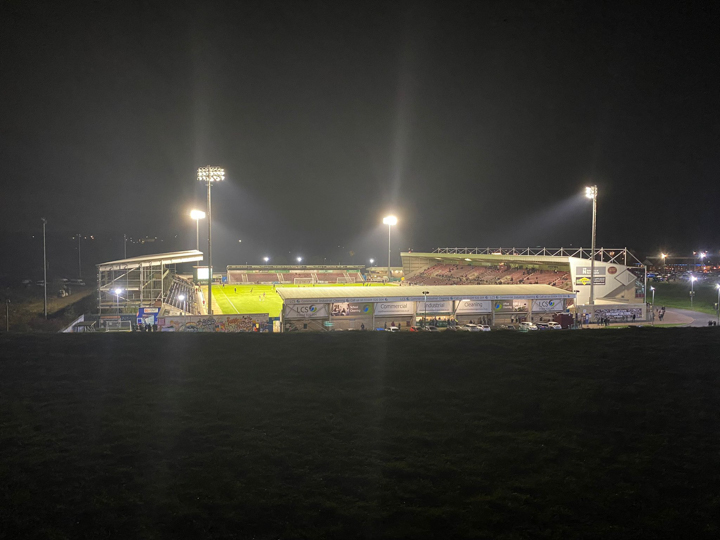 I left my south coast bolt hole around 1pm for a 3pm coach leave from the PROWS. Plenty of time, lovely sunny afternoon and an uneventful drive up the 24. The journey to Sixfields was, as ever, added to in time by the M25's western approaches; an hour and a half on the bloody thing. Still, no problem for me as I don't imbibe before a match and obligatory programme purchased I managed a chat with two Sutton fans who had taken the opportunity for a country pub lunch. Discussion around their jobs raised the issue of staff shortages in one particular sector, which, for us of a certain age, is concerning. One for Rishi (assuming he hasn't looked at the state of the UK and opted to consider the pursuit of that Green Card already).
On arrival at Sixfields, the fact a local circus had pitched up on adjacent ground had me wondering if the referee had brought his entire home with him. Harsh maybe but having witnessed some recent officiating performances, one can never dismiss the idea. I don't suffer from coulrophobia (yeah, I looked it up) except for the occasional ones that run around a football pitch with a whistle. I do find clowns unfunny though. One of the most boring evenings I can remember as a child was spent at a circus. I waited for the clowns to appear and they were a massive disappointment. Give me the wit of the comedy writer (sorely missing here) any day.
So to the football, sorry. I already knew Louis John was missing, the ground maintenance team passing on that info as they tried to fix some red seats in the stand back at the VBS before the coach left. Easty was always going to be a doubt so the U's lined up as follows:
Ward, Boldewijn, Kizzi, Rowe, Hart, Milsom, Neufville, Lovatt, Bugiel, Wilson, Randall SUBS: House, Dundas, Fadahunsi, Gambin, Thomas, Kendall, Kouassi
Such is the current predicament that Matt Gray's squad finds itself, other than Dundo, Gambin and House, the bench was populated by out and out forwards. With The Cobblers going well and boasting the division's leading scorer, although only fit enough for the bench, I feared another Stevenage type evening and after the first 45 minutes, my fears appeared realised.
Northampton was lively going forward but Sutton started solidly if not looking much of a forward threat. That was undone in the 15th minute and it shouldn't have been. The hosts hit a diagonal from left to right but the recipient, dead in line with me (and a few others) was clearly offside. Now, as a former ref and having run a few lines too, the hardest offside decisions are often those right in front of view and so the lino missed it and Town won a throw. From this they moved the ball across the box and Leonard found the corner with a low shot. "Oh dash it" I said.
The second goal came down their left and Pinnock got away to finish well across Lewis Ward. His celebration in front of the visiting 159 was both ridiculous, unmerited and frankly bizarre. It was a blatant attempt at provocation and as your writer is rather easily quick to be reeled in the words I yelled at him did include one beginning with C; it wasn't clown but it was the only one in the English language that was appropriate. He wasn't alone as an even more unexplainable act by one of their players with the corner flag followed. The ref shook his head when really he should have booked Pinnock. Hands to ears, knee slides, raised arms all fine but not Pinnock's actions. Boy did that come back to haunt the Cobblers' boys later. Oh, how I laughed. Sportingly.
With Sam Hart on a yellow and their management on the bench (wankers) doing their best to get him a second following a halfway line foul, Matt brought Kylian on up front for the second half. Rob Milsom dropped to his usual left back with Omar Bugiel in centre mid.
Now, whether those changes made the difference is not exactly debatable but the early second half goal certainly did make one. Progress down the left, Milsom's whipped cross and Omar arriving Bryan Robson style for a diving header. Suddenly the belief that was missing in the first half and that is indicative off Matt G's U's teams was there, while Pinnock and Co shrank into their collective shell. Bugiel and the excellent Lovatt harassed, controlled and showed quality on the ball. Kouassi won the vast majority of his aerial duals (he really is coming on is Kylian) and U's were as the popular phrase goes, on the front foot. Omar's harrying led to an error and Donovan Wilson raced away to score with a rising left foot shot. On the right flank, Josh Neufville had been giving their left back a torrid time and from a bleak h-t outlook, U's looked the more likely. Northampton had their moments in the second half while U's went close to a third with late efforts from Joe Kizzi and Omar. The division's top scorer, Hoskins, came on but other than forcing Ward into a decent save his main contribution was a yellow card for a foul.
2-2 it finished. Cobblers' manager, Brady lamented about their injury list. Welcome to the club mate. That second half Sutton performance was quite outstanding though and the score-line a fair one. Pinnock's provocation rendered even more stupid than it was at the time. A fact I reminded him off, well, sort of, as I headed down the steps, the loos and then the coach.
As ever on these midweek trips, motorway closures would affect the journey home. At least this was known beforehand and while a brief detour through Towcester was needed the A43, M40 and M25 held no further horrors and having arrived back in the PROWS just after midnight, south coast bolt hole was arrived at around 0120. Just over twelve hours for ninety odd minutes' football. Am I mad? Certifiably so. But what's life without it? What you make of it or a Minestrone?
Frakey
Att: 4,800 (159 away)