Deep breath, hold your nose and in we plunge again into the deep end of League 2. After Saturday's valuable first win of the season over Barrow, there's no time to rest on our laurles as we're back on the road once more and taking in a new venue for the third time this month with a trip up North (where else?!) again to Crewe. Now, we've seen Gresty Road many a time in recent years as we trundled into\through Crewe on the way to and from the likes of Wrexham, Chester and Salford and also when popping out to Dominos round the corner for the traditional train pizza run on the way back from most of those places. Back then, it always seemed like one of those venues that we'd see all the time and would taunt us with never getting to visit, even back in the National when an FA Cup run seemed the only real chance we'd get.
But, as mentioned many a time on here already, Mr Gray's shenanigans in the dugout have flipped all that on its head and with Crewe chucking in a proper rotter of a campaign last year, we suddenly find ourselves coming face to face in the Football League. Definitely one for the already massive "If you'd asked us 5 years ago…." list and no mistake. Sadly, the FL fixture gods are not smiling on us for this one and our inaugural trip to the ground near one of our favourite awayday pizza spots is slated for midweek. Fucking typical. So there'll be now wholesale exploration of the local watering holes this time around. Well, at least not for some of us anyway.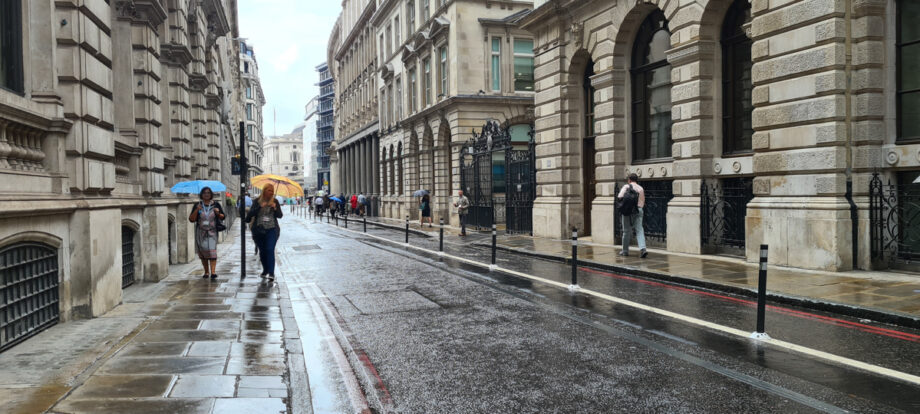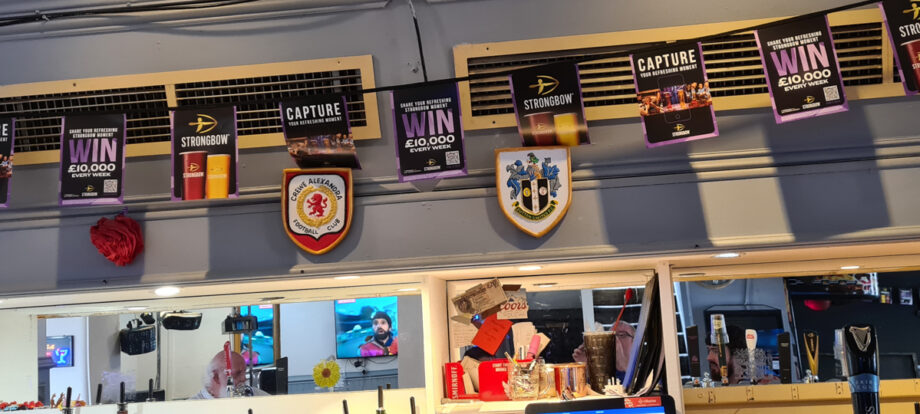 My initial plan for this one was to hit up Crewe after a half day at work, crash in some digs nearby and then train it back in the morning before going straight into the office for an afternoon's graft. But with Avanti declaring that they don't fancy running as many trains, I don't particularly fancy getting stuck in Crewe or spending 2hours stood up on the way home even if they do bother, I wavered and handily discovered that whilst Mr X was driving up he was only transporting Magnum there, so would have seats coming home. Sold! So with a spot in the Mystery Mazda secured, I booked my half day and bagged a single for the first leg on the rattler northwards. Naturally, despite Avanti, you know, the train company who don't fancy running many trains, this still costs me a bullseye. Yeah, same money for a lot fucking less, as per usual. About sums up the profit first cunts doing the rounds these days. Even Gordon Gekko would choke on his filofax with the carry on from some of these fuckers these days.
Awayday prep coupled with usual morning routine throws my timing off a touch and I have to bin off my usual walk to Wallington for the train to town, instead having to hop a bus for East Croydon. Although I have to hop off the 410 and change to a tram as the bastard's only going to West Croydon. C'mon lads, it's a morning commute, not trial by fucking fire. Give it a rest eh? A packed train later and a muggy walk to the office via the caff for a much needed bacon roll and I'm finally at the grindstone. A half days graft later, I gleefully slap the laptop shut at bang on 1pm and head out into the light rain now falling in the centre of London. Good job I've not worn shorts today eh? Ah bollocks. To be honest, with it being so hot lately, I don't mind and quite enjoy the cooler air as I stride down to Bank and the tube to Euston. Ah yes, Euston, it's been a while.
Arriving at the big E with a good 40 minutes to my train, I raid Marks for some food and a can for the trip before heading onto the concourse and joining everyone else in craning their necks starting up at the departure boards looking for the platform for their trains. As I stand steadily getting a mild pain in my upper spine waiting, a couple of staff walk past and they're discussing their next assignment. "So it's 14.07 to Liverpool on 13 yeah?" one says to the other as they pass. Light bulb! I'm soon in close pursuit through the crowds to get a jump on the customary platform rush that this place is known for. Which is especially crucial today considering the 2 before this have been binned off. I follow my targets down the ramp to the gate and dump my bag to await passage to the platform. "Er, can I help you?" the puzzled gate lady asks when she finds a smiley ginger man waiting right there seconds after they themselves have arrived. "14.07 to Liverpool via Crew off platform 13, right?". "How do you know?" she asks. "Loose lips sinks ships love!" I reply with a grin. It takes a moment for the penny to drop. "Fine, but you're not getting on until they tell us to open the gate". Suits me, I'm just here to beat the rush!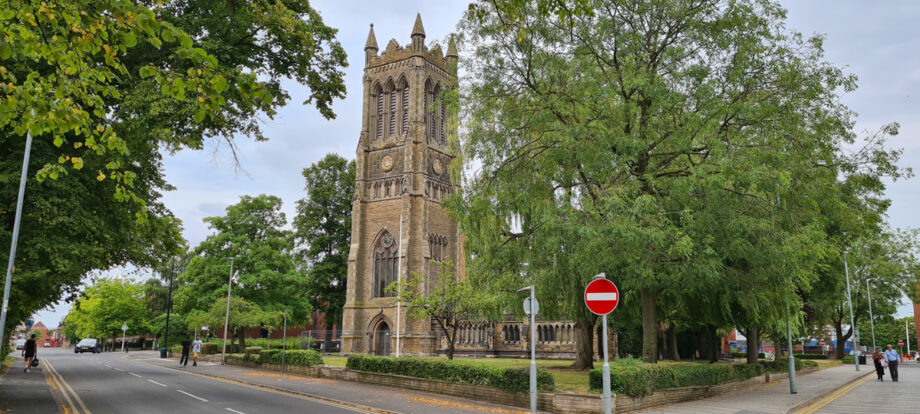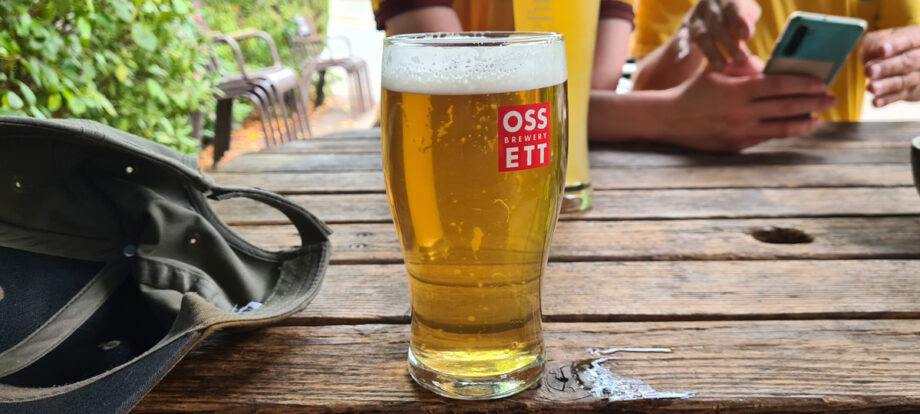 15 mins to departure they swing the gate open, scan my ticket and I'm off down platform 13 to my seat. I look over my shoulder and see that the stampede now no doubt heading across the concourse hasn't even hit the top of the slope yet. Up there for thinking, down there for dancing as my old man used to say folks. I hit my seat and have my phone plugged in and am munching my sarnie before another soul joins me. There then follows the usual seat roulette where the train company that can't be fucked to run trains also apparently can't be fucked to run a proper booking system either and numerous people board to find their reserved seats sold to someone else. Slow hand clap all round there lads. No one bothers me however, either because I've got a table full of scoff, cans and a big book or I'm giving off my best "My seat. Fuck off" look. Still we're soon on the move, leaving London behind.
Fed and watered, I turn my attention to getting stuck into a book I've been meaning to read for a while now. It's one I spent a lot of the Pandemic hunting for as it's now out of print. A little known WW2 memoir written by one of two Cockney twin brothers who served in the Royal Armoured Corps in the drive across Europe following D-Day. The reason I'd spent 2 years hunting for it and shelled out the best part of 30 quid for a copy? Well, that regiment was the same as my grandad's on my mums side during the war and not only that, they were in the same Squadron as his too for much of the campaign. So yeah, I bought an obscure book to see if my Grandad's in it. Niche, I know. But why not eh? It certainly helps pass the time, as does the can I got from Marks and before I know it we're pulling into Crewe. I hop off the platform and as I walk up to the exits, I see a large group of blokes in tracksuits and there's a big bald looking geezer in front coming from the other end. Team's in!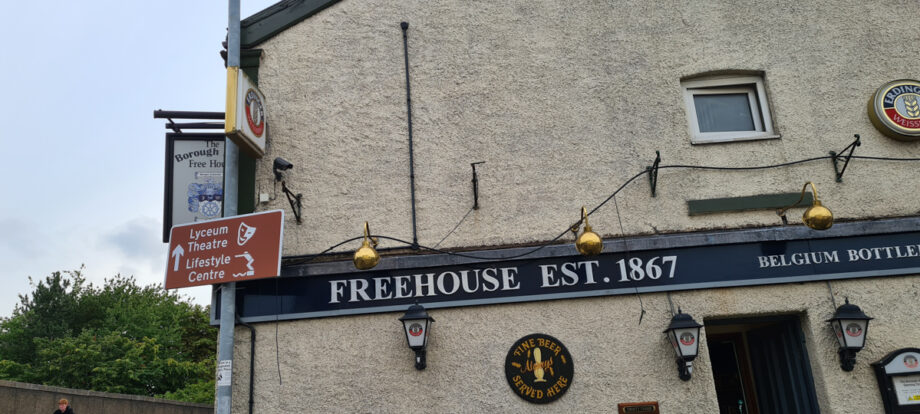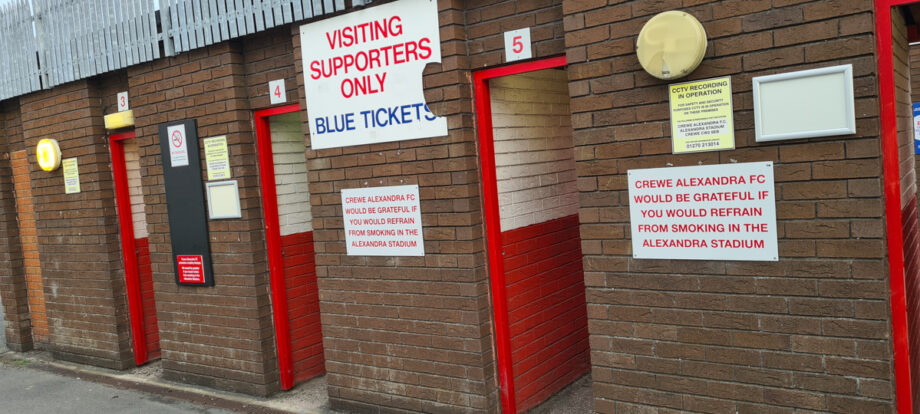 We converge at the same time and the gaffer smiles as he spots some of tonight's away support. Me! Quick hellos and I'm straight to the point. "All fit for tonight?" I enquire before Matt reveals it's the same side as the weekend apart from Omar who's tweaked his hammy. Kwame's starting instead. "Suppose you're off to the pub?" he asks. "Might be!" I reply "Feel free to join us for one, you've got assistants for a reason mate!". Matt just laughs and sets about shepherding a League 2 squad through the barriers at a train station. But I saw it in his eyes, he was definitely tempted. Honest! The art of delegation gaffer, all part of management that! Leaving the lads to their pre-match prep, I head off in search of 4Days and Indy, who should be in a battle cruiser somewhere nearby. I make my way past our main awayday pizza outlet and cross the road when I spot the Brunswick Arms on the other side. As I thread between the cars queueing at the lights I get a nice little "Well hello!" from a car with two females in it. Ok, they're no perfect 10's but with my continued hurtle into middle age, one only needs a smile off a 6 or a 7 to give the ego a little nudge these days. Sorry ladies, would love to chat, but I'm taken and besides, a pint awaits. Also, I'm not a footballer as you've no doubt assumed with the polo top and big bag on my back. Sorry.
The boozer is a proper old man's gaff, with about 4 people in and one lass behind the bar. 4Days and Indy are sat there with a Guinness on the go each and chatting to an old fella at the bar. Turns out he's a bit handy with a bit of plaster of Paris and this is why there's a Sutton United badge\plaque above the bar next to one of Crewe's. Turns out he makes them on the side these days and he's done one for all the teams that Crewe play at home and the boozer puts a different one up each time. Nice touch! We sink our pints and catch up before Hammers Paul from the COCs wanders in. He's been down the road already and confirms that our next destination, a Belgian beer place, is decent. Good stuff. We say our farewells and set about the stroll down towards Crewe town centre and a few more beers. Along the way, a local scally with his mates shouts "ALEX!" very loudly as he walks past. Sorry mate, I'm Taz and this is 4Days and Indy. At least you tried though. D'you do any card tricks instead? We're soon sat outside Hops, the Belgian gaff and sinking a very nice pint indeed to further pass the time. As we sup, Magnum announces they're 30 mins away and asks where we are. Guess we'll be having another here then!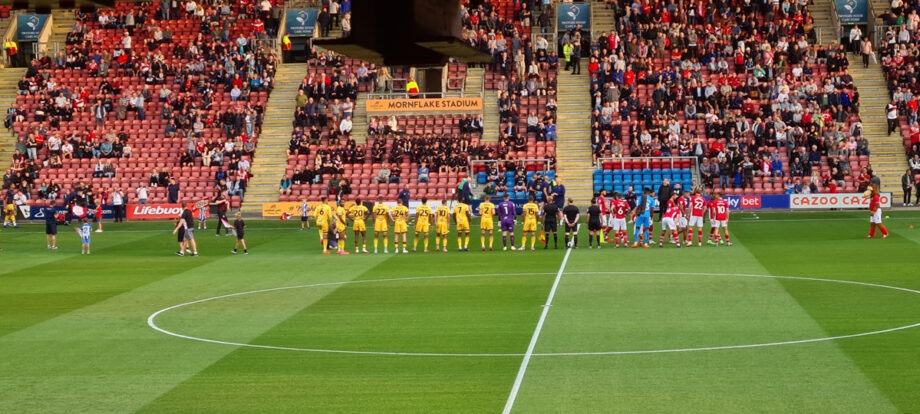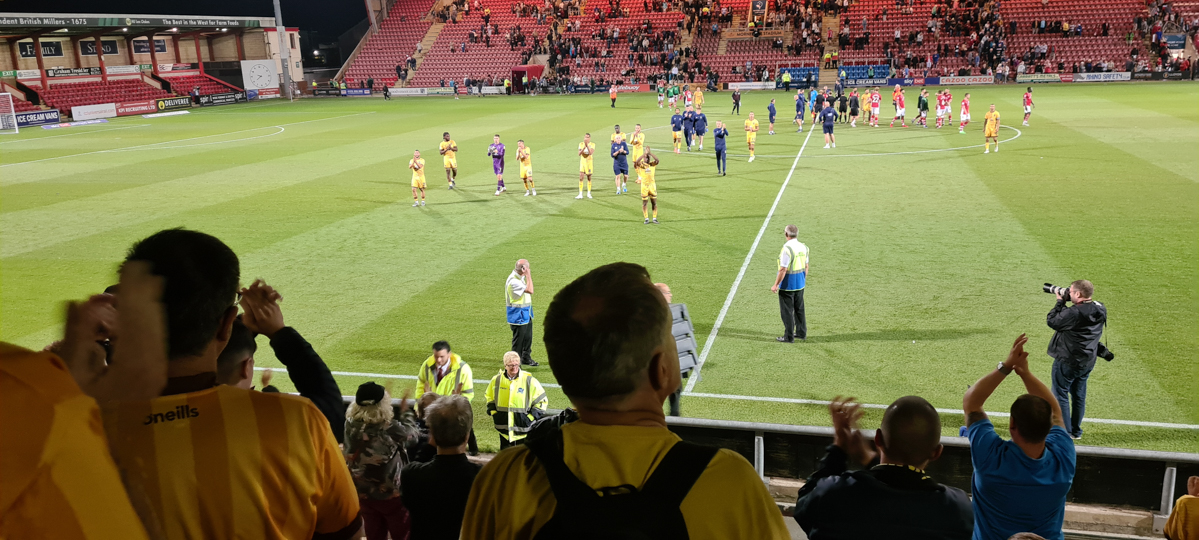 Magnum's soon dropped outside by Mr X who then darts off to juice up the motor for the return journey later. Here he informs us they'd probably seen the lead up to a proper stinger stop on the opposite carriageway of the M6 on the way up and just as he tucks into his own pint, he gets pinged for a possible bit of dick work, where else but in Crewe! "I wonder if the pub's got a printer?" he briefly muses, no doubt wondering how he can get his paperwork sorted if he took the gig. We down our pints here and head a short walk up the road to the Borough Arms, the local CAMRA haunt and get another round in. Here Mr X joins us for a soft drink having parked up at the ground and soon Keepo, Vegan Bev are in too. 4Days is also on a sulk as his last train home tonight (arriving in London well after 1am!) has just been cancelled. "Don't care, they're getting me a fucking cab home!" he declares with a bit of pout. Naturally, he gets tons of sympathy from us lot. Here a further discussion also involves getting shit prodding harridan Gillian McKeith and former Eastenders actress Gillian Taylforth confused. Don't ask. We have a couple here and a quick pre-match G&T is knocked back and then we start the walk back down to the ground for the match. Shame this is a Tuesday night really, looks like there might be enough pub wise to keep us entertained in normal circumstances.
As we head to the ground, Mr X refuses to accept that the 'Pet Hire' firm he saw earlier coming into town was actually a tool hire firm called 'P.E.T' and I brighten up Crewe with some stickerage. A little further on, 4Days is relieved to hear that his train has now been restored to action, with it starting in Preston instead of somewhere up in Scotland or something as originally scheduled. At the ground, we bin off the idea of trying the recommended chippy by the away end as the queue outside is massive. Pie it is! I hit the ticket desk to get my brief for the night, mainly as this lot were only doing online sales for this one and being a sad loser, I'd much rather have the stub than a fucking QR code on a PDF on my phone. It's the little things you see. The stewards are refreshingly 'couldn't give a fuck' and just wave through the big flag bag and having sorted all that out (take note Port Vale!), I head for that pie and some pre-match soakage.
Rose, Milsom, Kizzi, Barden, John, Eastmond, Beautyman, Neufville, Boldewijn, Wilson, Thomas SUBS: House, Dundas, Kouassi, Fadahunsi, Ridley, Gambin, Smith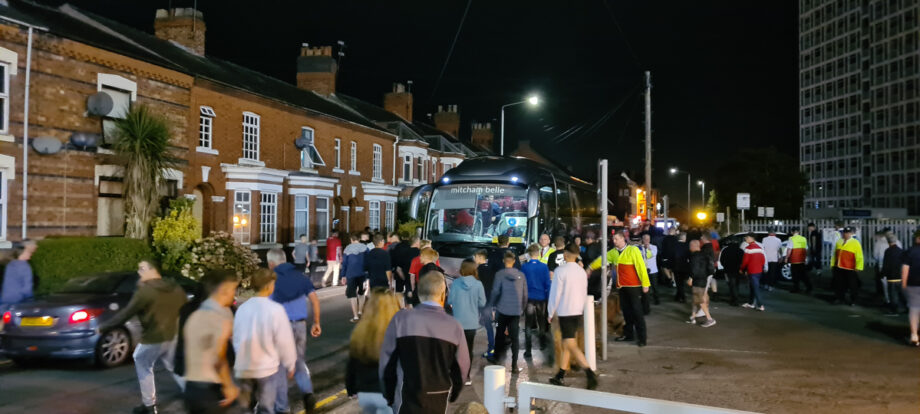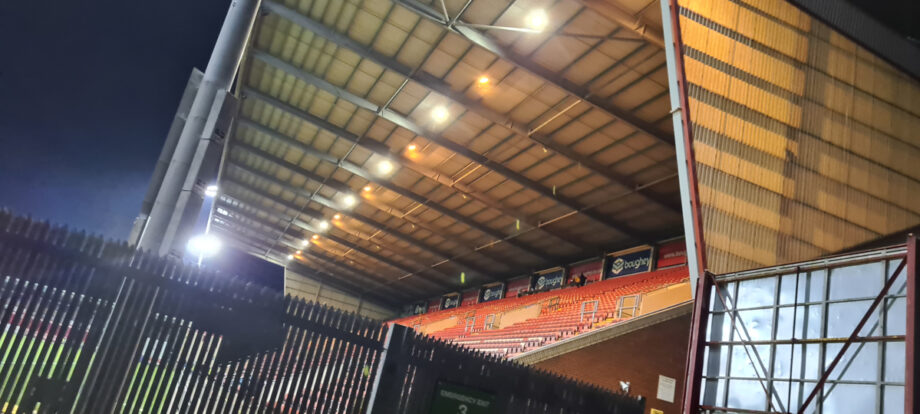 The early exchanges in the first 15 minutes are not really what you'd want to see. We miss an early sighter with Harry firing wide before they put the ball wide, the lad goes past Barden with ease and drills it low across to be fired home in the middle and leave us a goal down. Our response is immediate with Wilson winning a corner and Louis getting up highest to nut it inches over the bar. From here though, it's a bit of a tough watch if I'm honest as another ex-National League ref does his best to make you wonder why you've bothered in the first place with a constant stream of odd decisions for both sides and a constant stop start with lots of soft as shite free-kicks. It's not until just before the break that we really get any sort of head of steam up and with the board up for added time, our best chance so far is squandered. Wilson reads a ball over the top and just beats the keeper to it, but with him about 18ft 7 tall, trying to lob him probably isn't the best idea. The keeper makes a save, but it drops back to Wilson who feeds Harry behind him and his shot from 18 pings off the bar and flies over. Arse.
Half time is passed with the usual, a cuppa and another portion of soakage from the tea bar. Mr X guards his own brew carefully, having had Nutsack boot his earlier one over just as the first 45 got underway! He'll put up with a lot will the Man of Mystery, but waste tea or even worse spill his and you'll be in his bad books quicker than you can say 'Milk, 2 sugars". The second half is a bit better for us as we get more involved and Crewe are sitting in a bit more, but despite a lot of graft and effort, we just lack that little spark that is required to prise open an average at best defence. The best we muster is Josh cutting in from the touchline, but his angled shot lacking power to bear the keeper and Kizzi nodding a deep Milsom freekick on target back stick that the keeper smothers around the post. He then has to beat away a fierce drive from the defender after a follow up set piece isn't fully cleared. But despite the effort, there's always that feeling it's not our night and having booked the keeper for timewasting earlier, the refs decision to only add on 4 at the death sums that feeling up. Got to start putting these opportunities away lads and sharpish, especially against such bang average sides as these lot.
We do the usual, see the lads off and head for the car park. Outside, the earlier 'yeah whatevs' attitude of the stewards bites them on the arse a bit as the Supporters coach waits for it's load and there's no one around to stop goading little wankers tipping out the home end walking right through away fans trying to board. Inevitably, there's handbags and suddenly there's 30 coppers, 20 stewards and blues and twos on the go. Fucking daft that, doesn't take a rocket scientist to have sorted that with a couple of well placed high viz to prevent it before it ever happened eh? We hang back and let the twattery die down and ensure that the coach is sorted before heading to the car. Right, London please Mr X and don't spare the Mazdas! We're soon heading out of town and are greeted with the inevitable reward of a frustrating away defeat. The slip road to the M6 is shut. Cosmic. And it seems that we'd missed it by about 5 mins too, caused by the aggro earlier meaning we'd had to go the long way round to get here as the plod closed the road. Our pilot gambles that it's just the slip and jumps on going North to double back, but this is futile and we're soon being lobbed off right back where we started.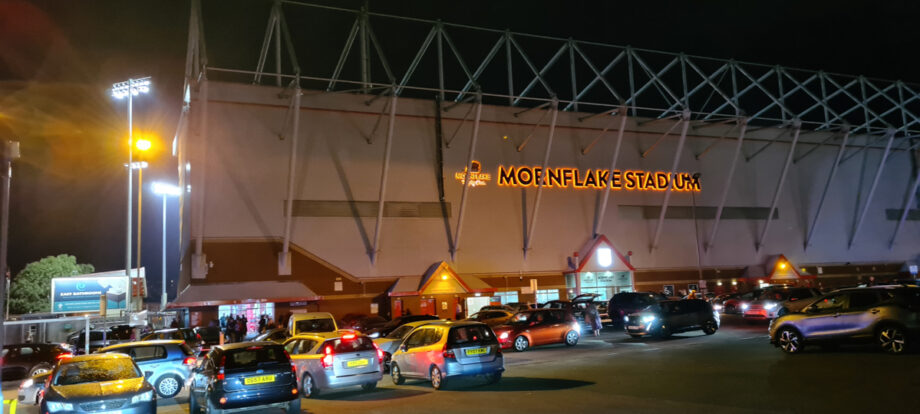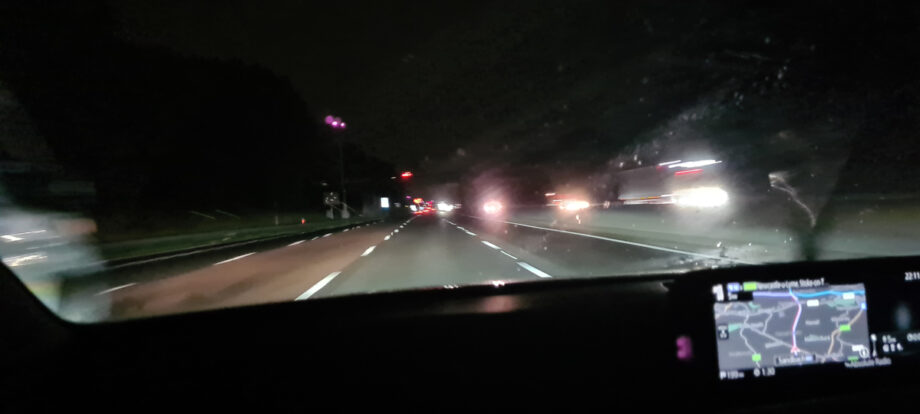 A quick googles shows that the A500 round Stoke is best as that puts us back on the M6 after the closures. A tour of the Potteries and a flyby of the Britannia later and we're back on course as a quiet M6 leads us South back to civilisation. We pass the time with the usual socials catch ups and bullshit small talk before we dip off at Chernwell Valley services for a piss and snack stop. As Mr X and I wait to pay for our Ribenas, we notice the lad behind us in the queue is wearing an old Kettering Town away shirt. We exchange knowing glances and refrain from mentioning their 1-0 cup defeat at GGL that cost them 25k and no doubt helped send them into admin a short while later. Yeah, sorry about that mate. Back on the road, we avoid any further bollocks detours and shortly after 1am, Mr X is dumping Magnum and Myself at his motor just down from his gaff. And a few minutes after that, I'm tipped out of Magnum's Focus outside HQ. It's almost 1.30am. Tomorrow at work will be fun!
I trudge upstairs and kick off my trainers outside the front door to minimise noise and to increase my chances of winning tonight's edition of "Don't wake Mrs Taz up or you're a dead man". Hey, like I've said Saturday. A wins a win. Any win! And besides, at least we're not schlepping North again at the weekend to some gaff like Grimsby or summat.
Oh wait.
Taz