Take a deep breath. Just relax. It's all over now. We all know that this is going to be one of those seasons. And not just full of the usual highs & lows that a normal one would bring. There'll be a few of those magical moments that will stay with you for a bit longer. Things like the first league match we have, or first ever league goal, how about the first league win, or even the first match against a non-English team to win the FA Cup. The list could go on but as is customary round here, I need to add some shit filler quality back story first…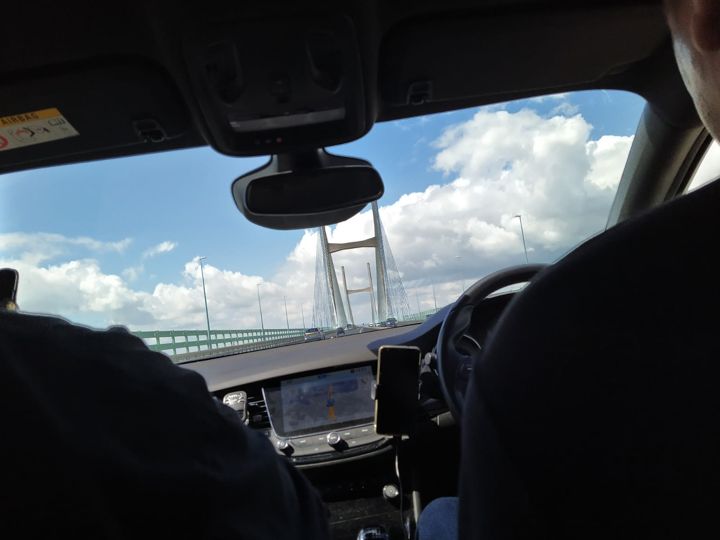 It's been a while since we've sampled the delights of a league cup match. In fact, you have to head all the way back to the 2010/11 season to find it. Ryman League days of course and on that occasion it was Walton Casuals who were to knock Sutton out at the second round stage. 1-0 on an October Monday night that will be almost forgettable if it wasn't for the fact that there were three red cards dished out to Sutton players and the one and only Wayne Shaw giving up getting injured in the final moments to be replaced with Steve McKimm in goal. Fake Internet Point for anyone that can name the three lads that got their marching orders that night!
The irony of that match was that it was only two days after The Firm had made the then long day trip to Lowestoft in the league. And to think that, a match like that was considered such a once-in-a-lifetime one off event that everyone made the effort to attend. Including the virginal appearance of none other that a certain Crockett! Oh how the times have changed since then. Well except we're all nearly still here of course, not to mention the great Dundo still knocking a ball around for us, we still drink a lot of beer. And some of us are even fathers!
Some would say that the draw was not kind to us as we were lobbed up against high-flying Division 2 Championship side Cardiff City. But if you're never meant to win the Littlewoods Challenge EFL cup then it's always nice to get an unusual trip somewhere a little different. We were also able to do something that many of us have never done in all the years supporting our beloved Amber & Chocolate. A midweek weekender! That's definitely a real thing too, 'cos I just made it up.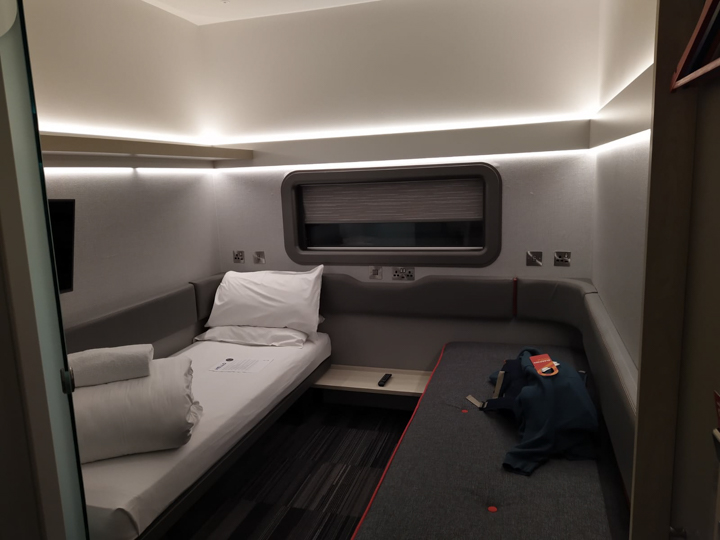 What with it being the school holidays, I was fortunate enough to be able to make this trip. Although having a four week old newborn meant that there was also plenty of praying/pleading with the Duchess to be able to go. I'll pay for it in the long run though no doubt. As well as green lights for Salford & Scunthorpe away the next two Saturdays probably means that my brownie points have run truly well out, if not overdrawn. But like Forest Green on Saturday, I was treating it as an excuse to be able to actually get a little shut-eye somewhere along the line during the adventure.
First up was sorting out how to get there and as luck would always have it, Mr X was offering his services in the 'Donna Rachele'. So car, train or Mega-Fuckin'-Bus? Ring, ring Mr X. Half ten is my pick up time and I'm so excited for the game that I'm up at half three in the morning waiting in anticipation for the match. That's a bit of a lie actually as I'm on night feeding duty covering the Duchess with the lil' one. Earning the brownie points and all that. Overdrawn remember? You know the rules. It also allows me to watch the vintage 90's comedy-dramas that bore the hell out her but I think are fuckin' brilliant. Lovejoy anyone?
Mr X is perfectly on time and with The Firm Leader settled in the front, it's off to Wales we go, after introducing the lil' one to them of course. Fat football pissheads they may be, but show 'em a small child and they're all fuckin' broody and cooing like the pigeons in Trafalgar Square. We make good enough time that we allow a stop off at the posh side of Membury Services. Our trip would take us over the greatly named 'Second Severn Crossing', oh doesn't that just ooze with wet sexiness. Well, it does to me anyway. And before you know it, it's half one and we're seeing signs for Cardiff and something scribbled underneath every sign 'Caerdydd'. I wonder what that means? No parking maybe?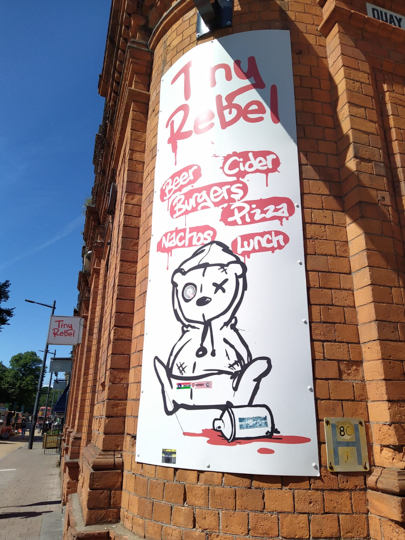 We arrive at our destination to find that we were to be staying in the middle of what seemed like Purley Way. Except that the postcode entered by Mr X found us in between a haulage yard and hardware store. But as luck would have it for him, I was in the car and manged to eventually find our way to a David Lloyd center that has a hotel attached to it. 'Zip by Premier Inn' is its name and it's zip by nature as there is zip all we could do because check-in is not allowed until four in the bleedin' afternoon. At least they let us dump our gear!
There's nothing else for us to do but get a sherbet into town and come back later. Luckily there is only the three of us as the cab driver will only take three in the back and no one up front next to him 'cos of the Covid and we then make the rather longer than imagined trip to the center of Cardiff. Three miles away it seems we were. The first pub of the day is the 'Tiny Rebel' where we not only bump into long time supporters Bob & Kath, but 4 Days is in knocking around with his 'other' friends.
There is plenty of action as we await the arrival of Bert & Ernie Taz & Southampton Steve who are traveling by train. Chalmers in town with his family, Rax has also used the excuse to whisk the family away via Cardiff. The Youth are represented having arrived in town the night before and judging by twitter, already heavily sampled the nightlife. Seems there's a few Sutton fans making the trip! Mr X is forced elects to sherbet it back to base and check-in as Magnum P.I. & Snowy spot us after already locating the local PopWorld and all after another tradition of cocktails & Piemaster for them is formed.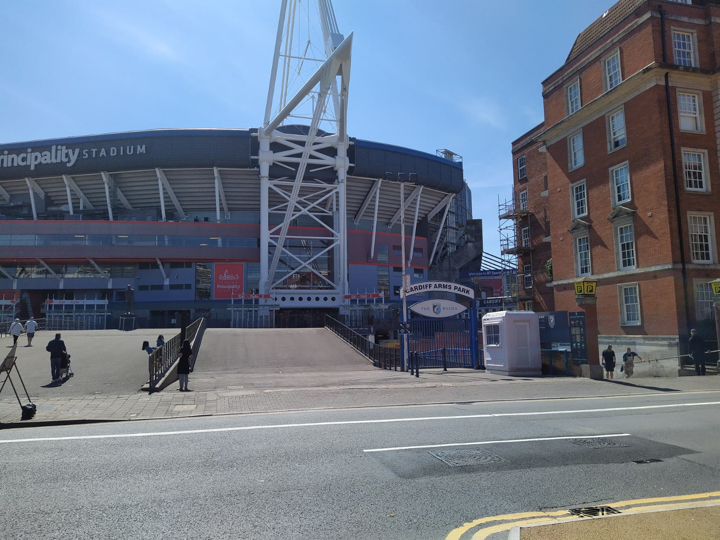 Three pints down and with everyone now present after I'd taken registration, we decide to head to pastures new. But as always on these little Gandermonium trips our efforts to find "The Brewhouse" are feeble as we not only get it confused with another location, but that the place we confused it with is also closed. Jesus wept man. Luckily for us "The Queen Vaults" is located next door and we can have a pint here as we work out what to do next.
Our new plan of attack it to head to an area closer to the ground where there seems to be a cluster of pubs. A cab ride later and we're being dropped off outside a 'Spoons. "The Ivor Davies" is like all 'Spoons as we find ourselves sitting out the back in the smoking garden, some of us drinking cocktails and others trying to communicate with locals, representatives of the DBDC in attendance and Snowy regaling us with the story of what is described as "the worst hotel in England" located in Swindon. Not too fuckin' surprising that I must say.
Time marches on and the proposed pub crawl ends up being one pub three pints before it's time to take a stroll towards the ground. Unlike our non-league heritage, it's nice to experience other forms of football as we join the home support walking to the ground en masse. Words of encouragement are handed out by plenty of the home support. Especially with the condition we "Stuff Newport when you play them" tagged on the end! We'll give it a go boys. Magnum P.I. also got a kiss from a random old bird on a bike. But only after he was asked if he'd been double vaccinated! Strange times indeed this pandemic. Surprised he wasn't asked for proof though, he could have been telling porkies for all she knew!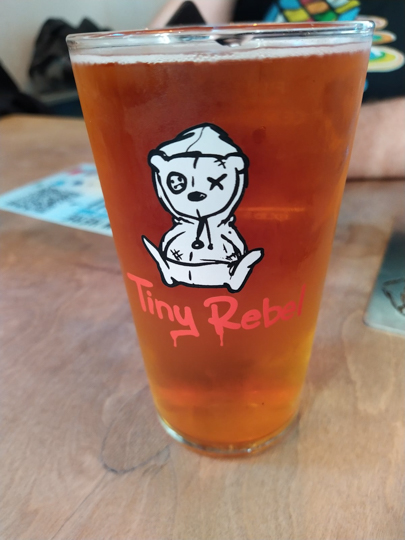 Heading to the wrong side of the ground, we're quickly shown the error of our ways and change direction to find Gate 12. Totally pointless Covid regulations have us wear masks as we're patted down but otherwise no need to wear them. Inside and you get the whole 'Football League' experience of expensive beer, microwaved Hot Dogs without onions and a view from the corner of the ground that makes identifying players at the far side a bit of a lucky dip.
There were a couple of changes from Saturday with Rowe partnering Goodliffe instead of John, and Davis was brought into the middle of the park moving Beautyman out onto the left wing where he replaced Boldewijn. And Sutton are soon ready to open their account in the Milk EFL Cup. Not surprisingly, the man in the middle was none other that Anthony Coggins (Just a note here, it turns out it wasn't him! Seems like he bottled it sadly – Taz). I bet he wasn't expecting to hear screams of "You were shit with us against Basingstoke!". Certainly a phrase probably never before heard in Wales.
Bouzanis, Barden, Goodliffe, Rowe, Milsom, Ajiboye, Eastmond, Davis, Beautyman, Bugiel, Wilson. Bench Warmers: John, House, Korboa, Boldewijn, Kizzi, Bennett, Smith.
Sutton started the first half by attacking towards our empty end of the ground. The away support is in full swing as Bouzanis smashes the ball down the park. Ajiboye is the man who latches onto it as the Cardiff defense don't seem to know how to defend a sort of textbook play right out of the 'Don Revie handbook on football tactics for boys' circa 1970. He takes the ball to the by-line and knocks it back across the goal. Wilson slides to the ball and guides it into the net to complete the move. 1-0!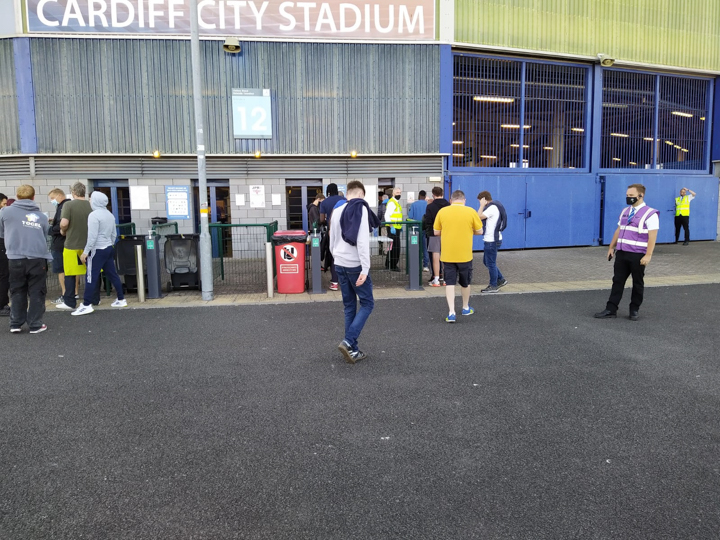 I believe as the Youth of today say, 'Scenes' in the away end as many a man jumps for joy and cuddles anyone with a yard of their location. Little old Sutton United are leading against Cardiff City. Ok, time to relax as there is still 86 minutes remaining. Not wanting to rest on our laurels, Sutton continue to keep Cardiff on the ropes with some attacking football not seen by us for a while. Davis, Beautyman & Wilson would all have efforts or half chances as the pressure is not only kept up by the away side, but also by the travelling support as they do their best to make some noise in the otherwise deathly quiet stadium. Football, Library anyone?
Eventually Cardiff would manage to waken themselves from the shock of conceding against the 'Pub team from South London' and begin to knock the ball around like they should be able to. But Sutton manage to defend when needed and look to be going into the half time break in front. Except that would not be the case, because this being Sutton, we concede a howler of a goal at a shocking time as a easy, tame shot straight at Bouzanis slips right through his fingers and into the net. A Sutton goal keeping mistake on a par of a one particular Alan Julien effort once witnessed a few years back at Hereford. Yes, it was that bad. 1-1.
Half-time is soon upon us and there is a rather somber mood found with all the smokers that pile out of the stadium. At least we're allowed to head outside. Take note Sutton. To concede a goal because the opposition are paying better football is one thing. But to concede a goal because one man has fucked up is an unfortunate side of football. He fucked up. Enough said. Move on.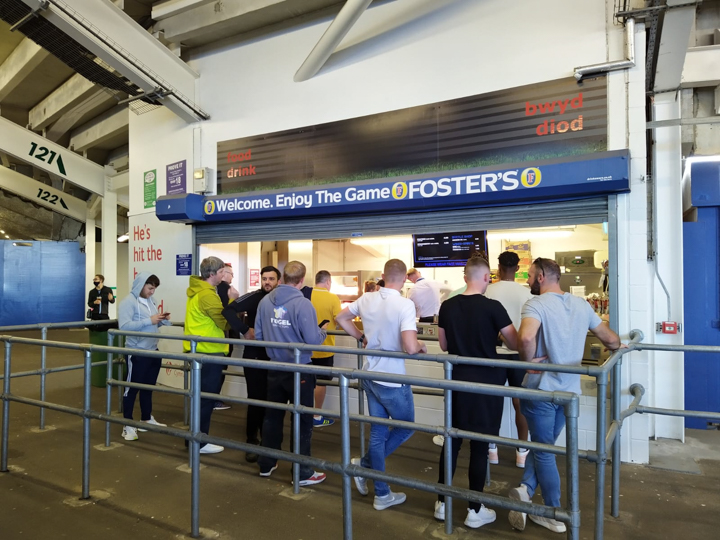 Second half and we take our places as Sutton come out surprisingly full of beans and start once again on the front foot. Milsom has a good fee kick saved by the keeper. But as Chalmers mentioned to me after we'd scored, "It's all about the first & last five minutes of a half" was about to come true once again. Giving Cardiff way too much space, there are able set up a shot from outside of the box with perfect placement the leaves Bouzanis with no help but see it sail past him. Back in my Sunday League days, I would have gone bat shit at the way we defended there to be honest.
The half settles down with Cardiff being able to manage the field and Sutton not coming up with many ideas. Eastmond is booked for a clear foul as both sets of the more younger supporters decide to instead wind each other up with songs directed at each other. "Shit town in Swansea" is probably not the greatest song to sing. But as the home support are so far away from us and there's only a bit over 3000 of them, I couldn't even hear the reply.
With just over ten minutes to go, Sutton finally make a change as Boldwijn replaces Wilson. This sets off a slew of rub-a-dubs as Cardiff do a double and then Sutton have Bennett coming on for Bugiel. But before any impact van be made, it's all over as Cardiff grab their third on the break. It's the Mick McCarthy school of route one football that creates the opportunity as Cardiff chase onto a long ball and Sutton give them the courtesy of remaining six feet from him at all times. Covid regs and all that. The lad cuts in just outside of the box and curls the ball into the far corner. Textbook stuff that. You don't close down, you give them the easy option.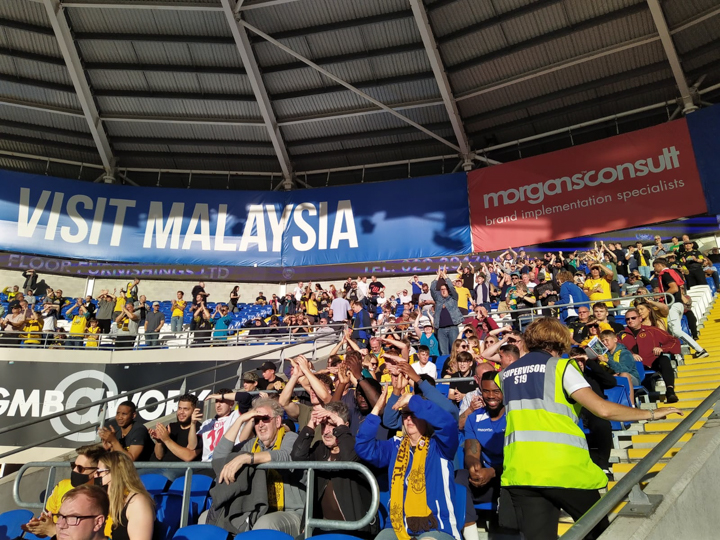 Sutton's finally throw of the dice is bring Smith on for Davis. Cardiff sit back on their luck and before you know it, we're heading into injury time a goal behind. A left wing free kick ends up in the Cardiff box. A spot of ping-ping, ball in the back of the net. 3-2! We later find out, because we're so fuckin' far away, that Rowe is the goal scorer. Now sprung into life Sutton, hunt for an unlikely equalizer as Beautyman is denied by the keeper from a tight angle right at the death. But it ain't to be and we're soon clapping the lads off after a brave effort.
After the match and after rounding up everyone we head back towards the 'Spoons for the usual post match debrief. Unfortunately we bump into the depressing side of modern professional football as we are confronted by a gang of half naked, fat twelve year olds screaming abuse as they've clearly seen Football Factory way too many times. Annoyingly you can't do anything these days and you just have to walk off. They needed a slap but what can you do? Still, being told to "Fuck off back to England", in English of course, brought a wry smile to this old fella, as well as the confused look of one chubby fucker who couldn't work out what a reply of "finger blasted your mum" was all about. Cheer up fella. Your balls will drop one day.
The "Canton Cross Vaults" is our meeting point, but not before a few of us had entered the 'Spoons and saw the greatest pair of red & white winkle pickers known to mankind. That and an old man who'd clearly stuck his pension (and probably his old dears) into a one-armed bandit and was physically preventing anyone else from playing it. The penalty shoot out between Derby & Salford was on the box as we entered. As far as I was concerned, I was disappointed in the manner we conceded the goals but at the end of the day, it's night we weren't expecting to get anything out of the match but for 40mins we lived the dream. And we go again on Saturday. We're the perennial underdogs.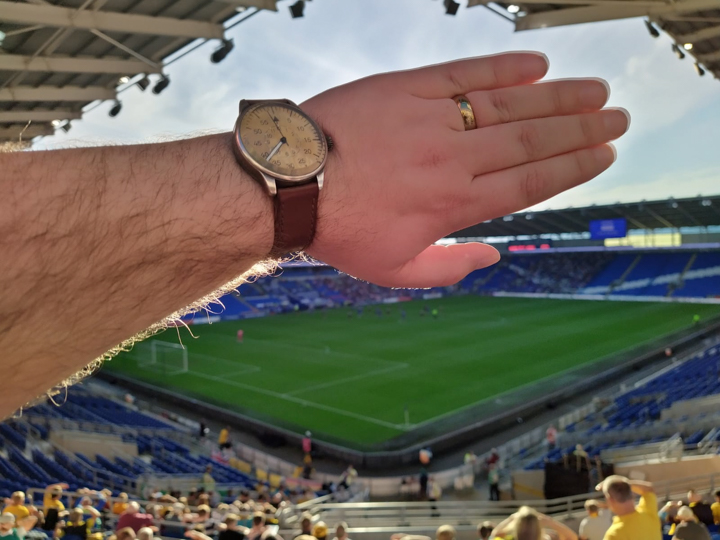 Next pub was of course a 'Spoons. The Prince of Wales was in town and sherbets were rustled up. Thank you for picking up my hoodie Snowy! By this time my night was fast coming to an end and once I'd moved to a couple of shorts, I knew my time was at an end. As far as I was aware some of the group were heading to PopWorld whilst the rest had picked up a random Taffy and were thinking of making a beeline for 'Coyote Ugly'. Later reports of The Firm Leader being arrested in MacDonald's that circulated on the whatsapp wotsit were sadly untrue.
Taz was kind enough to order me a Uber sherbet back to the digs, well nothing works on a Windows Phone you know. And I said my goodbyes to everyone as it took me back to Purley Way (Cardiff). My journey with the cabbie revolving around how this Irishman came to Cardiff 28 years ago for a three week holiday and never left. "Never shagged so many women in that first three weeks, So I stayed and have never equaled it since!" Top bantz that. And what is it with cabbies we meet in these places who came for a short stay and never left? They're fuckin' everywhere! I'm only surprised the geezer didn't have relatives in or have previously run a pub on our manor.
Getting to see my room for the first time, and this little pad seems to be right off the the starship Enterprise as it genuinely is like a little pod. Couldn't find the replicator though, so some 'Earl Grey, hot' is out for the morning cuppa. There was even what appeared to be like some sort of futuristic voyeuristic viewing window into it where someone could see you getting up to no good by yourself or with someone else. But unlucky for them as this one is out for the count as soon as my head touches the pillow, sweet dreams everyone.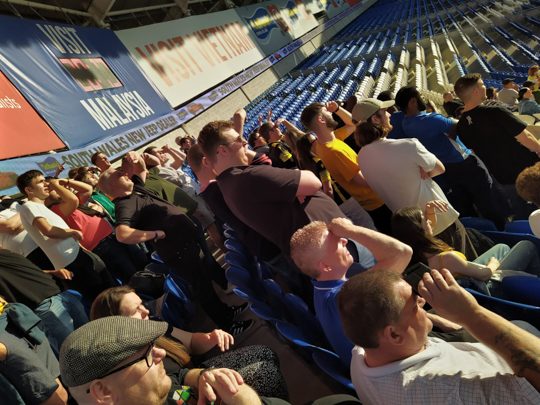 Light fills the spaceship as the 'Sunday' morning of out midweek weekender has arrived. My phone surprisingly pings off and there is the simple code word 'Bacon' in our secret internet WhatsApp group thingy. Just the ticket! Nearly tripping over the mat that someone had left on the floor, it's into the leaky shower to refresh oneself before finding out that Mr X has already formed a one man away team and beamed off the Enterprise to find some local sustenance. A message from The Firm Leader indicates that he's ready to leave and it's a quick goodbye to Taz outside as he heads into town to get some breakfast at Steve's hotel and the choo-choo home. I wonder if he remembered to get the flag bag from from Magnum PI? (I did! – Taz)
Morrison's appears to be the place chosen by Mr X for breakfast and it's not long before we're settled down with a cuppa in hand. Needless to say that the large breakfast I ordered is disrupted by the fact that there was no Black Pudding, or the extra that I ordered, But The Firm Leader does his best to cheers us up by dropping the sausage out of his sandwich onto himself and creating little fat stains all over his jeans. Cheers fella!
Back to the Enterprise and it's time to say goodbye to Purley Way (Cardiff) as the 'Donna Rachele' awaits. A quick pit-stop once again, this time on the poor side of Membury Services, interrupts a journey that seems to go by in a flash. And I didn't even need to nap. Leaving at half eleven, I walking through my door as the clock strikes two. Happy Days! Much better than those that were leaving straight after the match who had to endure road closures and diversions through Newport docks last night!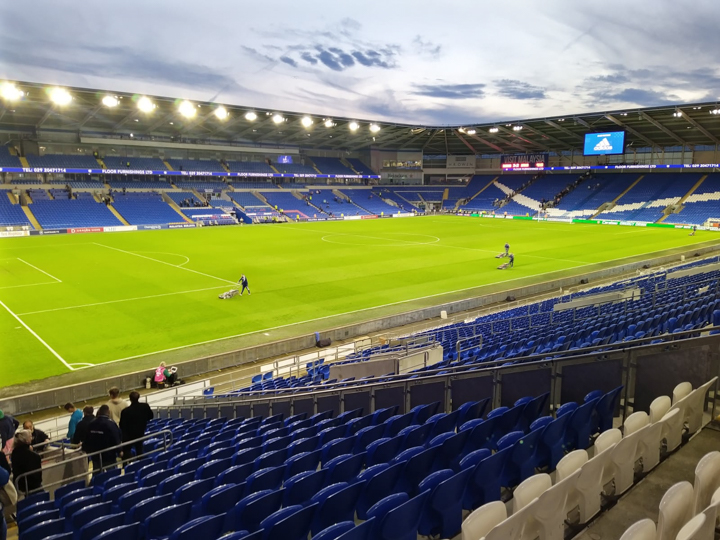 So that's another cup journey over and done with. And much like the Walton Casuals one, there's no time to mope around walling in self-pity. We're back on the road yet again this Saturday as we're now heading to the hastily re-arranged match against Salford. Gonna be another long day that one. But that's another story for another time. Right I've got some Pie in the Sky to watch and a young 'un to feed.
Duke
Att. 3,500