I spend my professional life writing for other people, but the past few years have given rise to such footballing pride, that words are quite simply bursting out of me right now. I have two footballing loves, Liverpool and Sutton United, and that won't change until the day I die.
The backstory is that I am a bang average bloke, born in Roehampton, which incidentally is where my nan lived, and my mum grew up. Most of my early years were in the London Borough of Sutton however, firstly in Selwood Ave, then Cowper Gardens (which is uncomfortably near 'that lot') and then Rosehill Park West. As a 4-year-old, I remember that moment at my nan's flat in Roehampton. My uncles, John and Steve, and my dad, Alan, were watching a football match, and I was fascinated.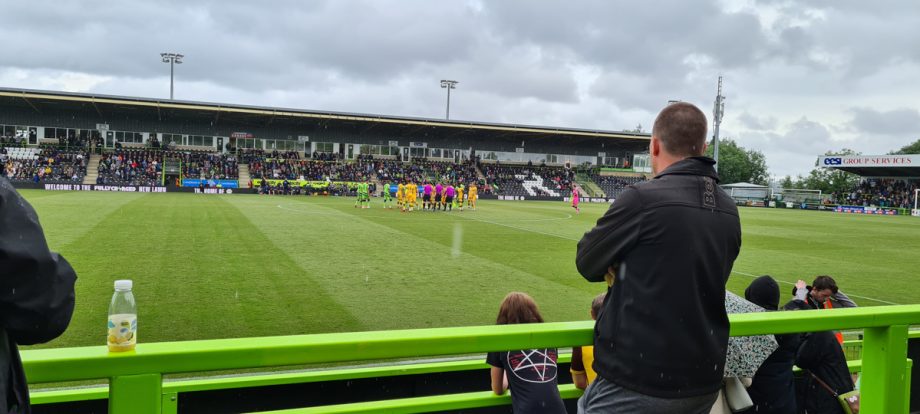 I had no idea what was going on at that point, but I loved it. It was one of the first moments I got to 'watch football with the lads'. They say people will forget what you say, but they'll never forget how you made them feel. I guess this is why I remember this moment. (Note: I only know that I was 4 at that time, because I have looked it up since, and filled in the considerable blanks that 45 years will leave!).
It turns out (long story short) that the adults in the room were supporting Spurs, and through a series of Q&A's, I decided to be awkward, and support Liverpool. Looking back that was 1976 – Liverpool won the league, and Spurs were relegated. I had no idea about that at the time, but it's a funny old game as they say. Oh, and Liverpool also won the European Cup that year. People call me a glory hunter, and I understand why, but that was honestly the first game that I had any idea about, and I had no idea (at the time) that Liverpool were good and Spurs were not quite as good.
That's where my red love started, and it only grows with every year I am associated with this wonderful club. ANYWAY … you didn't read this to hear about Liverpool, did you?
As far as I am concerned, this is where my Sutton United story also started…
My grandad, on my dad's side, is from Sheffield. On leave from the Navy, my grandad was invited to come back and stay with his mate in Sutton. My grandad 'Nick' accepted, and he went on to meet my nan, Flo, in the Woodstock pub, which is now some sort of 'super' market. My grandad was born a 'Blade', but living in Sutton, marrying in Sutton (to the woman of his dreams) and raising kids in Sutton led him to take a massive shine to the Amber and Chocolate. My dad was born, and liked Spurs, but loved going home and away with Sutton. My dad 'fell out of love with football' a long time ago, but that is Premier League nonsense. He still loves to follow Sutton, albeit digitally now.
If I am honest, my earliest memory of being at Gander Green Lane is the 2-1 win over Coventry in the 3rd round of the FA Cup back in 1989. I remember very little of the game, but remember that I was bunking off my Saturday job at Safeway (read Morrisons if you're are under 40) and as the final whistle went I started to scale the barrier to celebrate and then stopped, thinking better of it. Imagine getting sacked because your employer saw you cavorting on the pitch on Match of the Day!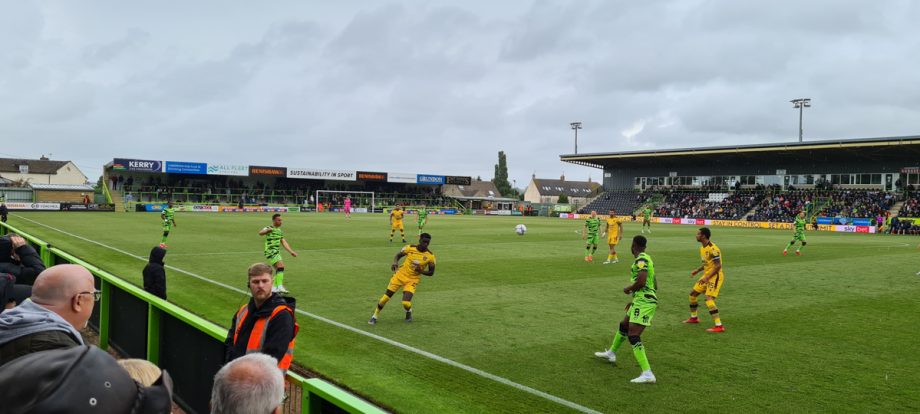 I know I went to loads of games before that Coventry game with my dad, but I don't remember them if I am honest, and that's a real shame. My dad was telling the other day about an early game he took me to, and I just can't remember it, which is a real shame. Sutton United though…
I love that now as a business owner, I have been able to buy an advertising hoarding, and place it in the place I stood v Coventry, and more recently, the place I stood v Wimbledon, Leeds, and Arsenal – in truth, this is just where I stand. Opposite the Jamie Collins penalty spot v Leeds – that's us.
I took my son (now 14) who plays for Sutton United Youth to his first ever football match at Gander Green Lane, and it was fucking freezing! He was about 5 at the time, and from under his shivery hood, he just muttered 'the players are so big'. Up until that point he had only ever watched footballers on telly, so any players would appear massive to a 5-year-old. Bless him. Anyway, I am also a coach for this season's Sutton United Youth U15 boys. My son is in that team. When the 3G pitch went down it transformed our club to be a centre of the community, and now it has gone, our boys, girls, community and other teams are training all over the show. The Football League (especially with global warming) need to wake up to the fact that we play a winter sport, on an island where it rains … A LOT! Anyway … it is what it is.
As a fan though? Wow. I was at my dads the day before the Forest Green opener, and he was telling me stories of his youth as a U – it's such a proud moment, and my dad, for one, 'never thought Sutton would be a league club'. Bruce Elliott and most of our board were of a similar mindset!
So to Forest Green Rovers away.
I don't go to many away games, but I do go to every home game. On this historic occasion, four of us went on the supporters coach. It's a day in history that 5,000 years of this club will never take way, and I didn't want to miss it. The coach was in traffic, and took ages, but Matty, his son Alex, and Jamie (my lad) and I made our way. When we got there, we realised we were quite literally in the middle of fucking nowhere. No pubs, no shops, virtually no roads and this shiny new stadium in front of us. I had packed for the outbound journey, but had nothing for the return trip.
We knew that burgers were a no go, as this is the world's greenest club, but no bar?! Jesus H Christ and the wee donkey. We've been travelling for hours, where is the bar? I approached the steward keeping us from the covered section (more on that later) and asked her where a traveller might find the bar.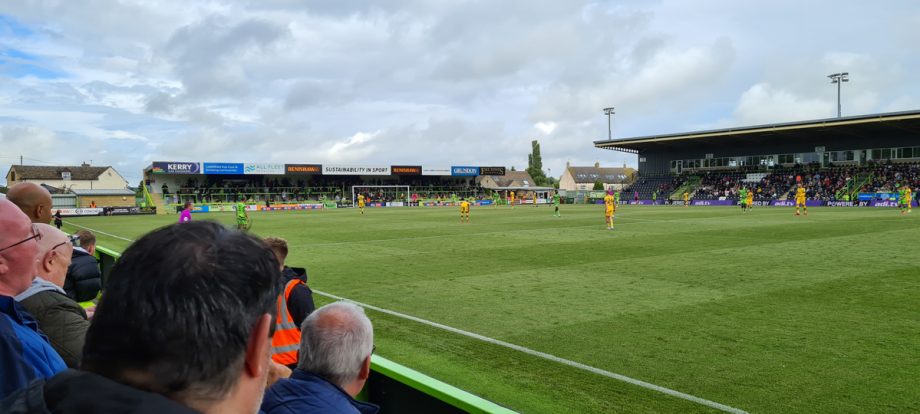 She sent me back to whence I'd come, and hope rose in my chest, turns out she sent me back to a tea bar with all it's vegan burgers. FML.
So no beer, and no burgers.
Anyway, the away crowd were swelling, and we clapped our lads onto the pitch for the warm-up, off the pitch for the moments before the game, and back onto the pitch for the start of our Football League journey. Wow. Football League.
Jeez, OK, pull yourself together, these 'vegan thugs' had looked pretty handy in the pre-match Rondo's and they finished last season in the play-offs, so there is work to do here. We went down a goal after putting in a real shift. A deep, looping cross from our right-back area landed on the head of one of them, and it looped back, and dropped over Deano into the centre of the goal.
Honestly, I thought the keeper could and should have done better. But it is a much easier game when you are watching from a covered terrace!
In the second half, we came out strong again, and Dave powered down the right before unfurling a beautiful cross into the area … Omar arrived and arrowed a header into the top corner!!!! No idea how the goal is still standing, he really connected with it, the big Geez!
Then, with 90 minutes on the clock it was 1-1. Our travelling cohort had taken the piss out of the 'covered' area until now, but, in fairness, the rain was falling and we were not getting all that wet. Fair play. Forest Green Rovers bought a free-kick on the outside of the Sutton area, to the left-hand side as Deano would look at it, and FGR had a free-kick.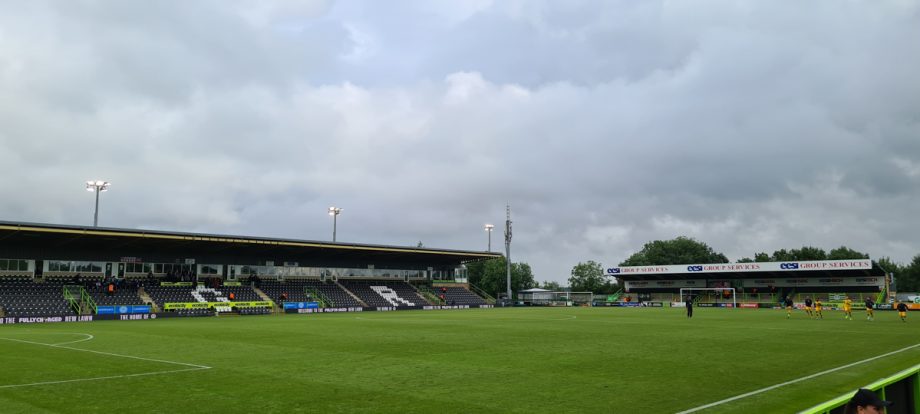 I am sure that if the fella was touched, it was such a light touch that he should be having sleepless nights now about his dive to the floor. Anyway, it was raining hard now.
Then, as the FGR placed the ball down to take the free-kick, the hard rain became biblical! I mean, from our spec, we could barely see who was in the box. The ball was chucked in, and it went into the back of the net. Of course, in such a historic game, gutted. In fact, in any game, gutted.
A few seconds later, the biblical rain eased, and the benefits of being on nature's side became clear. I was pretty quiet on the coach on the way back.
BUT! What a performance. we didn't deserve to lose, but in one of the hardest away games of the season, the boys did really well. The pride I mentioned at the start, is Sutton United winning the National League, and being promoted to the Football League for the first time in our 123 year history. It's Liverpool winning the Premier League, Champions League an all those other trophies.
But Sutton now … wow.
Mike