With the late change in first PSF from meeting a Brentford XI down at Farnborough, to a heading out to the arse end of the Metropolitan line and a visit to an old Isthmian League stomping ground in Chesham catching a lot of the idiots on the hop, there was due to be no entry for this Pre-season opener. But then Andrew slipped into our DM's (oo-er!) and offered some insight on our opening workout as well as some pictures. And we all know you lot love the pictures. So, over to Mr Youngman…..
Fresh from England's penalty heartbreak at the Euros on Sunday I thought what better way to start getting over that than heading to the Chilterns to see last seasons National League Champions kick off their pre-season schedule. Real football etc etc.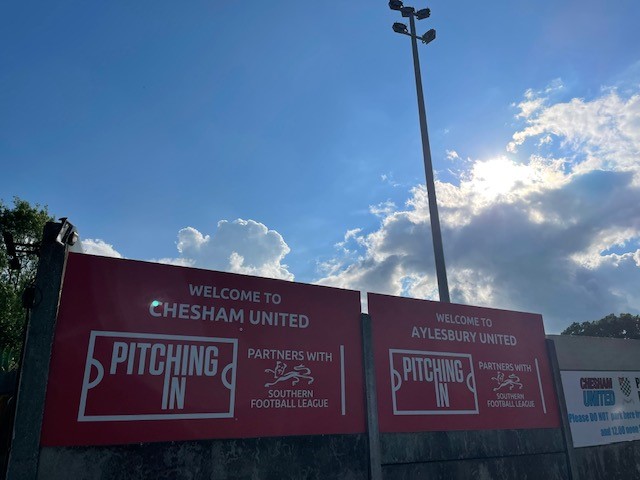 The lads have had to make do with just the four weeks off over the close season – a far cry from normal circs where it's closer to 8/9. Although it could have been worse had we been involved with the play offs, which concluded almost a month after we lifted the title. I'm delighted to be back watching them though after the majority of last season was played out behind-closed doors – no biggie only the most successful season in our long history (roll eyes).
Now I was going to try and keep this guest entry brief (Brief? On here? – Ed) but there's still a bit of explaining to do – in short, there's ground improvements aplenty and GGL currently resembles a construction site meaning all pre-season games are away this summer. The main reason being we don't actually have a pitch to play on! A short term agreement was made with Farnborough with them facilitating us for our 'home' friendlies. Sutton were due to entertain Brentford B/XI before their players had to self-isolate – that's when Southern League Chesham stepped in to provide our first opposition. It was due to be on the 13th after all – something was bound to go wrong!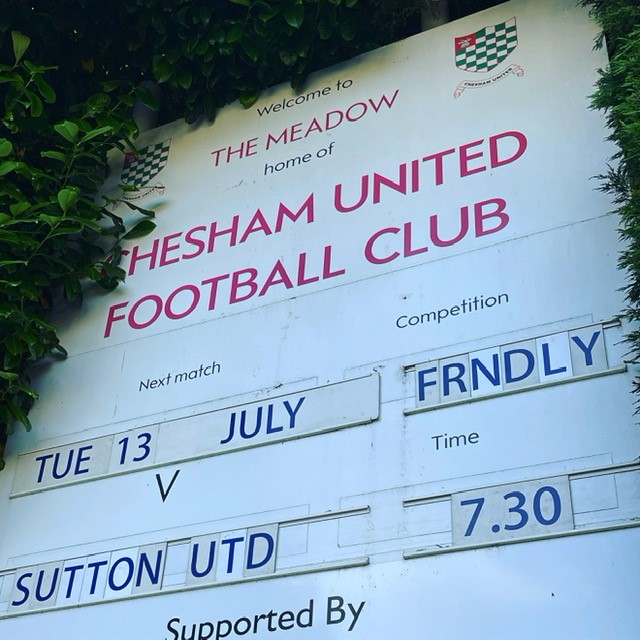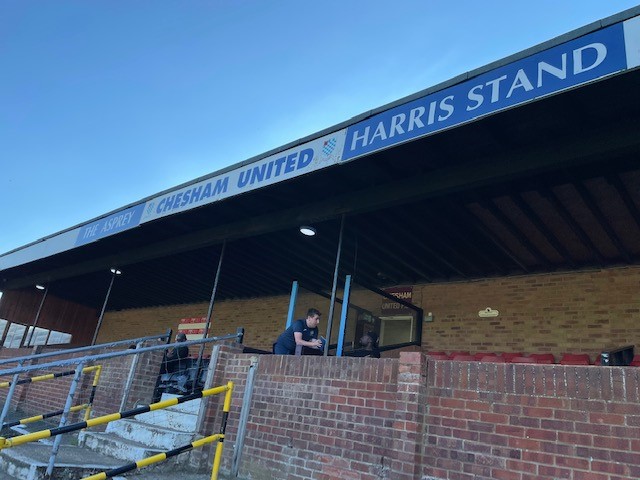 The journey up from Epsom was simple enough taking a tad over an hour. Parking down a side road (sorry to disappoint you if you were expecting the usual alcohol drenched nonsense!) I rocked up to the ground just after 6pm – with kick off at 7:30 – getting to the ground 90 minutes before kick off for a pre season game was somewhat eager! I had made one previous visit to The Meadow back in 2008 but that was to see Sutton take on Chesham's tenants Aylesbury in the FA Cup. The ground hasn't changed much – it's archetypal Isthmian/Southern League but I don't mind this one jot – it provided a nice throwback as Sutton used to frequent grounds like this 20 odd years ago when we were battling away in the Ryman!
Normally the club Twitter uploads the team/squad a good amount of time before kick off, however I managed to catch the legend that is Clive Baxter who had a team sheet. A couple of others rushed around including Mr Frake with his old school pen and paper and me just taking a photo of the sheet we went about deciphering who was starting each half (new signing Joe Kizzi missed out with a knock as well as Tobi Sho-Silva, whilst Richie Bennett also missed out as he's only recently joined though was jogging pre-kick off, otherwise it was a full squad).
First half team: Bouzanis, Barden, John, Rowe, Wyatt, Boldewijn, Smith, Beautyman, Randall, Kouassi, Wilson.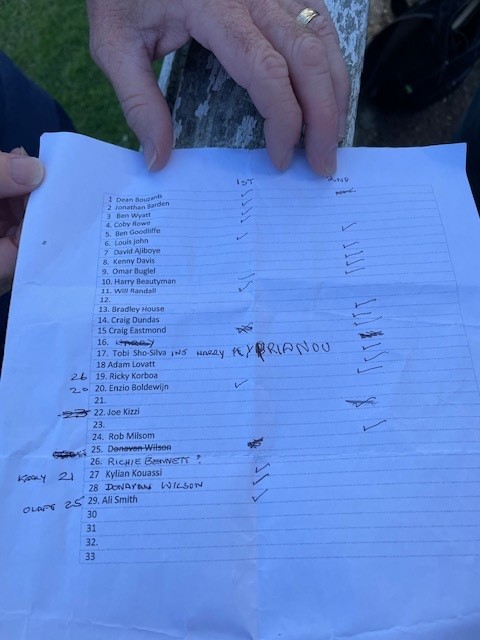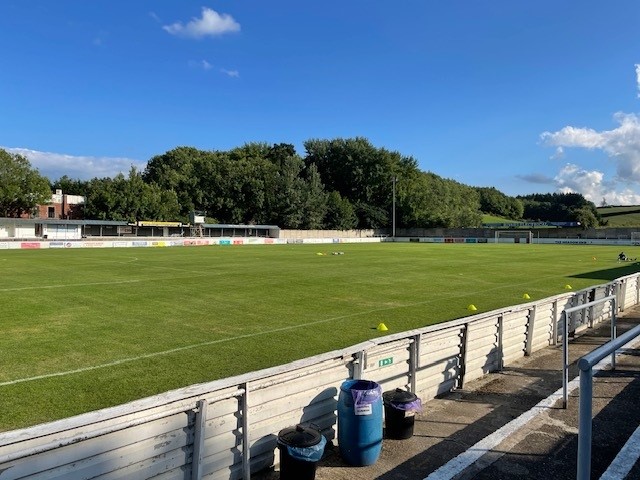 In terms of the game – overall it was a good workout where we fielded a different XI in each half. Chesham actually got at us a bit in the first half and the ref too rather boisterously, we had a couple of good chances also – academy graduate Kouassi having a header palmed onto the post by Dave Beasant's lad between the sticks from a Boldewijn cross before Boldewijn then himself had a shot saved. Fellow new boy Alistair Smith and now-permanent addition Donovan Wilson also featured in the first half. It was goalless at the break.
Second half team: House, Eastmond, Goodliffe, Trialist, Milsom, Ajiboye, Davis, Lovatt, Korboa, Bugiel, Dundas.
It was a stronger Sutton performance in the second half for my money, another new signing Ricky Korboa (ex-Bobbin) being a particular stand-out with some darting runs, trickery on the ball and an excellent assist for Sutton's second goal. We actually made the breakthrough mid-way through the second half though, a stunning cross-field ball from our sole trialist found Ajiboye whose mazy run ended up with him rounding the keeper and finishing on the goal line. The second goal was a peach too – a delightful ball over the top from Rob Milsom to find the aforementioned Korboa who's cross was met with a diving header by our whipper snapper up front, Craig Dundas. I say whipper snapper, I note from Craig's Twitter that this is his 24th pre-season campaign! Incredible.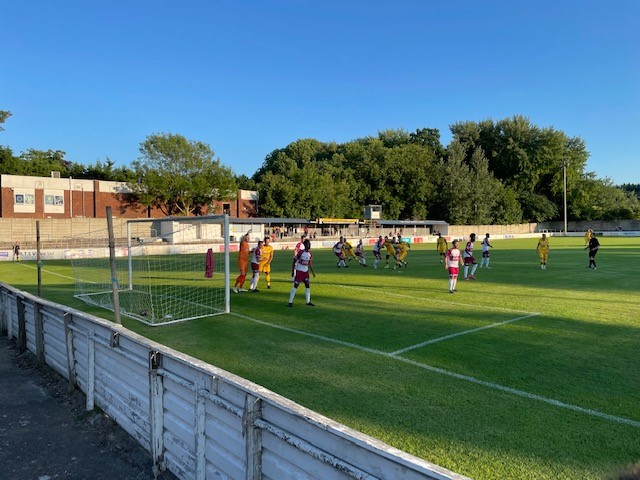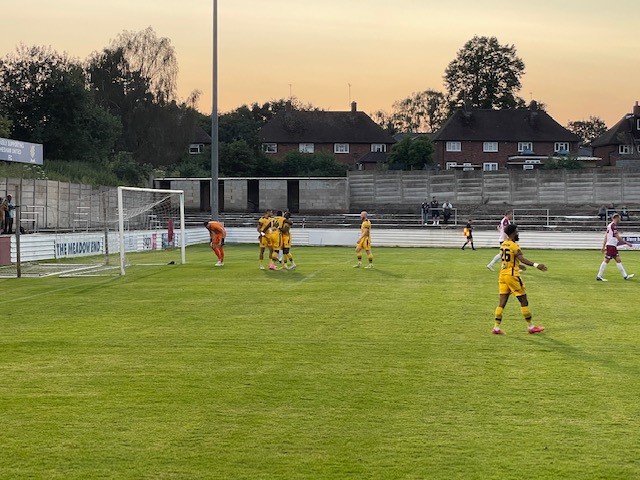 Workout in the bank, a win on the board. Attendance was announced as 140 and at a guess a good 50/60 had made the trek from the Republic. Not too bad with the short notice change.
Onto Maidstone!
Andrew