One of the great things about football away trips is that they take you to places you'd probably otherwise never visit. Often you discover that a distant town you'd idly dismissed as dull/grim/rougher than Mitcham is actually rather interesting, sometimes even welcoming. They do say that travel broadens the mind. One northern town I unexpectedly warmed to was Hartlepool.
There's a great deal more history to the town than the legend about the locals hanging an unfortunate shipwrecked French monkey during the Napoleonic Wars. It was only by going there that I learned that Hartlepool was once two towns – which is why the football club was originally called Hartlepools United. The first settlement, out on the headland, grew as a fishing port. Then, in the nineteenth century, industrialist Ward Jackson developed West Hartlepool (which gave its name to the local rugby union outfit) on the inland side of the harbour. The new town soon outgrew its neighbour. The two were formally merged during a local government reorganisation in 1967, and the football club dropped the 's' from its name.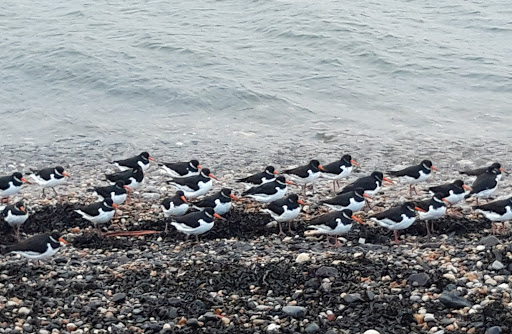 "Well, they were right. Loads of birds in Hartlepool…."
Hartlepool United's 96-year stay in the Football League ended with relegation in 2017. Like many clubs suffering the drop, they took a while to adjust to life in the crazy world of the National League. Losing at home to Chris Kinnear's Dover on the opening day must have been a rude awakening, and they failed to win any of their first six games. Their fans – including Sky Sports anchorman Jeff Stelling – would have to be patient.
Sutton's first visit to Pools' Victoria Park home was in the October of that season (our second back at this level), by which time the newcomers had started to find their feet. I spent the Friday night before the match in Durham, a city I hadn't visited since 1982. I wasn't the only one to have this idea. Like me, Indiana Jones and Sean Connery's stuntman were soon settled in the cosy Station House, just down the hill from Durham station. I then embarked on a solo tour of this fine city's other Good Beer Guide pubs (including some I'd drunk in 35 years previously). In one of those, the Market Tavern, I caught up again with Sutton's answer to Steptoe and Son.
Boat innit.
The next morning I travelled round to Hartlepool, a change of trains at Newcastle allowing me time for an early pint in the Victoria Comet across from the station. I met Peter at Hartlepool station and, a few minutes after midday opening, we were through the door of the excellent Rat Race Ale House, the UK's second-oldest micropub, conveniently located in the old station newsagents'. It's normally advisable to get here early as it only holds (at a pinch) twenty customers. (I hear that, sadly, the pub's been unable to reopen after the Coronavirus lockdown.) It was then on to the Causeway, where we got chatting to some Pools fans, then the Brewery Tap in front of Camerons brewery, where the Strongarm bitter, as close as could be to source, was top-notch. I walked from there to the ground: Peter couldn't resist staying for a second Strongarm and cabbed it in time for kick-off.
Sutton put in a solid performance, though went behind before half-time when Jamie Butler could only parry a shot from Devante Rodney and Rhys Oates tucked home the loose ball. When Craig Eastmond was stretchered off with an ankle injury late in the game it looked as if we'd had our chips. But nine minutes of stoppage time were added, most of them for that injury. And it was in the very last of those that young Tommy Wright, from a tight angle, volleyed in an equaliser in front of an ecstatic away end. Mr Stelling's agonised reaction to this moment on live TV rapidly went viral. Well, amongst the Sutton faithful at least!
< Insert caption here relating to a flake >
After the match I drank a swift half in Hops & Cheese, mentioned as 'one to watch' by local ale drinkers, before rejoining others in the Rat Race. Then it was a mere saunter on to the platform for the 18.54 back to King's Cross, a journey on which that Jeff Stelling clip was endlessly replayed and his agonised howl could be heard all the way back to London.
A little over a year later, and with autumn storms looming, we were back in Hartlepool. This time I stayed the night before in the Premier Inn overlooking Hartlepool's marina. (Yes, Hartlepool has a marina – developed from the old docks). With some time to kill in the afternoon I visited the nearby Royal Navy museum, home to HMS Trincomalee, the oldest British warship still afloat. (HMS Victory is older, but in dry dock.) It's named after a Sri Lankan port and former British naval base, near which the Brits fought (and lost) an 18th century naval battle against the French. (Douvres do seem to have bragging rights in this neck of the woods.) The ship's masts and rigging are something of a local landmark, visible from outside the football ground.
Brewery.
With my education box duly ticked, I jumped on a bus round to the headland. The northerly wind was strengthening by this time, and the western sky had turned an ominous brimstone. I spied a flock of oystercatchers, huddling against the elements near the harbour entrance. By now I was ready for beer. First up it was the Fisherman's Arms, a high-ceilinged, traditional pub set just back from the old dock, quiet at this time. Then it was on to the Globe, a community local that clearly prided itself on its pints of Strongarm, each served with an enormous 'Hartlepool head'. Back in the town centre I dined at an Italian restaurant where my bill came to £9.45 for two courses and a coffee: I tipped generously. I grabbed a final beer in the Old West Quay (attached to the Premier Inn) before retiring.
Saturday dawned blustery and showery. After a 'spoons breakfast at the Ward Jackson I joined Cathy, Bob and Jules at the Brewery Tap for a very informative tour (booked by Cathy) of Camerons brewery, tracing the business's history from its Victorian roots through the upheavals of the late 20th century and on to stability and expansion under the current owners. Recommended. After the obIigatory pint of Strongarm at the Tap I caught up briefly with the Gandermonium crew as they were leaving the Jackson Arms (Mr Jackson has given his name to a number of pubs in town) before returning to the Ward Jackson where more of the Sutton faithful had assembled after tumbling out of the train. On re-emerging I bumped into Ossie and Nat who'd just been informed that Gandermonium were now in the Brewery Tap. "Where's that?", they were wondering. "Allow me ladies, I can lead you straight there". Having done that, and with time getting on, I headed straight to the ground.
Bollocks…
The previous season's game had produced some drama, but this one maybe eclipsed it. A scrambled effort from defender Aswad Thomas put us in front at half-time, but then Pools swung the advantage their way through ex-Hendon striker Niko Muir and midfield maestro Liam Noble (a deflected free kick). But a terrific Tom Bolarinwa goal on the break levelled things up again. Then, with eleven minutes of the ninety left, Eastmond strode forward to strike the winner. 3-2 away. Thanks very much. In the Rat Race afterwards a few of the older Pools fans were commendably philosophical about the result.
And so on to a sunny Saturday in early August, when Pools away was our opening fixture of 2019/20. I made this one a day trip. A dozen or so Sutton fans were at King's Cross in time for the 08.06 Grand Central service to Sunderland via Hartlepool – only to find that the train was cancelled. Not exactly a great start to the day or the season. A few decided to shell out for LNER tickets and headed off. I established that the 11.27 Grand Central train, on which my ticket would be valid, would get me to Hartlepool in time for kick-off – provided that it ran on time. With a plan now hatched I killed time in the Parcel Yard pub at King's Cross then the Barrel Vaults across the road at St Pancras. My gamble paid off and I was in the away end at Victoria Park by 2.45. This was Matt Gray's first competitive match as Sutton manager, and by 5pm he had a beaming smile on his face. A Harry Beautyman brace put us 2-0 ahead, though the home side pulled one back just before half-time through (inevitably) Gime Touré – who'd been at Sutton for the second half of the previous season. But a late Sutton goal on the break from new signing Will Randall made it 3-1. That result certainly merited the pint of 6.5% black IPA that I downed in the Rat Race before the train back south.
Gathered masses…
So that was seven points taken from our three visits to Victoria Park. As all three matches between these teams at Gander Green Lane have finished as draws, Sutton are unbeaten in six encounters with Hartlepool so far.
As it turned out, Pools were our first and last opponents of the truncated season. The return fixture at the Lane was on 14 March 2020, the final Saturday before football was suspended with the match labelled 'The Last Game in London' by this very site. They weren't far wrong, as most senior leagues had already called off their games, which explains how we managed to attract a crowd of 2,126, our second-highest of the season. On-loan Millwall striker Isaac Olaofe charged down their keeper's clearance to give us an early lead, Pools equalising in the second half through Gavin Holohan.
Obligatory action image…
With both Sutton and Hartlepool finishing in the middle of a points per game settled table, another trip to the County Durham coast is set for the new season. Whether any away fans are actually allowed to go to that game remains to be seen. I'll just look forward to my next pint of Strongarm.
AA