Greetings all, and before I begin with the Solihull blog – let us take a reflection back to what has gone on. So last weekend, we had the weekend away in Manchester for Stockport away and the road trip for Magnum, Ossie, Nat and I – thank you all for a good weekend. Popworld is such a fun place to go.
Now remember back in the days when Sutton High Street had a good night life. Well, good for Sutton anyway! You would either start the night by drinking in Moon on the Hill or Hogshead (now Sutton Arms) and then when 10:30/11 came around it was on to either Long Island, Litten Tree or Chicagos. The good thing with Chicagos was that you also had 'New York, New York' and both venues offered different varieties of music which catered for all. Well those days as well as all those venues, are long gone, so what I'm saying is that what Sutton needs is a Popworld, it would bring people back to the area for nights out and can add a new one to the list for Nat and Ossie.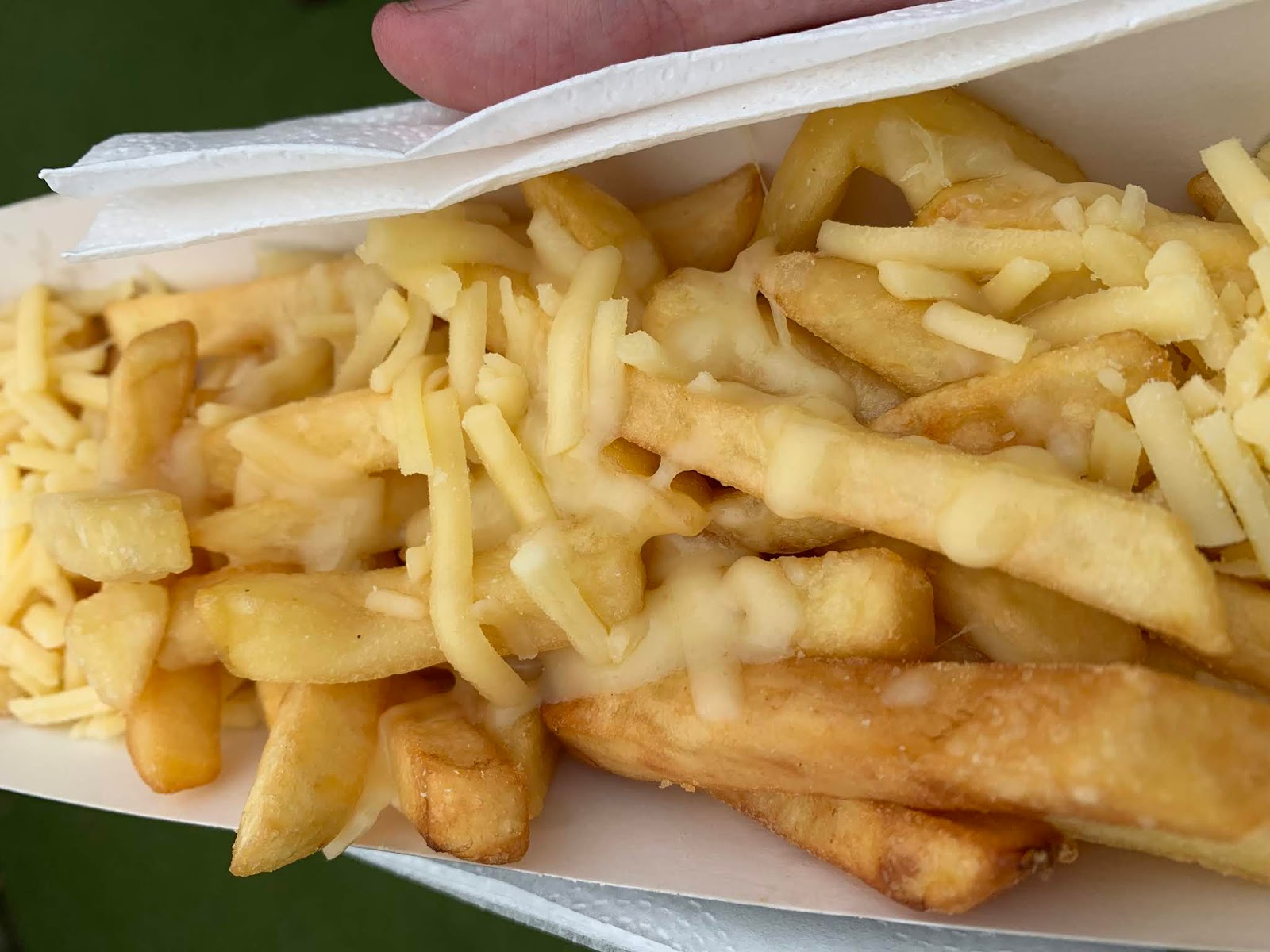 Om nom nom nom
During the week, we also saw the first ever football quiz take place at the club, hosted by our very own manager Matthew Gray. It was a well-attended night with 26 teams taking part and after being poached by Kiddo for his team (We'd say 'released' was more likely! – Ed) we finished second, just the one point off the eventual winners. Gandermonium representatives finished 5th and won the two play-off rounds by, amongst other things, answering how many caps Wesley Sneijder won for the Netherlands. I know, Sutton United people winning a play off? Unheard of! Such success has us all looking forward to the next one, whenever that may be.
Also in the week, Louis John turned his loan move from Cambridge into a permanent one, which was good news as the performances since he returned to Gander Green Lane have been a wonder to watch. Louis has formed an excellent partnership alongside Ben Goodliffe and they've been a big part of our recovery.
So now we move on to the Solihull game, and after last week's point at Stockport alongside our recent home form, we look to hopefully gain three points and move that step closer away from relegation and staying up. However, what is to follow here is a true rant about what football is not supposed to be!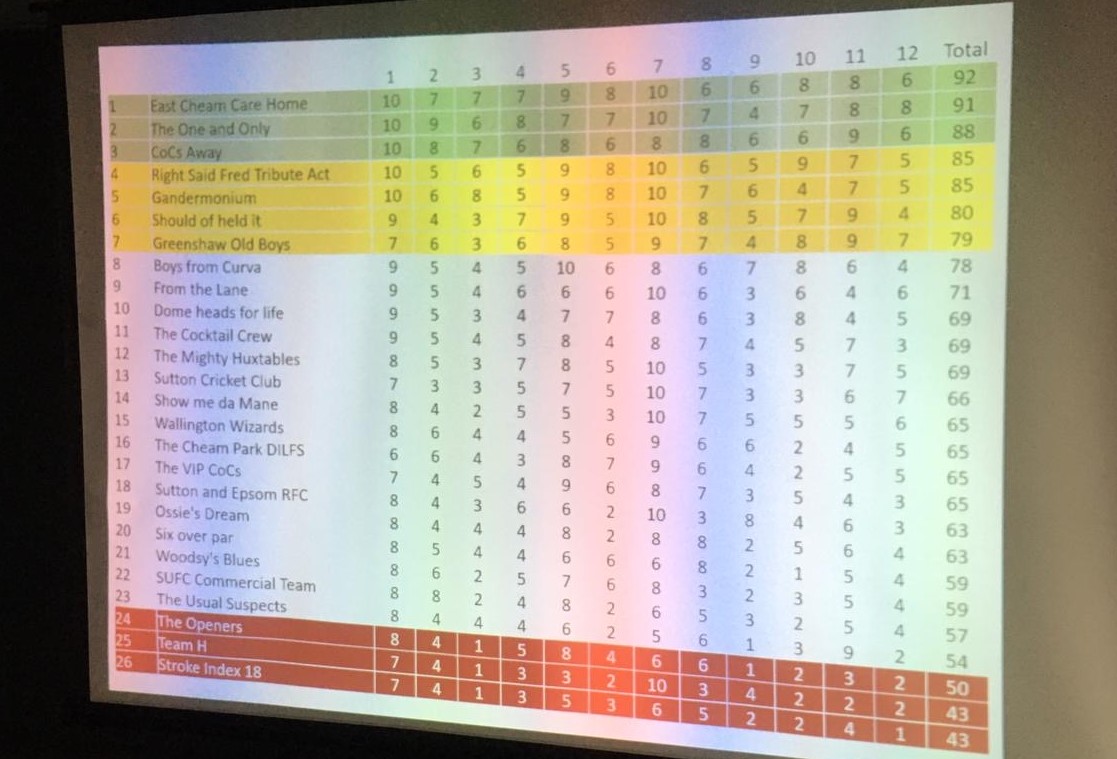 Quizzing!
I fully understand that a team's objective is to gain the points in any form or matter but what Solihull Moors dished up was anything but football. Never have I ever seen such a team whinge, moan and hack like what was witnessed. Goldilocks (number 5) and his fellow three teammates I will name by number chronologically – 4, 10 and 24 – what a collective bunch of wankers. Constant elbowing, harassing the referee – who may I add had zero control of the game from the start and allowed others to dictate the game. I would honestly be embarrassed to pay and watch that shit! More to come on this later.
Let's re-track back to the start of the game where I was feeling very peckish, with not attending the pre match lunch for a change I decided to take the option of some chips with curry sauce. However, sadness was soon to follow as I was told there was no curry sauce left, so cheesy chips it was – still it at least certainly filled me up.
The team line up was as follows:-
13. Tzanev, 4. Bards, 5. Goodliffe, 2. LJ, 22. Wyatt, 8. Davis, 10. Beautyman [skipper], 28. Reid, 17. Dave, 20. Tommy Wright and 9. Bugiel
What was evident from the first minute was that the clock for the scoreboard was not working – it stayed at 00:00 for the entire first half. I guess someone forgot to press 'start'. It was Sutton who started from the off the better with an opening chance for Bugiel who saw his lifted effort bounce off the bar, Tommy Wright instead of trying to square the ball for Bugiel maybe should have placed his header across the keeper for the goal. Nik Tzanev producing a class save, after coming out of his goal abruptly made it back in time to turn round a shot. Tzanev was to produce another class goalkeeping display when he saved onto the post from a shot following one of Solihull's long throws. Harry was put in a great position by Tommy Wright but sadly he dragged his shot wide.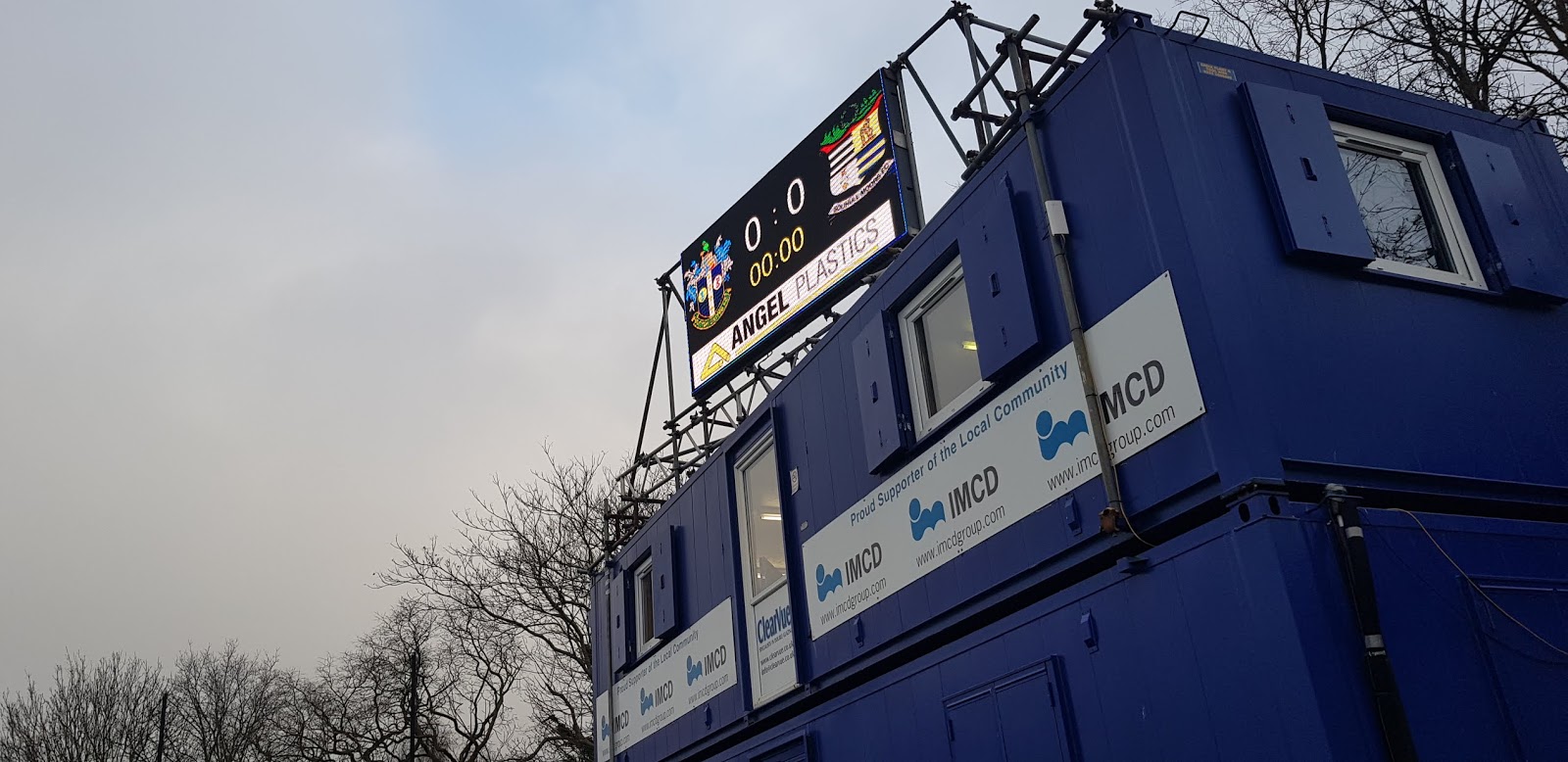 Start and finish.
Then the nastiness, a huge melee occurred in front of the dugouts and this was solely down to the weakest referee I have ever seen – one that had no guile and could seemingly not make a single decision, and if a player of any side had picked up a serious injury, the door of blame lies squarely at Mr Alan Dale. The referee's performance merits a zero out of ten, and that is being generous. One rarity that could be stated is Sutton did not make a single substitution, but another clean sheet although the lack of goals is rearing its ugly head again. So, a nil nil was the final score and a game definitely not for the purist.
Now, be warned, this section is Not Safe For Work and will include swearing!! So it's probably best to read this after the watershed….
Which now brings me to the misfortunate subject of Mr Timothy Flowers. Once a Premier League winner with Blackburn Rovers in 1995 (and to think I wanted them to beat Manchester United back then) and 11 England caps – obviously you were not good enough to get anymore! A guy who tried to define what the word "bottle" means at least three times during an interview back in 1995, obviously hence why you didn't get any more England caps as you didn't have the bottle. I seem to remember you having a howler against Brazil in the same year in The Umbro Trophy after becoming a Premier League winner. In particular the third goal for Brazil – the ball went straight through your legs. However, Mr Flowers you squire are a grade A knob – how could you seriously say that anti football you served up was tremendous – totally deluded fool and that's not before you unprofessionally shouted back at me when I called your team a disgrace – rumours abound Mr Flowers asked to see me in the car park – zero class you prick. You absolute fucking bell-end; I have never seen such an unprofessional attitude – your meant to be concentrating on the game and you are worse than that Dunne geezer at Bromley. Any meanly ounce of respect I had for you has well and truly disappeared, and you make my list of twats. You were not even wanted for a selfie from a fan, who wanted their picture with our Matthew Gray rather than you!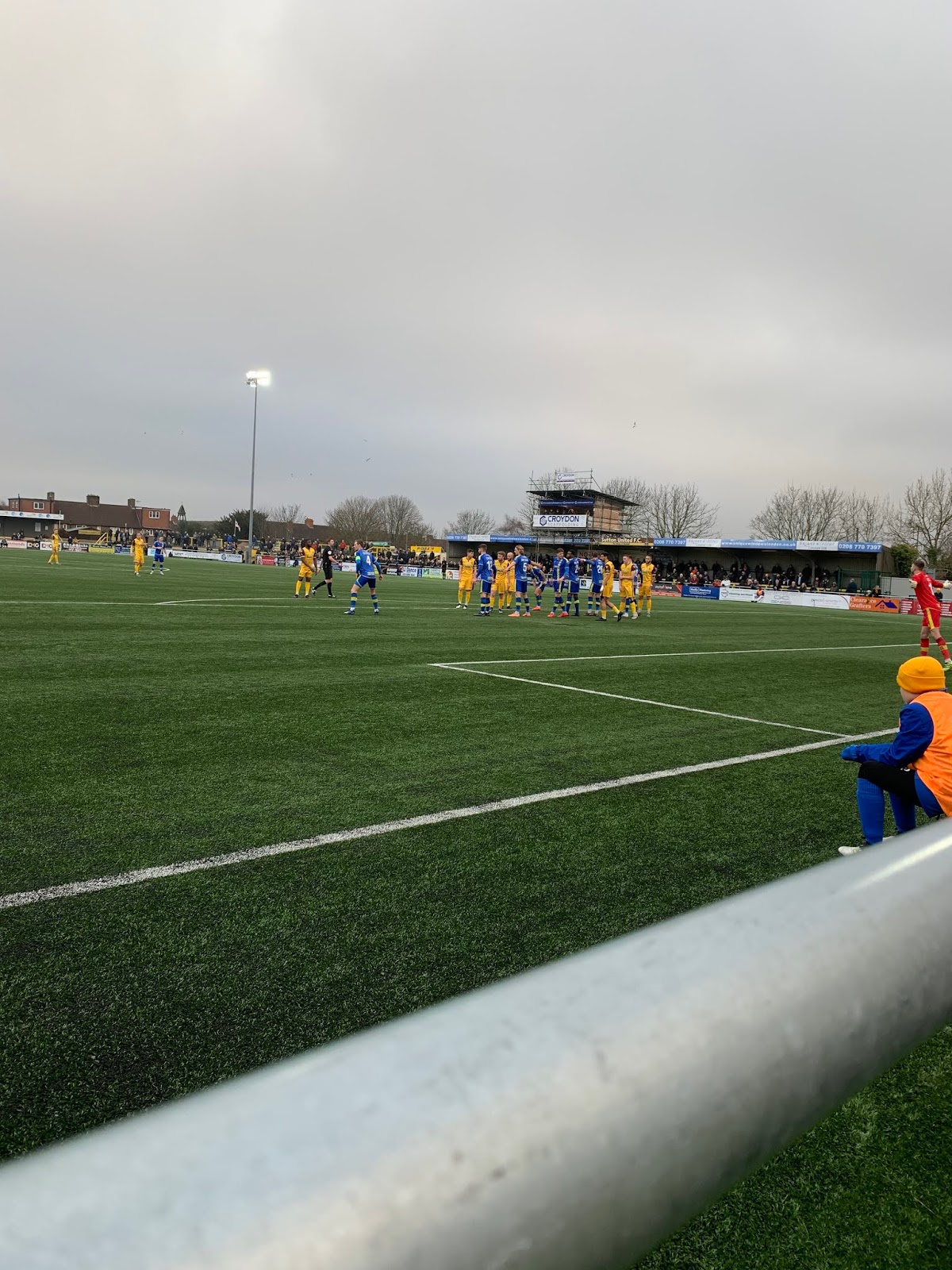 Action…
Your team, Mr Flowers, are diabolical, shit and nothing but a bunch of thugs; and for you to say you should have won the game – seriously, have a word with yourself. As for your skipper number 4, never have I seen such a gobby little shit, along with number 10 and number 24 curly haired dip shit. Your players also showed zero class by doing wanker signs to members of the Cash Out Crew (COCs). And I thought Solihull was meant to be the decent part of Birmingham!
Rant over, so now we move onto the drinks after the game, which I may add not many were had by me, and a lot left fairly early once we'd had Louis up on the Strikers are Key 'stage' complete in sparkly jacket to celebrate his return, I thought it was wise to stay off the beer so I could actually have a night at home and instead watched The Masked Singer. Hahahahaha – I have got two right!
Thoughts now turn to Leatherhead away in the Surrey Senior Cup, to which the draw for the Quarter Finals was made – a potential away tie to South Park (thought that was a cartoon?); and then an away trip to Viva Las Vegas (aka Ebbsfleet) next Saturday. What fun.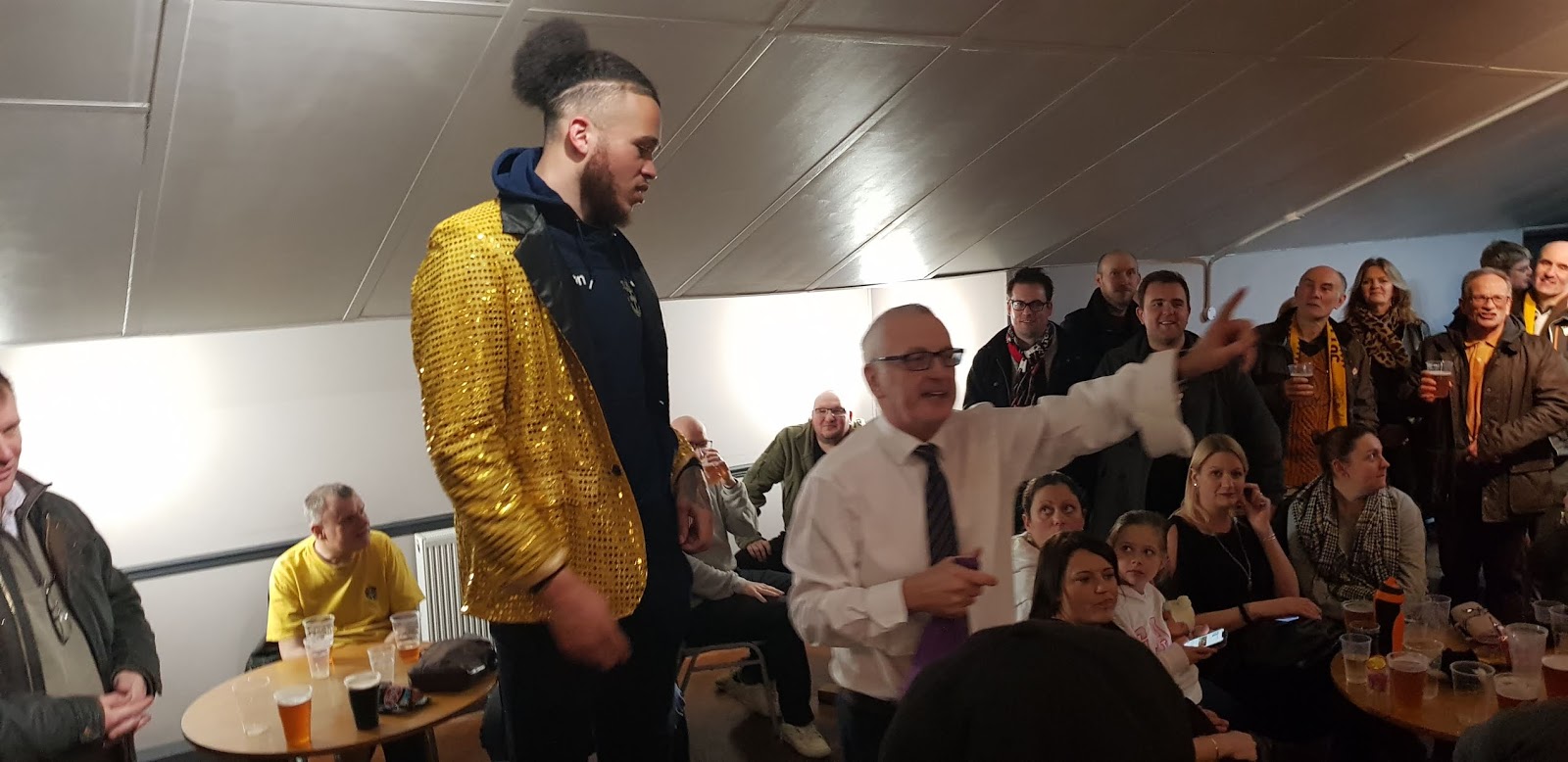 Sorry Louis! And welcome back mate….
Wise men say….
Robbo