In part one, Juan took you through the thrilling tale of a romantic sunset over beers, a tour at Partizan, nosing about at Red Star, meeting some nice Delije chaps and seeing enough silverware to give a Brasso salesman a raging hard on and thoughts of early retirement.
Up next, it's Dukey to run you through the events of our little jaunt up to the fair city of Novi Sad. What did we do here? Got bloody drunk, that's what! Here's part 2….
Me, the 13th Duke of Sutton? Here? In a strip club in Belgrade?

At four o'clock in the morning?
With my reputation?
The main bulk of this blog is to bridge the gap between Juan's stadium tours and Taz's match report from the game. So lets start as Taz, 4 Days and Juan were managing to mingle with the boys from Red Star, while me and Mr X were feeling the pain in our plates and decided to grab a drink instead. The only place around the stadium was the VIP lounge, so decided to try our luck. Getting in was a trick and after ordering a beer for me and a iced tea for Mr X we parked ourselves on the nearest couches.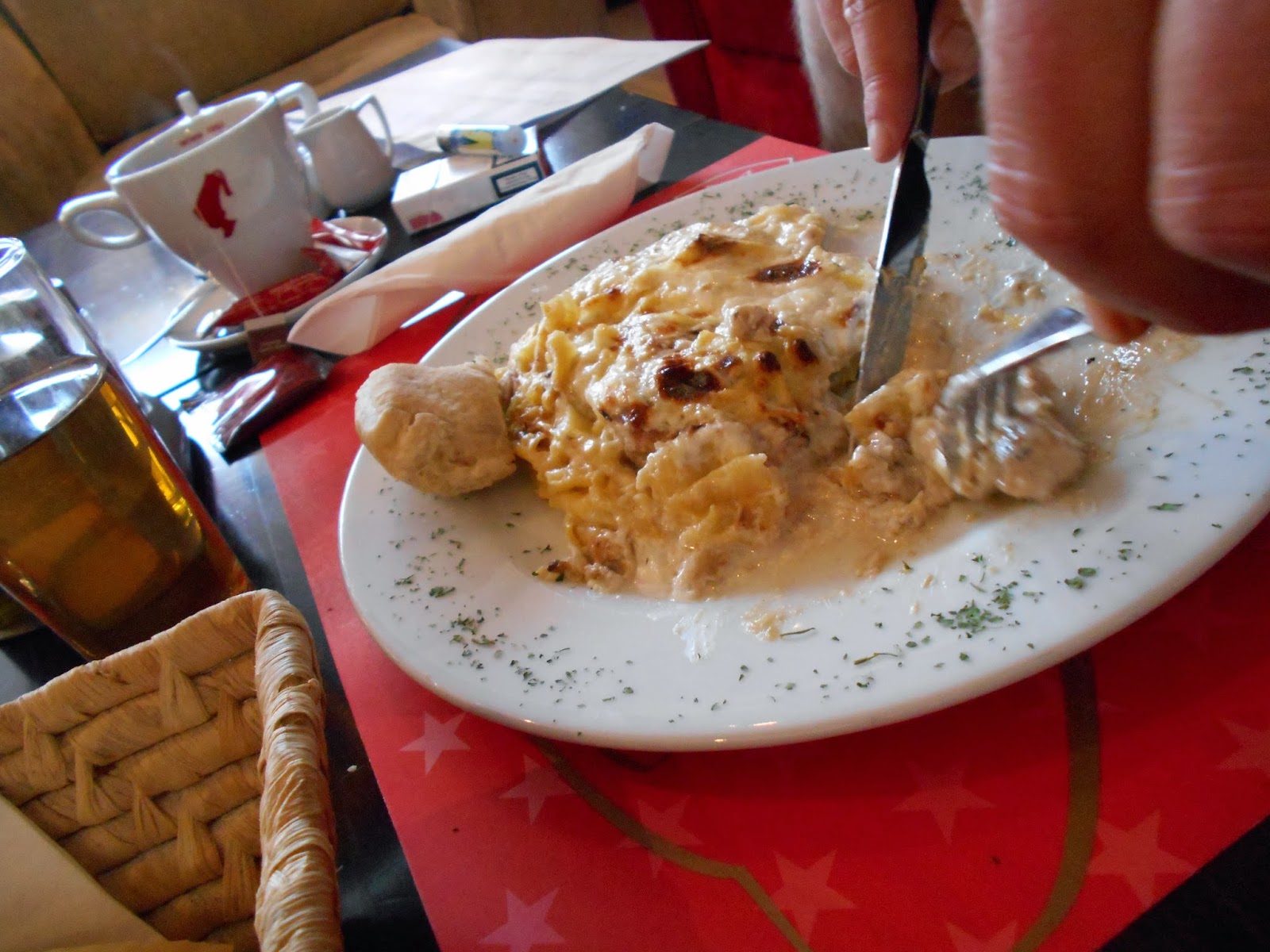 Sausage? No, Turkey….
Now the VIP lounge is the place were all the top brass attend on match days and right next to the bar is the entrance to the pitch that the Chairman takes. As Mr X pointed out it was a cracker of a view and within arm's length of the important refreshments! It was here that Mr X decided to grab a bite to eat, unfortunately the whole menu was of course in the local lingo, so in a moment of sheer brilliance he picked one dish that we thought sounded like some type of sausage.
What came out was in fact a turkey omelette and it was a whopper. The whole plate was covered in egg and massive chunks of real turkey meat, and none of that processed sliced shite you get out of a Bernard Matthews packet either. Even the warm fingers of baked bread were lovely and would put Mother's Pride to shame. Sometimes it can be quite something when you try to order any food & drink to waitresses that don't understand the Queen's English, and getting a cuppa is one of these. Apparently when ordering tea the natural understanding that English Breakfast Tea is the norm doesn't quite cut it on the Continent and when they ask "Which one?" it can be quite distressing for those of us that drink it.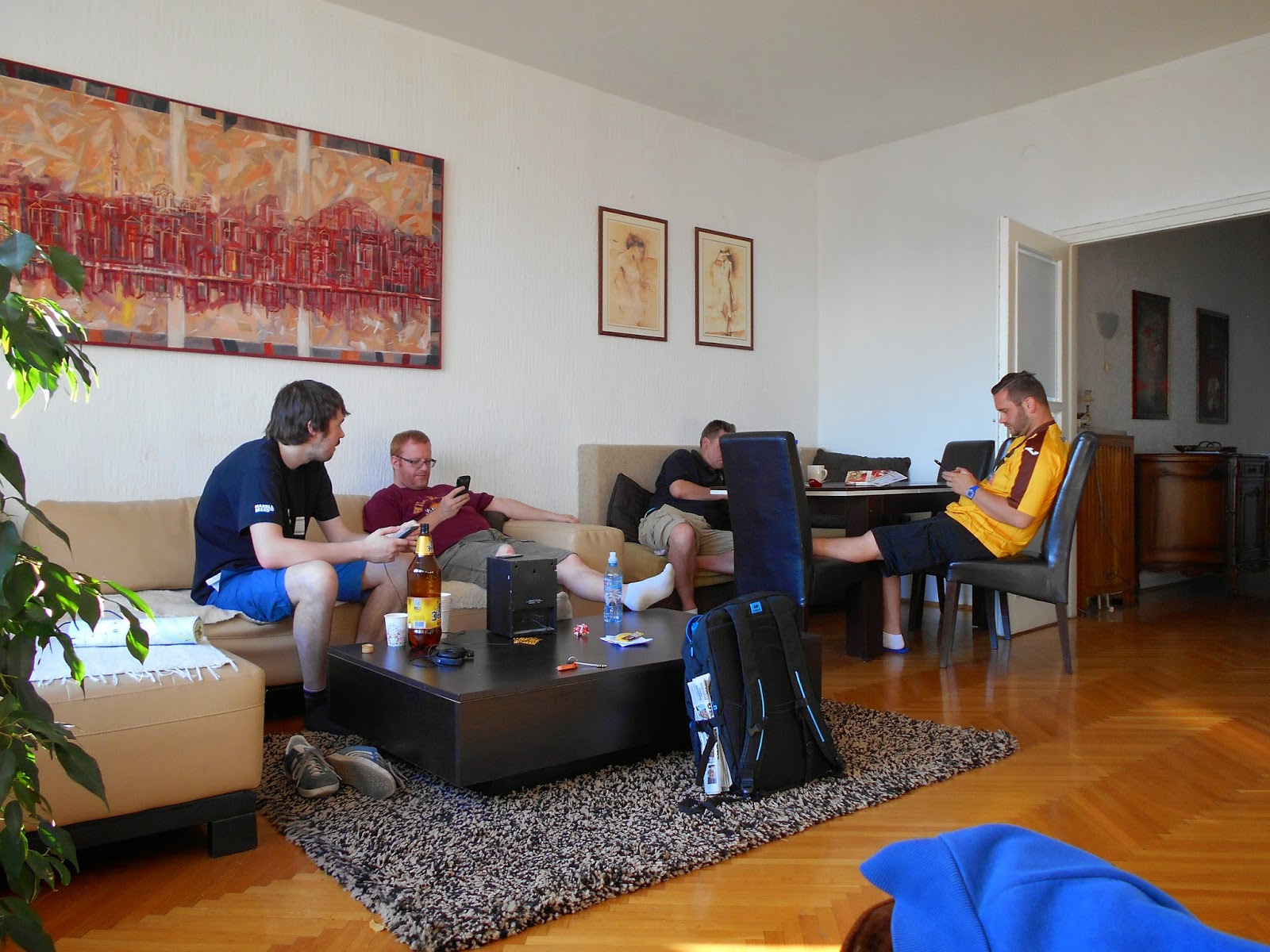 Hands up if you wanna do a sweaty rush hour bus to Novi Sad!
The rest of the gang eventually joined us in the bar and after another round we decided to head back into town with the plan being that we would then head up to see a former work college of Juan known to us as Igor, in a city called Novi Sad. Walking back to the apartment in the blistering heat took its toll on me because as we arrived I removed as much clothing as was possible in the present company. Much debate was to follow as the need to get to Novi Sad encompassed getting a ninety minute bus trip from the main bus station in the Friday afternoon rush hour through all this heat. Plus with tickets for the Red Star game available from tomorrow morning, it would make getting back (no doubt hungover) in time a proper pain in the arse. It was finally decided to postpone our trip north until the following day and to instead once again hit the town.
The first stop was to go to our local bar the "Three Carrots" to decide what exactly we were going to do. I for one was of the opinion that I would like to try some of the local tucker to see how it compared to our own back home. Two pints later and information given to us by the waitress of where to get some of the local delicacies we headed west to find some sustenance.
Walking around once again looking for some food took us halfway around the city as frankly we couldn't quite understand the directions she had given us (she was the one that gave me instructions for the camera shop) and we got lost several times. Thank God for google maps and someone with a smart phone is all I can say.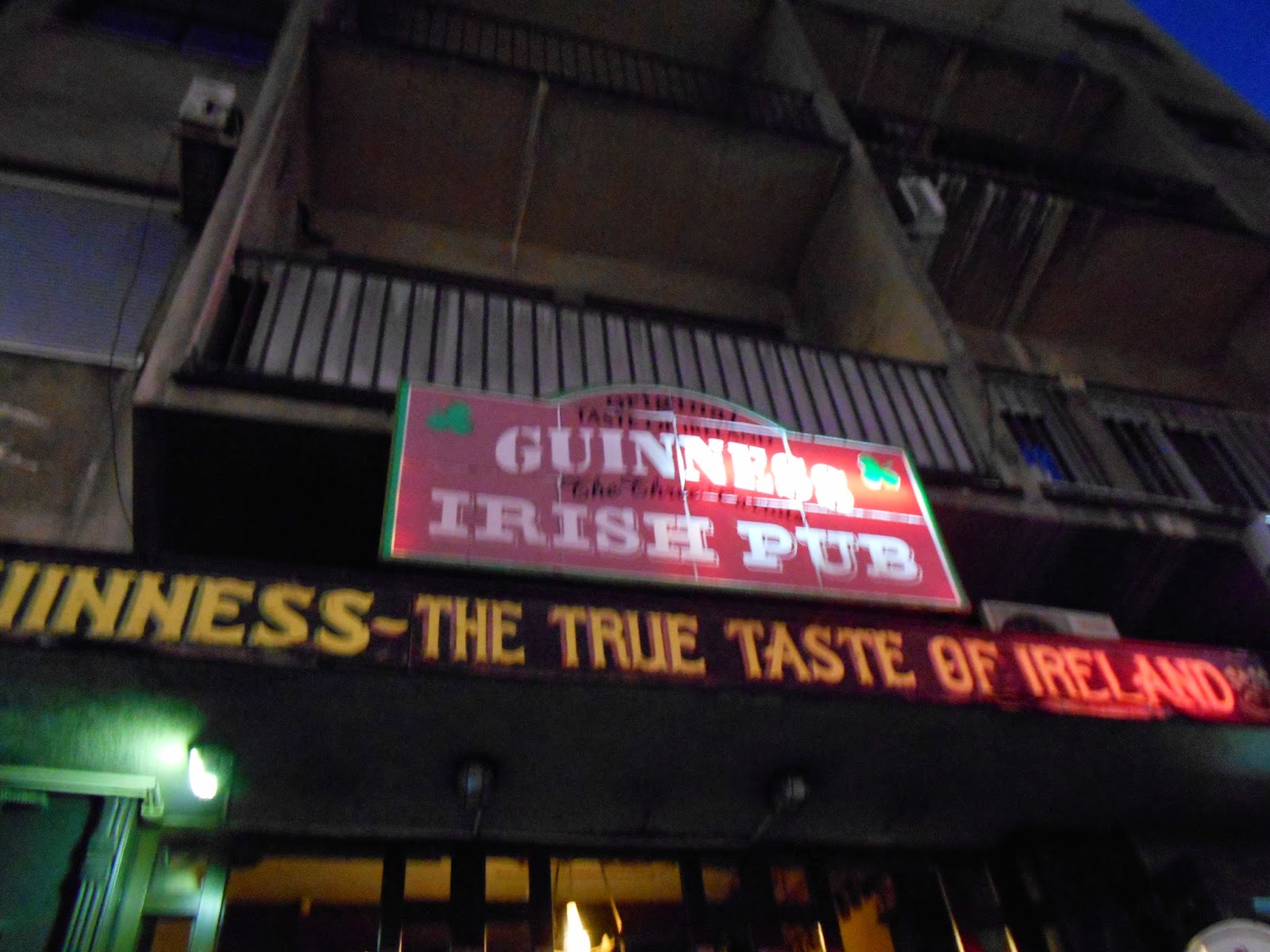 True taste of Ireland alright. The Guinness cost a fucking fortune!
At the point of giving up we decided to back track a bit and head towards the FIFA world cup set up we'd seen earlier and plumped for a busy place called "Boutique". Now some might say it was because it was the closest to us or that maybe it was because a table had come free just then, but let me tell you it was most likely because it was were the action was with all the lovely ladies walking past us.
The highlights of the meal was seeing not only the shouts of "Look at that!" and "She's definitely at 10!" every couple of minutes but also having Mr X drool over a lovely looking portion of pork ribs and watching Juan & Taz have a romantic meal together as they shared a T-bone steak. 4 Days had his meal order messed up but even he commented that despite this, the use of fresh tomatoes in his pasta took it to a whole new level.
Suitably stocked up on stodge we decided to head back to the Three Carrots as it was close to the apartment and we needed to be near 'home' because tonight we were going to take it up a notch and show the locals how to drink properly. After the first round it was declared Jager time and the night descended after that. Much of the conversation was like that back in Bruges in the summer were a team was called out and we had to name a player from it in turn. Don't know one? You're out. You would be surprised how competitive some people can be when teams like Kingstonian and Carshalton and countries like France and Italy are called for. God knows what the locals thought, but did we really care?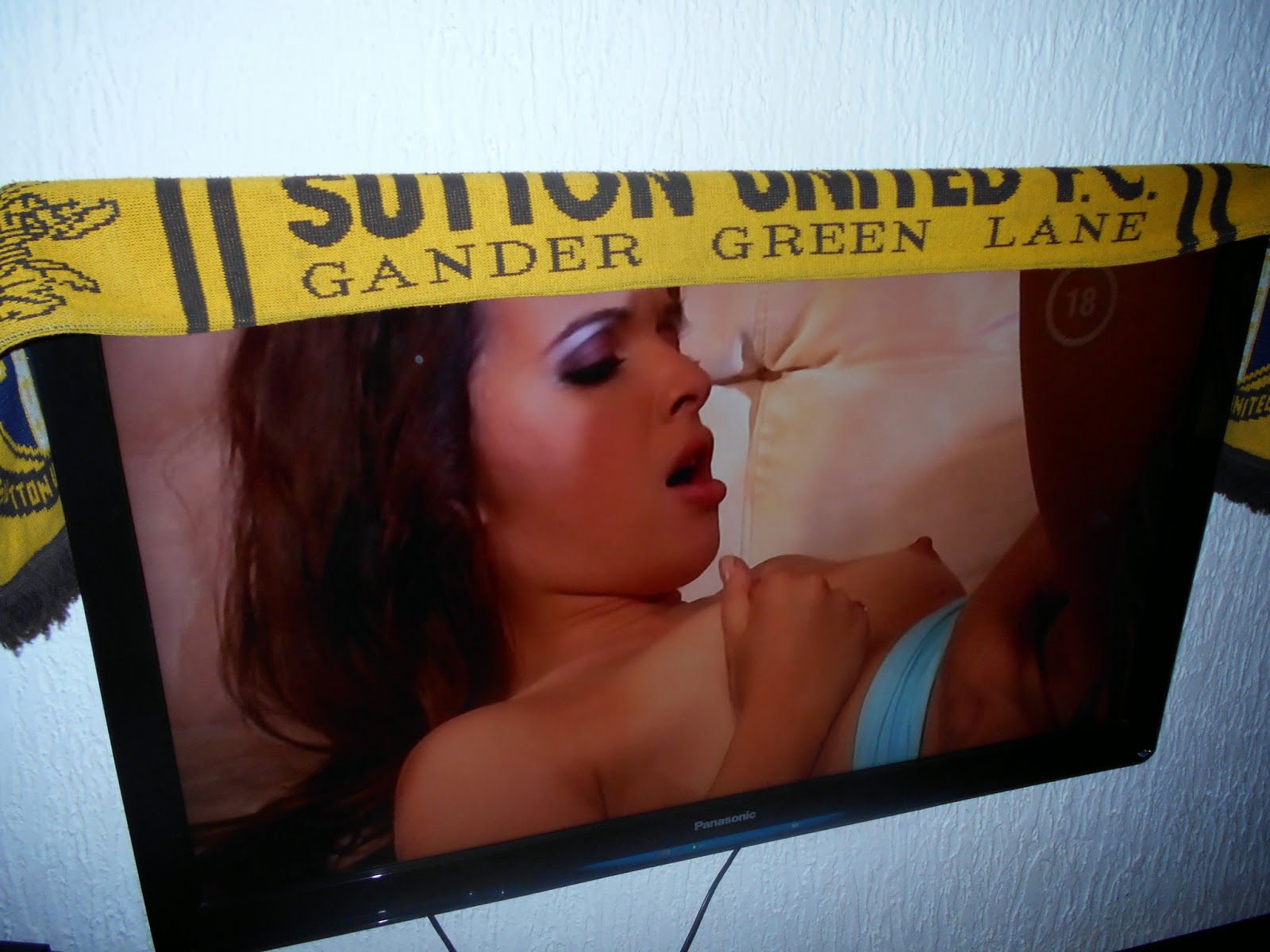 It's ok, it's only softcore…
Now Juan would say I did it on purpose, I personally blame the lighting, but in all this excitement I managed to fail to grab my pint and instead knocked it over. The resulting cascade not only ran over the unsuspecting Juan but also soaked several thousand Dinars in the process, you wouldn't believe it. After this Juan, being a tad more effeminate then the rest, called it a night to go home and launder his beer soaked attire the rest carried on doing what we do best, and that is not chatting up barmaids! I don't know why she tried to bar me, but with my puppy dog eyes I managed to dissuade her. Either that or we were communicating in a different language.
Once last orders were done and we managed to be the last to leave the place, over an hour since it shut we reach our apartment to settle down to our new social habit in Belgrade. I don't think you would find a group of lads more critical of pornography than us. Even though saying that it was Serbian softcore variety and the fact the complaints were more of the fact that it wasn't dirty enough.
We also finally had received word that the Red Star vs OFK Beograd game was going to happen on Sunday afternoon, the only snag was that it was going to be free entry but you needed to arrive in person on Saturday morning to get the tickets. Luckily Taz & Mr X offered their services to collect them so I decided to head back towards the fort with my new camera in tow while they were out queueing.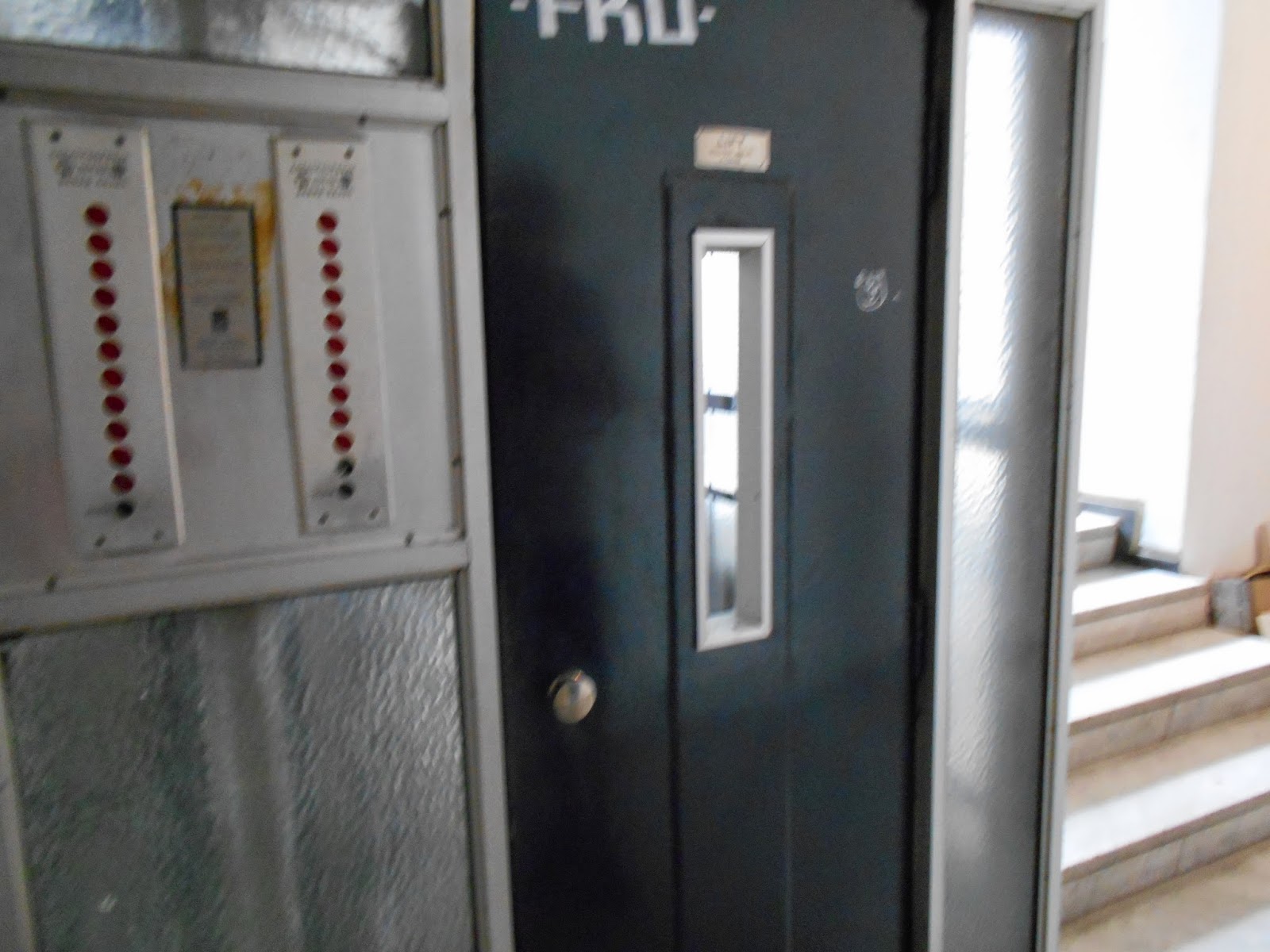 Scary old lift…
Eventually calling it a night I headed to bed for another uncomfortable night as the heat was still well above my own threshold. The time was very much AM as we awoke from our dreams and got ready for another scorcher of a day. 4 Days & Juan decided to come with me to the fort while Mr X plus Taz headed back to the Marakana with our passports to grab some vital tickets (no doubt Taz will explain what happened in part three).
Walking back towards the fortress we took in some of the sights that it had to offer. In particular was a series of poster boards that showed the Serbian mentality. Over thirty six were on display showing old photos of history that were equally allotted not only the bombing of Belgrade by the Germans on 6th April 1941 but also by the Allies on 16th April 1944.
With time against us we sadly couldn't go to the Military Museum or Belgrade Zoo, so to satisfy my own passion for military history we got the chance to swan around looking at the various Tanks and Artillery pieces that were doted around the place. Even the boys with me were horrified/impressed (delete as applicable) with the knowledge I possessed on various German hardware, go figure!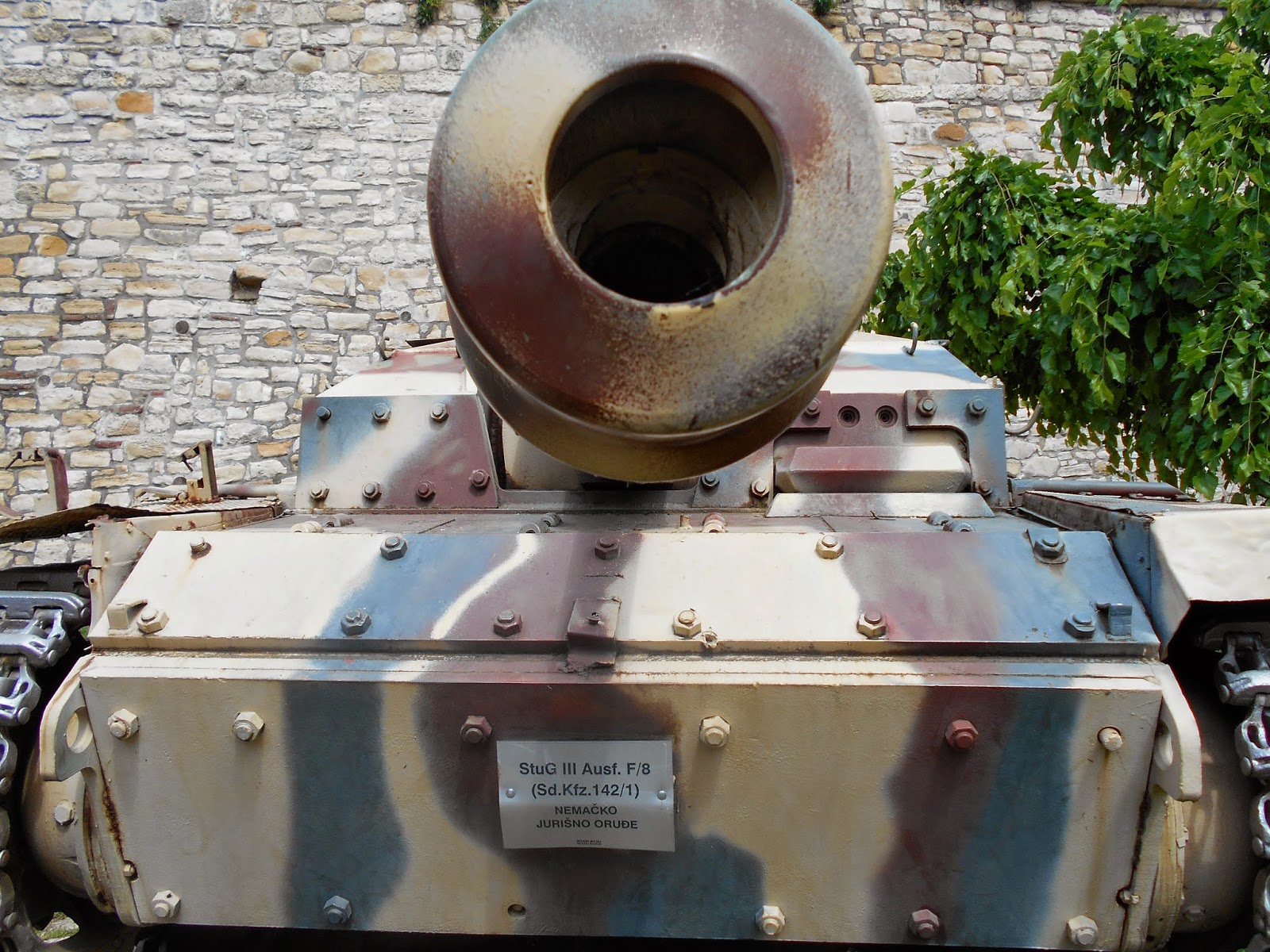 Dukey is surprised by the size of his latest drunk Airfix purchase…
Walk back towards the apartment we had to make a little unscheduled stop at KFC as Juan was having one of his moments and decided to grab a little sandwich as well. Once again the food here was better that what we get at home. With one emergency diverted the rest of the walk went quickly & we all met up with Taz & Mr X before heading towards the local bus station.
After somehow purchasing some return tickets without any problems we jumped on what appeared to be some kind of prison bus and started on the hour and a half trip north to Novi Sad. I'm not to sure what happened or what was said as straight away I hit the sack, out like a tranquilised rhino, only awaking as the bus reached Novi Sad and the terminal.
It was here that we were greeted by Igor and his better half Ema. As one of them usually walked and the other drove everywhere, we decided to catch a bus. Now this would've been a right fuck up hadn't the locals been with us as the first stop was wrong and the second one was another half a mile away. I spent most of the time taking the old classic Duke random photos of pointless architecture that had our guides wondering what sort of fella I was.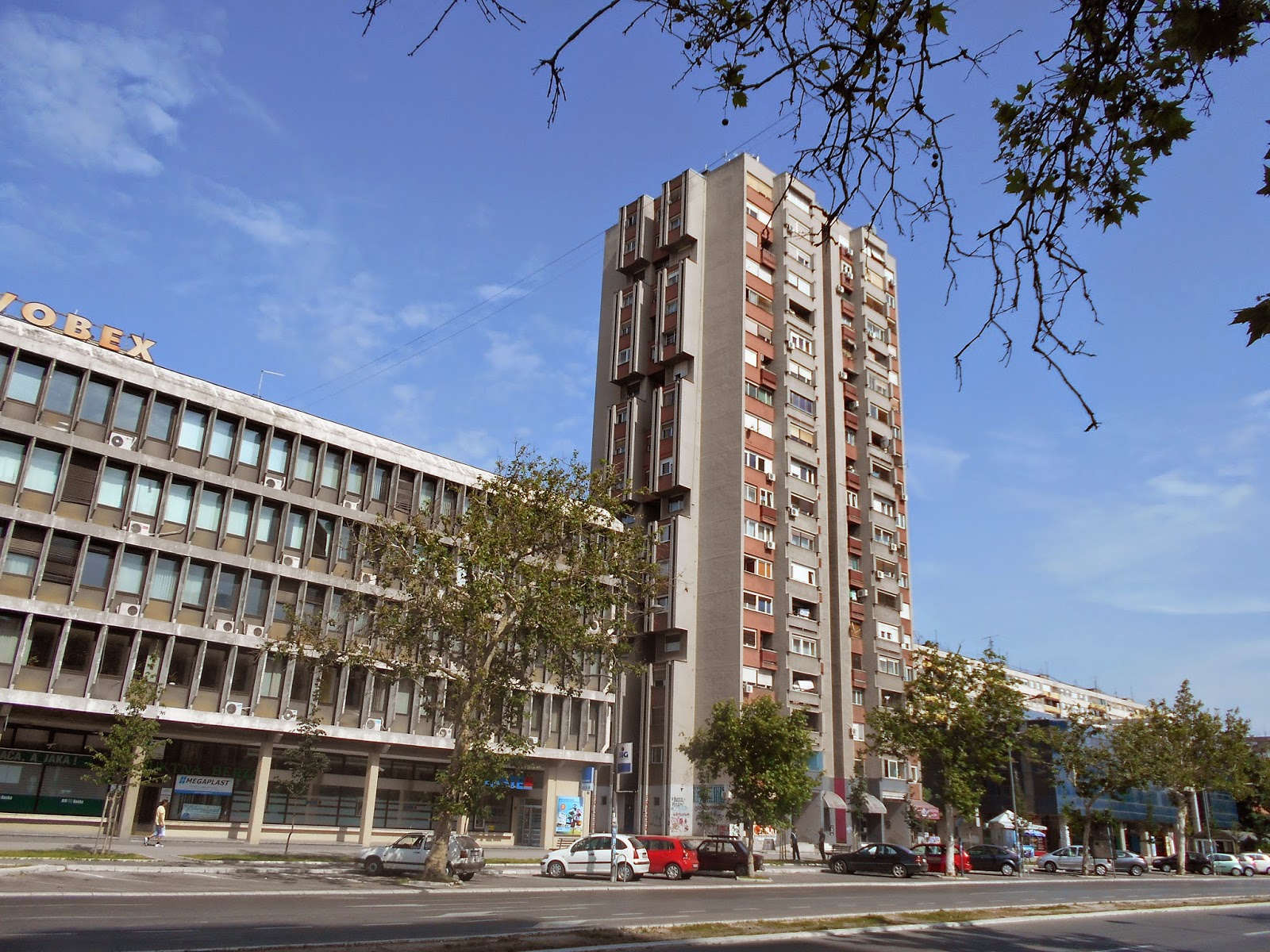 Hello Novi Sad!
Arriving at their apartment the outside looked like the same ones in Belgrade. You know the 1970s Soviet style grey concrete types that were everywhere. Inside was totally another story as the whole place had been totally redone to a top dollar standard that had me silent in amazement. Not for long mind you as we settled down to a light touch of small bloke.
Igor is one of those top guys that surprises you every time you chat to him. If he was refereeing the charity match last week, I would without a doubt not have been sent off. Firstly he was going to put four total strangers up in his one bedroom apartment, secondly he paid for the bus trip and now he was handing us all t-shirts of his beloved team FK Vojvodina. Next he handed out a bottle of the local brew and we settled down to a spot of small talk to past the time.
I say small talk because unfortunately Igor and his missus Ema can understand and speak English a whole much better than our combined efforts at Serbian. The only snag was that there were unable to understand that noble language called 'Cock-er-nay'. As some of you may know I'm possibly the worst for a spot of the proper London accent and not before long Igor and his better half needed the help of others to translate exactly what was emitted from my North & South. Apparently words like "boozer", "snouts" and "titty bar" are not as universal as I once thought.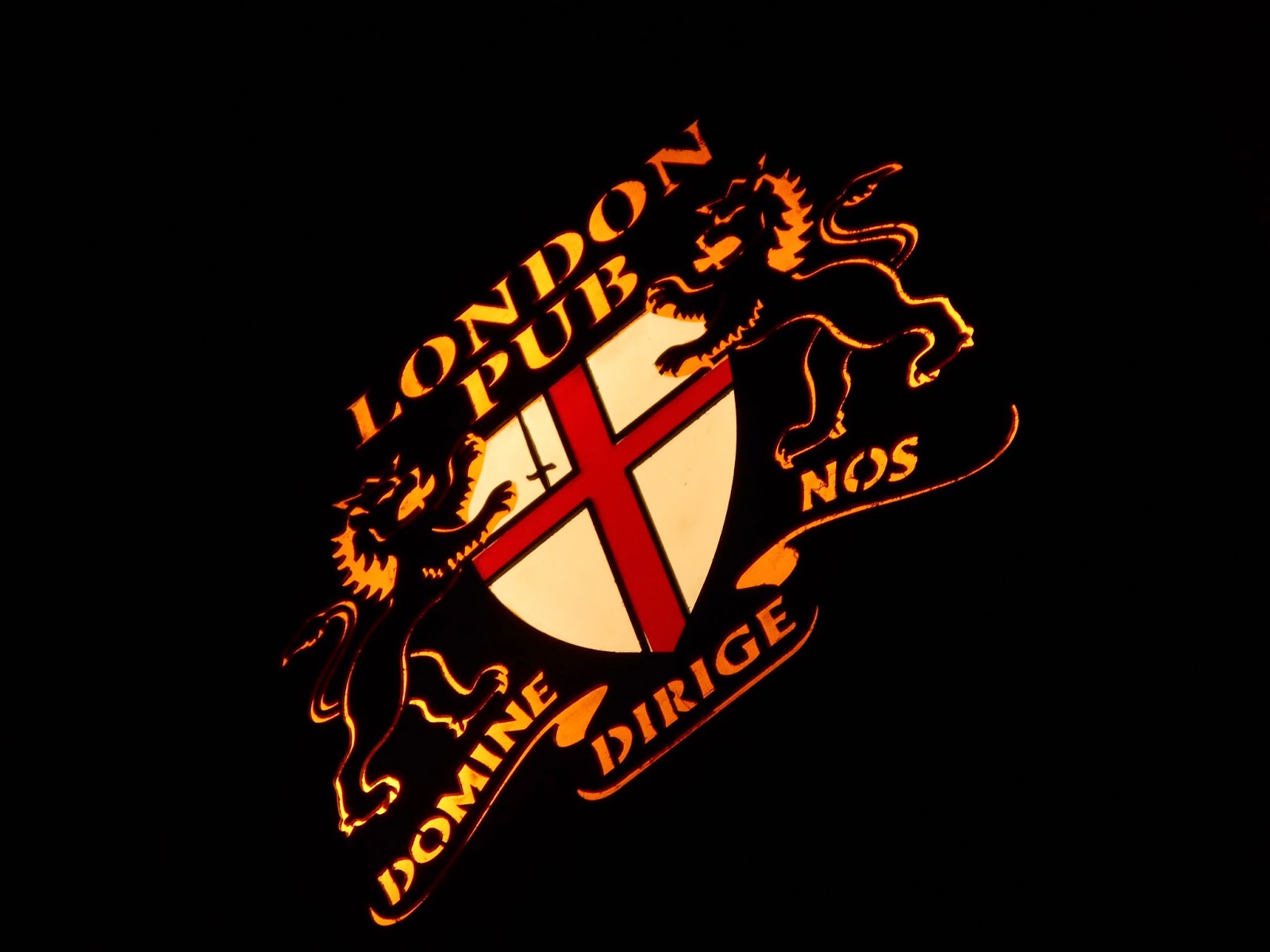 Our cultural gift to the world at large is just astounding….
It was decided to go local as possible for food tonight and before long we were walking down the road towards the stadium, to a restaurant that Igor highly recommended as 'Very Serbian'. I would say having a local with us sped up the service no end, as before we were sat down an English menu was produced and a round of drinks were ordered. For some reason our ages were ask for by Igor & Ema, Juan refused to believe he was 34 and Taz stated:
"If you tell them you're 27 Duke, I'll punch you in the face!"
Looking at the menu I couldn't decide what type of meat I wanted. So like back in Blighty I moved for the old saying "If you can't decide, have a bit of both". This meant that I signalled for something called the Vojvodina Mountaineer, which basically was a mixed grill, like you would get in the 'Spoons in Sutton. I had also filled myself with several rolls that had cabbage, cheese and some spicy tomato dip inside which apparently you eat with the meal not before.
What was put before me clearly took a whole farm to produce. It was massive beyond belief. I looked at the group and found everyone was looking directly at the mound of meat that lay before me. Many questioned whether I could possibly finish such a mountain of protein. But with the experience and willpower that I possess in abundance I managed to complete it to the amazement of all present.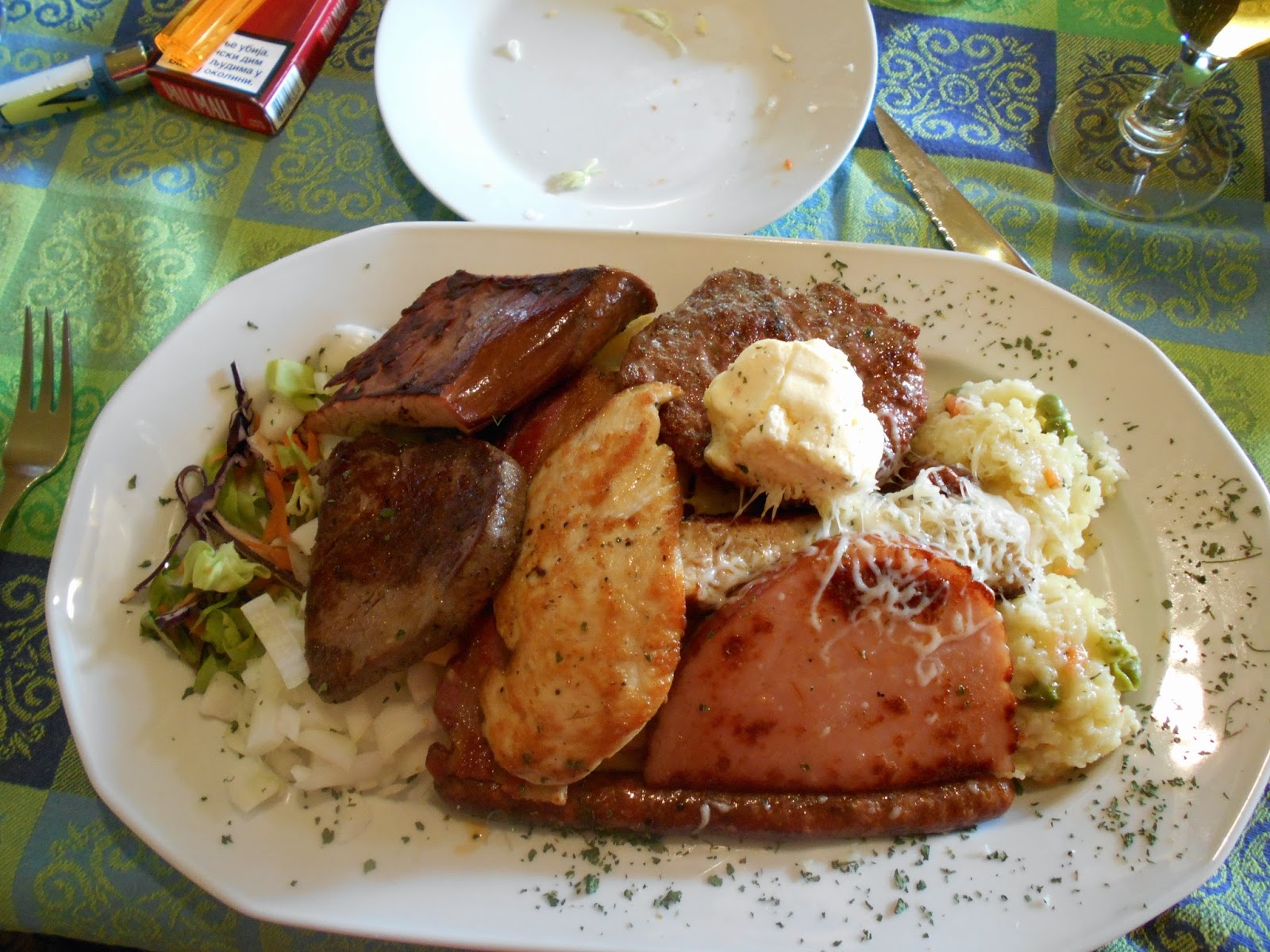 The Vojvodina Mountaineer. Or 'contents of a farmyard' in English.
The fact that it took me over forty-five minutes to do so is neither here nor there and that in that time Juan, Taz and 4 Days had managed to take a trip to the local ultra shop and do some swaps and be given some other pieces of Vojvodina football merchandise. You wouldn't believe that they apparently hadn't heard of the legendary Sutton United either. Do these people live in the Dark Ages or something?
With the meal finished an argument ensued with Juan & Igor over who was going to pay for the meal. Seven people for under a ton is pretty good If I don't say so myself. Igor managed to trick Juan and pay before he could protest further so off to home we went. At least that was the plan, before we managed to sneak into FK Vojvodina's ground without being arrested and take a couple of holiday snaps of the pitch.
Back at Igor's flat it was time for the Champions League Final and before we even arrived, there was a queue of people waited outside. Me and Mr X offered to get more refreshments even though there was already enough to go around. A quick trip later we were introduced to some of the local boys that Igor hangs around with. Most of their names escape me now but there were at least five fellas there and with Ema in the kitchen making more food everyone settled down for some footy.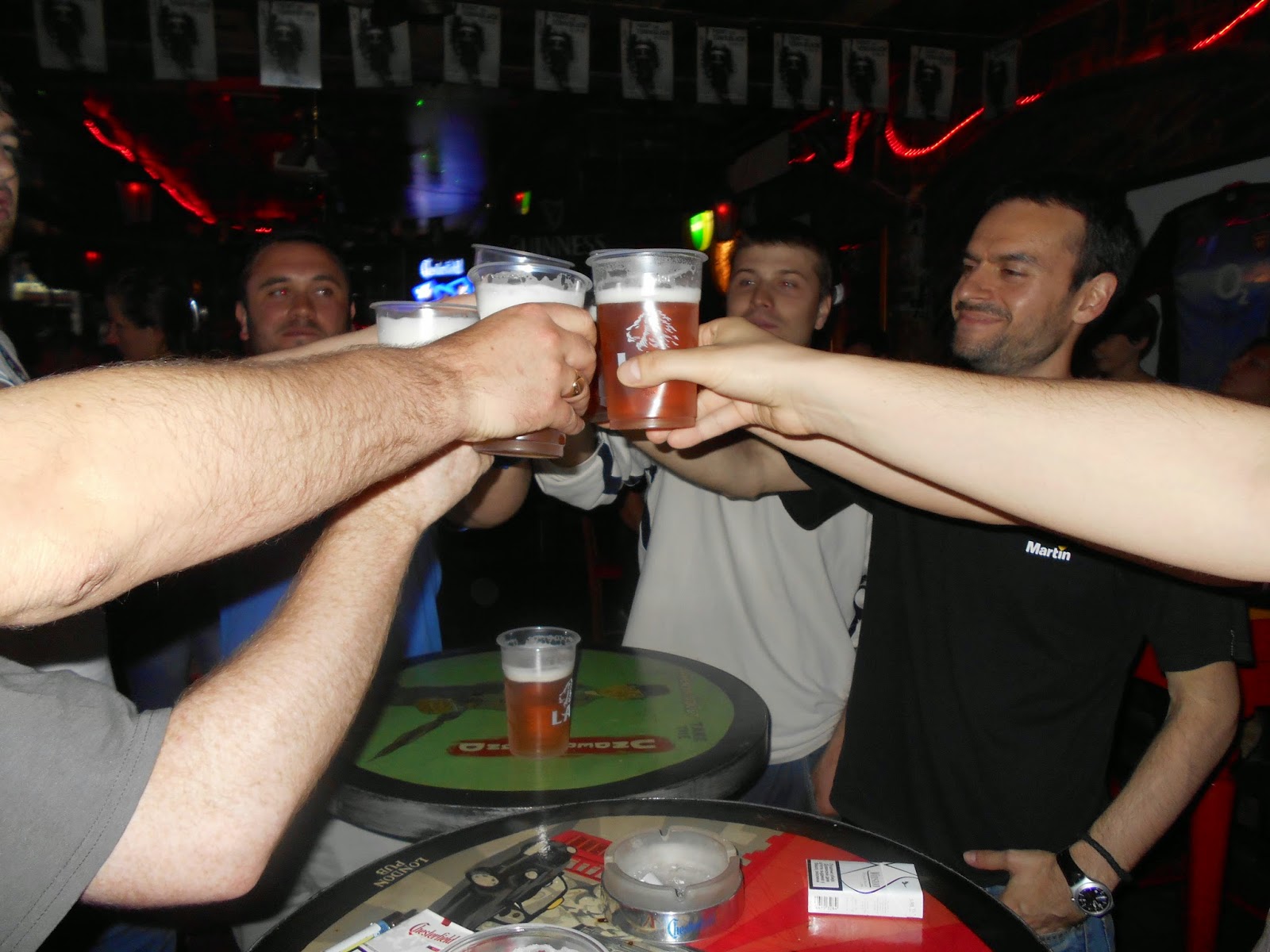 About as sensible as it got on this particular night.
That was everyone but me and Juan who located to the balcony to escape the heat that now encompassed the room. Our reward for this endeavour was to have prime seats to watch a woman in another flat decide to get undressed with her curtains open. I can tell you now, from our vantage point she was no natural blonde! As Juan remarked, it was our first naked Serbian lady and had cost us nothing. Result!
I didn't really keep tabs on the game, only to pop in every once in a while to partake in a little local tipple called "Rakija", a brewed fruit alcoholic number that didn't even have the proof on the bottle. That didn't stop the Firm from polishing it off with some help from Igor and a couple of the locals.
Before we left the apartment it was pointed out to me that some of Igor's friends were betting just how pissed they were going to get later on. This would never catch on with us as it would lead to some dodgy dealings going on no doubt. Saying goodbye to Ema we headed off back into town for some much earned drink. At the start there was five of us and seven of them, one fella didn't make it out of the starting blocks leaving us almost level. 5-6!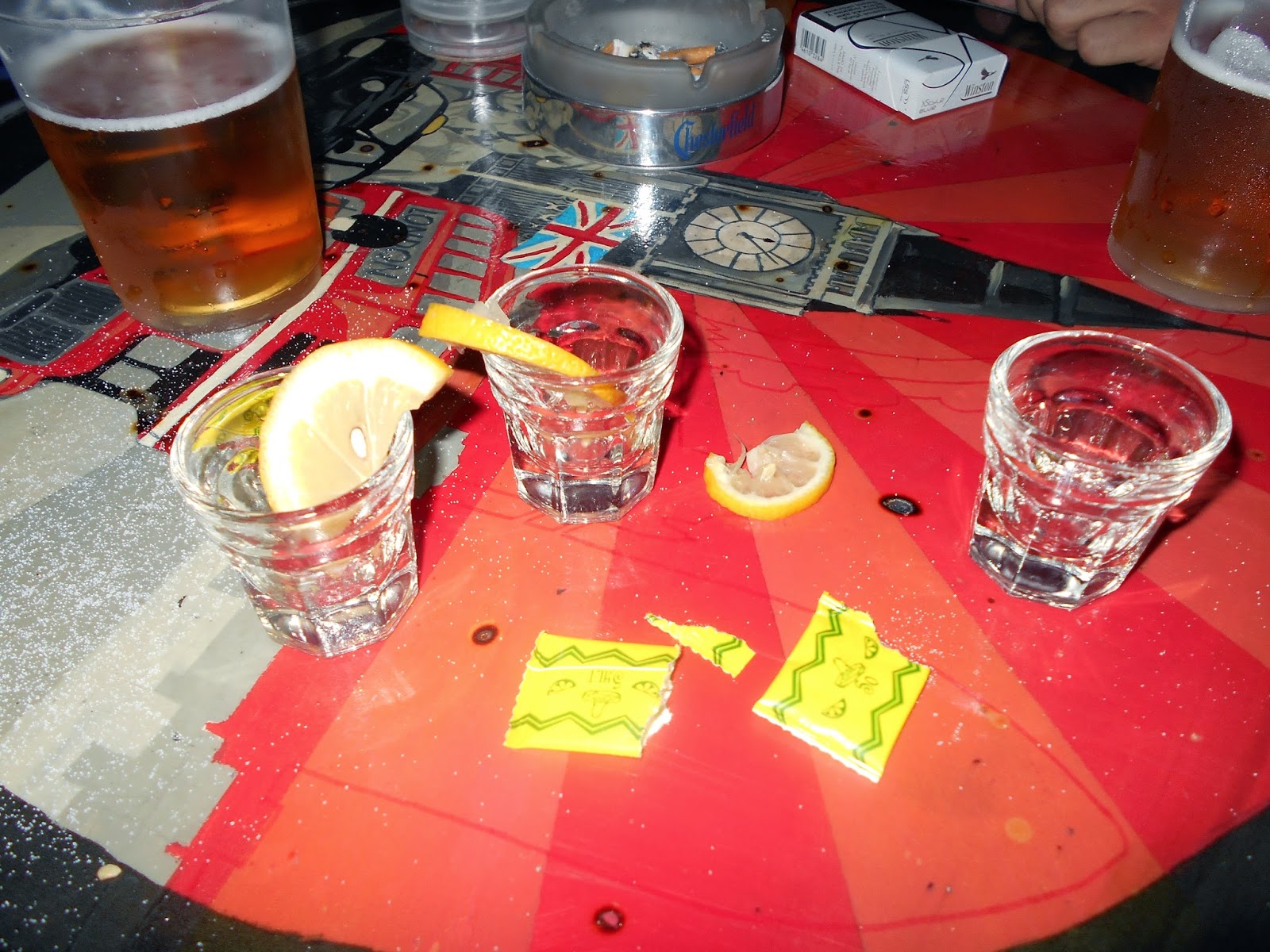 I like Tequila, it make me happy….


The first port of call was the London Bar where straight away Igor ordered ten beers. Once again he paid for them and it was here that Taz declared:
"From now on we will show these people what Western spending power is all about!"
Next thing I know some fella ordered Tequila Slammers, except there were on three on the table, one each for me, 4 Days and Mr X. I asked why only us to the fella and he stated that his friends didn't want to partake. So when in Rome and all, that the shot was dispatched forthwith. After several beers, nature called and after returning from the toilet I noitched that everyone had left without me, Bollocks!
Luckily two fellas from our group were still here so after some strange hand signals I managed to find that everyone had headed to the next watering hole. Seeing that these two boys were in the middle of chatting up some of the local ladies I began to make tracks. I was then followed by one of the fellas (5-5!) who offered to take me some of the way to find them. Thank fuck for that because God know where I would've ended up.
Finding the rest of the Firm, my guide left us for pastures new, no doubt planning to soil his oats in some field somewhere. 5-4! Next thing I know we've headed underground to some social club that was hosting a hen or a wedding party. This was where I discovered that a lot of places in Serbia have mixed toilets. Just think of the trouble I could get into here!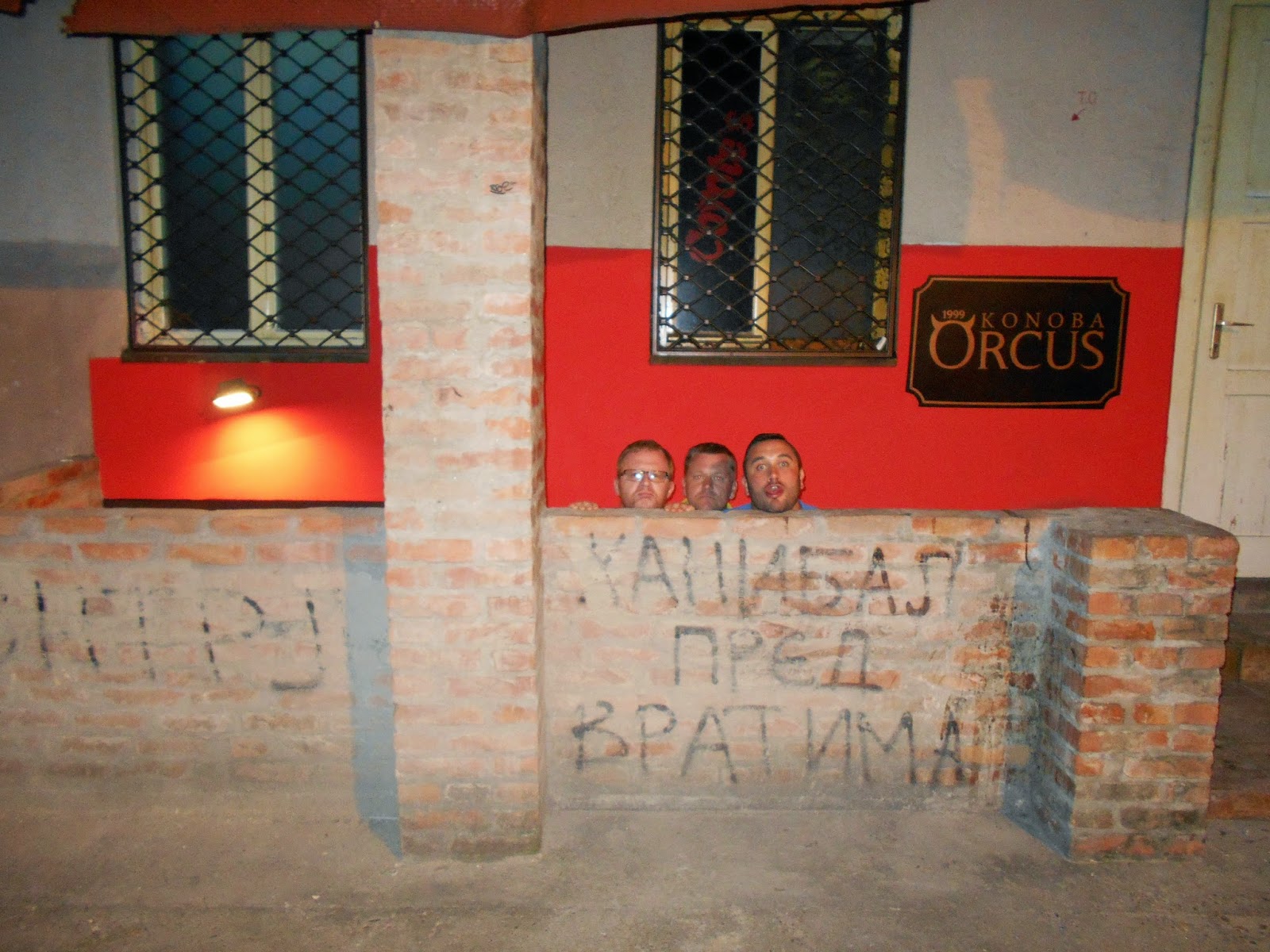 The quality of local Gargoyles wasn't great….
Before we left here another Serb hit the dust. 5-3! You would think that a proper pub crawl would be one drink each in as many places as you could stand. The Firm do a few things differently as we appear to do around 2-3 at least before we leave and once again I found myself trying to catch up with the group as we headed back to around where we were earlier.
The next place was opposite the London Bar where we'd started the night, and in order to try and raise the ante we started to do beers and chasers. I not too sure that the Serbs engaged in this wanton desire to get a drunk as possibly in the quickest amount of time like us Brits because they refused every chaser we offered to them. Oh well more for us then!
Leaving here we lost another two locals as one was clearly ready for bed (he seemingly had his pyjama bottoms on) as he couldn't walk in a straight line. 5-2! And the other fella managed to not be dissuaded by my begging and meet up with his missus. 5-1! Thinking back now I can see why he wanted to spend time with her than us drunk Brits as she was easily a 9.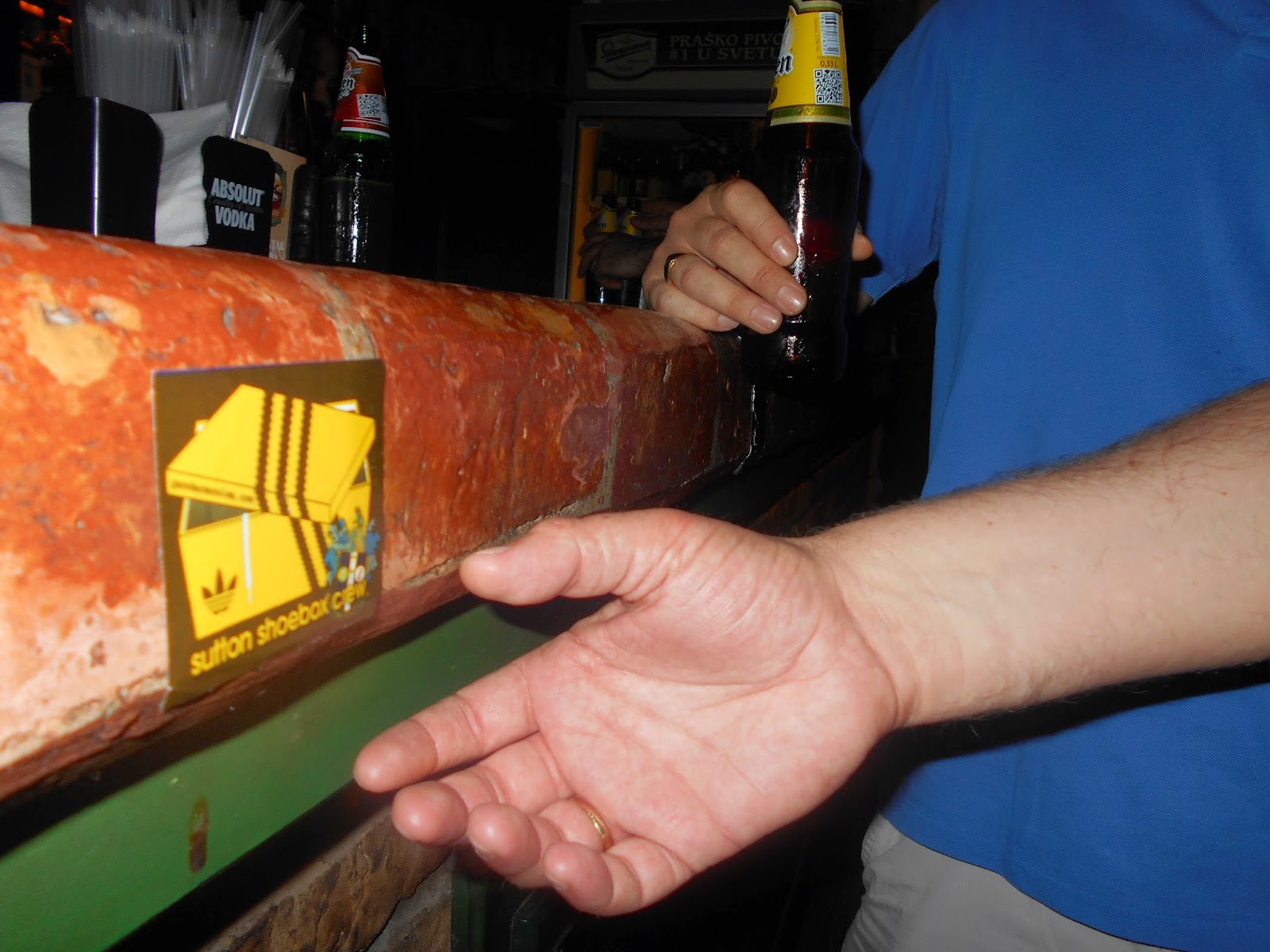 Wow! An SUFC sticker! How did that get there?
This left us, fully manned and one single Serb as company, our host Igor to be exact. So what were we to do? Well to carry on drinking of course! The next bar had some crazy band playing Serbian folk music. For some reason the bouncer wouldn't let us take any water into the place and we were forced to leave it under his chair outside.
The place was packed and some how they still had a form of table service where waiters with tray negotiated the crowds holding a tray as high as possible. Impressive! I would have to say that everyone in this place knew all the music and were singing aloud to their hearts content.
Several beers later we were now struggling to find places that were still open. Lets face it, it was gone two o'clock local time. Through translation I tried to describe Igor about a magical place called Taparui that had a late license back home. After much thinking he finally remembered a little cafe we could refresh ourselves before the walk home.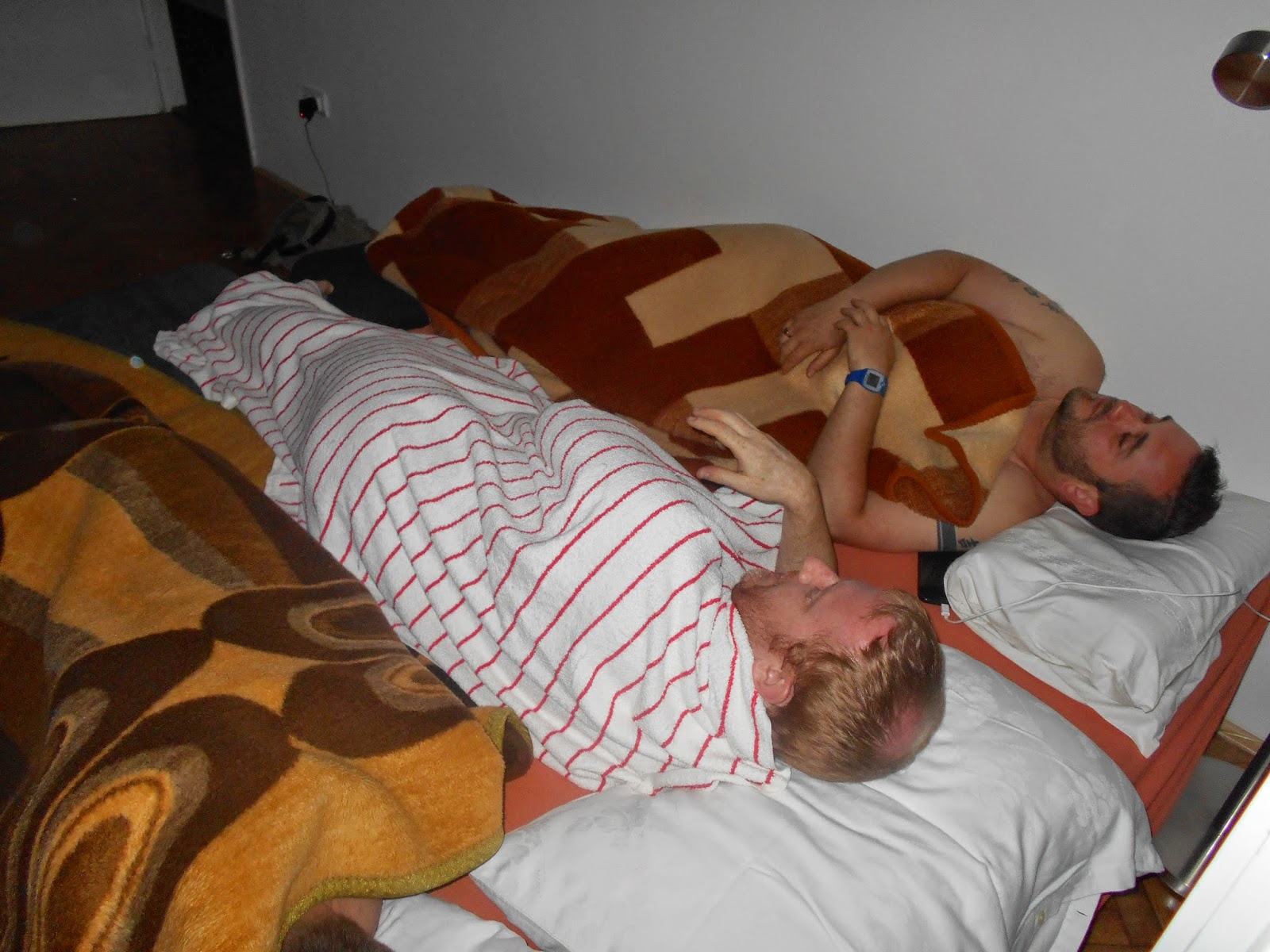 Throoning. In their pants. Disgusting.
Halfway home some people declared that they were hungry so Igor found a little kiosk that served some hot food. Ten minutes later, once again Igor had brought us all some meat, cheese & egg baguette style grub that certainly hit the spot. With the time fast approaching four o'clock, the effects of drinking all day begun to take hold and my fears that the titty bar trip would be abandoned came true.
Arriving at the flat we begun to divvy up sleeping arrangements. I was forced to sleep on an air bed that went flat overnight to leave me lying on the floor like some sort of drunk who had passed out after too much alcohol, oh wait….
I dread to think how much we put back over the day but that's it for me, so I will now hand over to Taz to describe the events that were the whole reason of creating this trip in the first place. Football!
Dukey clears the Farmyard….
Duke
……TO BE CONTINUED!