So much for setting this shit up and leaving it to Juan and Dukey to talk bollocks to you all. More rain and yet another postponement which means another trudge to the Archives for Taz.
Still, this one should be a bit of a treat. I realised I'd not yet touched on our disastrous Conference National season in 1999/2000 on here yet. So I pulled the files and set about reliving the misery of that campaign to try & pick out a vaguely usable report. In the course of this, I stumbled upon our abandoned first visit to Forest Green Rovers and soon after, the report of the re-arranged game. I know, I'll publish both!
So, one and a half for the price of er….one.
The first game was somewhat frustrating, leading at half time and looking well set for a first win of the season before the lights went out during the break. It's interesting to read as it still contains that early season optimism that we might actually stay up. Whereas the re-match from 4 months later contains a little more realisation that we've got a bit of a struggle on our hands and might be heading back to the Isthmian!
Despite our largely dreadful 9 months, FGR were something of our bum boys that season. Losing to us two and a half times in the league and getting done at GGL in the trophy. Yet they stayed up and to this day are still a Conference National side. Weirdly, we visited 3-4 years later with a much better team (Bailey et al) while they were still a dog shit bottom 5 outfit and got pumped 4-0. Funny ol' game football.
By the way, trying to find some pics of their old ground to steal include here was nigh on fucking impossible.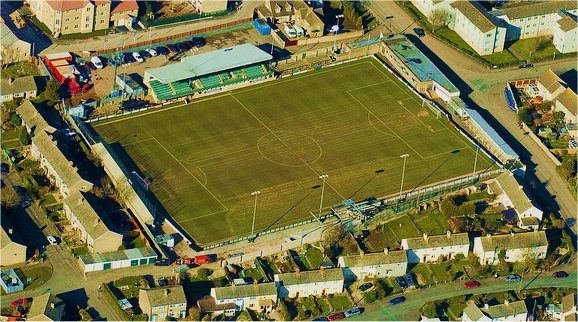 The Lawn. Not The NEW Lawn. Just THE Lawn….
"Who Turned the Bloody Lights Out??"
FOREST GREEN ROVERS 1 SUTTON UNITED 2
Nationwide Conference – 18th August 1999
MATCH ABANDONED AT HALF TIME – FLOODLIGHT FAILURE
The long awaited trip to Forest Green Rovers arrives. (Where? Oh stop it…) Our first Conference away game in eight years and man were we gonna enjoy it. We found it on the map (Well, not exactly, but we found somewhere near it…), we planned the piss up and we were off.
First stop Bristol, where we cane 4 of the 5 planned Firkin stops, then it's onto Bath to hit the Forum and finally a dash up the road towards Nailsworth and the home of Forest Green Rovers. As we wind down the opposite side of the valley to the ground the floodlights stand out for miles, how chuffed were we to see 'em? Well little did we know how annoying those bastard pylons would be around an hour later……
The line up only contains one change. As thought, Danny Brooker can't travel and he's replaced by an ex-Scummer. I forget his name for the mo, but it was the git who got their 1st 2 in that Memorial Cup thingy in pre-season. As with Saturday, the lads get stuck in and battle like demons from the start. This probably explains no early chances of any consequence come either way for both sides. Again the main thing that strikes me is the real lack of bite up front from our hosts. Sure, like Hereford, they build well and do look dangerous going forwards, but when it comes to the final touch, it just isn't there. Again, this seems to give us confidence and we start to make inroads. The main outlet is down the left flank with Dack & Skelly causing the home defence a bit of a headache and its from this side we get the opener.
A good run from Skelly sees him play a ball inside to Simpson. His attempt at a turn is halted and a free kick is awarded. Harlow takes it, but rather than deliver in the expected manner, he slips the ball to Dacky who's nipped in unnoticed on the left. The jovial midfielder takes a touch and places the ball between the stranded 'keeper and his near post. We go ape shit. And we're still going ape shit a few mo's later when we look up and see an FGR forward receive the ball just inside our box and place the ball low into the far corner. My own feeling of utter elation is totally destroyed. The lead has lasted all of about 30 odd seconds. Bollocks.
Thankfully, the boys look as pissed off as we are with their slip up. Back to square one it seems, but just 4 minutes later and we're going nuts again. Skelly charges down the left, beats a couple of challenges and delivers a deep deep cross to the back post. It seems to be going nowhere, but Colin Simpson launches himself full stretch to reach it and produce a perfect cushioned header. The ball drops on the edge of the 6 yard box and is met by skipper Harlow, who gleefully slides in to restore our lead. Again we go nucking futs. We can't believe it. We're away at a mid-table conference side and last years trophy finalists and we're winning. If we can just hold on til half-time.
Thankfully, we do. Mildly elated we stagger round to the other end and eagerly await the second 45. Then disaster strikes. 5 minutes before the restart, the lights go out. All of them. At first, I can't quite fathom it, but yep the lights have definitely gone out. Those beacons atop the hill that had guided us here in the first place had failed us, as if mocking our achievement in the first half. PA announcements follow informing that they'd try 'em again in about 10 minutes "When they've cooled down". "That's a load of bollocks" is the expert response from our resident sparks, Bob & Paul. Then, at 9.15 a flicker of life atop the pylons is greeted by a mocking cheer from the slightly pissed travellers before five minutes later, the fuckers flicker and go out again. And within a couple of more minutes, the tannoy bloke announces the inevitable abandonment. Half time at The Lawn, Nailsworth. Tuesday 18th August 1999….
Gutted. To have travelled all that way, fight like we did and to actually be in front. It almost feels like we've lost.
With a slightly earlier finish than expected, a decision is made. Beer is the only consolation. So we steam down the M4 to Swindon and manage to squeeze in a couple of games of pool and a beer in the Footplate & Firkin to console ourselves.
I'm still pissed off though. S'pose I'll have to wait til Saturday for that first win eh??? Still, we've played 2 mid table sides and neither has shown anything special. If we keep battling, come May, Sutton United could remain in the Natiowide Conference.
"No Parking!! Residents Only……"
Forest Green Rovers 1 Sutton United 2
Nationwide Conference – 15th December 1999
Well, I don't like to say it, but I bloody hate the part of the world that is commonly known as the 'South West'. It's been a sodding nightmare for us this season. I mean, first time we visit this lot and they turn the poxy lights off when 2-1 down, which is hardly sporting. And the second time the gits close the M4 the junction BEFORE we want to get off! Suffice to say, we're all glad we don't have to go there again this season.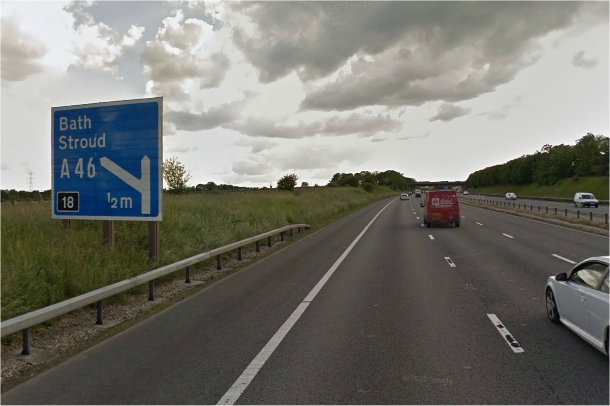 Shut. Closed. No Entry. Bastards.
The normal crew assembled at the Firkin in time for the 5pm leave. That's about as smooth as the journey gets. Soon after joining the worlds biggest car park (otherwise known as the M25) it takes on it's normal stationary appearance, with junctions 12-16 knackered. Bollocks. That knackers us for the M4 then. A quick rethink and we dive onto the M3 with the intention of cutting across and joining the M4 a bit further down. Then a cock up with the signs sees us miss our junction!! This coupled with rush hour traffic and it's 6.30 when we finally get onto the M4. Col then engages warp drive and we hurtle down the motorway towards the Gloucestershire hamlet of Forest Green at speeds only mildly in excess of the national limit. Bob helps lift our spirits on the journey with the news that our beloved neighbours were tonked 5-0 at Barton Rovers in the Ryman League Cup on the previous evening. We snigger childishly before I ask the burning question. "Who the fuck are Barton Rovers?" At which point the sniggering turns to full blown hysterical laughter.
Then as we approach the junction before our exit, the traffic stacks up. Aaaaggggh! What now?? Chalmers grabs the map book and plots out a fantastical detour via a couple of shitty B-Roads. We hold a vote and dismiss it as foolish and not worth the aggro. A couple of minutes later and we're told by a cheery local copper stood on the hard shoulder that the M4 has been completely closed ahead due to a nasty smash. Uh Oh. Er, what was that shitty B-Road route again PC???
Thanks to all this fucking about we finally roll up at 'The Lawn' some 15 minutes after kick off. Col finds the first available patch of ground in front of someone's house to park on and we pile out. Thankfully, we stroll in just as Mark Watson is spanking us into the lead. Yippeee! This leads to a small 5 man bundle just inside the turnstiles.We then receive the 'congratulations' of the home fans as we wander round to the opposite end. By the time we've reached our vantage point, Rovers are level. A FGR forward is brought down by Howells whilst chasing a through ball. Penalty. Arse.
Drysdale sends Gareth the wrong way from the spot to level the scores. The lead has lasted 3 minutes by my watch. Which is approximately 2 minutes longer than the last time we went 1-0 up here. This lifts the home side and they pile on the pressure. Ex-England international, Tony Daley, is making particular inroads down the left flank against Skelly and is delivering some quality crosses. Sadly the forwards aren't quite up to the standards Mr Daley is used to and most of the supply is wasted. The slightly taller and less ex-pro Nko is meanwhile also making progress down his flank and is really causing the home full back serious difficulties. And it's through this route that Sutton retake the lead after 34 minutes. Nko tears down the line and delivers a knee high ball onto the penalty spot. It's met firmly on the volley by Aidan Newhouse and despite the efforts of the 'keeper the ball nestles into the far corner. WooHoo!!! I'm really warming to our new forward. Can't think why!!
Our hosts up the tempo again and 5 minutes later their dangerous running wins them another penalty. Andy Riley is adjudged to have felled MacGregor and Mr Drysdale appears to square things up. Sadly for him and the hosts, his penalty is firmly struck but woefully placed. Howells looks like he's actually trying to avoid serious harm in the 'dangly' area as the shot comes straight at him down the middle. I swear to god that from my position at the far end, that the ball comes back off of our 'keeper's left buttock! Drysdale then completes his odd miss by heading over an almost completely empty net. Laugh? Us? Well, alright we pissed ourselves.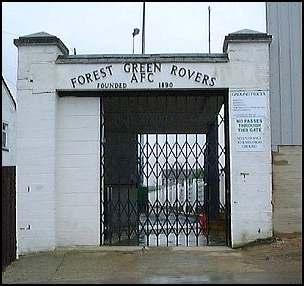 Small Sutton United idiots goal celebration bundle just out of shot….
I suppose you could say the spot kick was quite literally arse?
Rovers blow one further chance to equalise when an attackers jinking run ends in a looping shot against the bar with our 'keeper stranded with Barry Laker hammering the loose ball far into the valley below to ensure the danger is fully extinguished. So half time at FGR and we've got another lead. So it's time for a pastie from the munchie bar while we chuckle again at Scummers 'unfortunate' 5-0 mauling at Barton Rovers. All whilst keeping a close eye on the floodlight pylons. If those fuckers so much as even flicker….
The second half is mainly the home team piling forwards with U's breaking out on counter attacks. Nko is still our main outlet and most times he's double teamed by home defenders. But his pace and strength continue to get him into dangerous positions. Rovers have a great chance after a mazy Daley run, but the usually lethal MacGregor somehow blazes over from 5 yards. The referee is also becoming rather erratic and is awarding fouls against U's players for the most trivial things whilst the home teams rather rough treatment of our front players and particularly Nko goes unpunished. Just after the hour and a Paul Harford header from a Dave Harlow corner flies inches over, then a minute of so later the increasingly stupid ref ignores a blatant hand ball on the bye line by a home defender and awards a corner.
With time passing, the home side are then reduced to 10 men when one of their forwards is stretchered off and they've used all their subs. This doesn't however stop them piling forwards looking for a desperate equaliser. But they make little use of the almost constant pressure. The ref also appears to be trying to string the game out as long as poss, by stopping his watch at every bloody opportunity. Naturally, we urge him to stop being a twat and blow up before the lights go out.
Then as we enter injury time a dodgy Rovers free-kick is cleared by a solid Laker header. The linesman is waving his flag like an idiot (I bet he practices that in front of the mirror at home…). Finally he catches the attention of the whistle happy moron and they engage in a lengthy conversation. "The bastard's gonna give 'em another penalty, you watch" I mutter. He eventually calls Danny Brooker and their No 16 over and after a bit more buggering about he waves Sutton's 7th Red card of the season at Brooker before wafting it in the direction of the FGR sub. "You don't know what you're doing" chant the home fans. No shit. We twigged that about an hour ago.
Moments later and the ref finally tires of proceedings and signals the end of the match. The lads trudge over to the few hardy supporters behind the goal (that'll be us then) to register their appreciation and then disappear down the tunnel with the 3 points we were bloody well owed from our fist visit to 'The Lawn'. 3 BIG points as far as our quest to keep our Nationwide drinking tour going is concerned as well. Mr Chalmers keen mathematical brain calculates we're up to 15th thanks to this result. Cool!
The SUFC formation drinking team say their goodbyes to no-one in particular and leg it to the car in search of chips and more importantly, beer! When we reach the car, there's a rather poorly scrawled note on the back of an envelope attached to Col's windscreen. And this is where the title for the report came from. It predictably bitches about the fact we've nicked someones spot. We glance round. The scene is exactly as we'd left it almost 2 hours ago. So where's the car we're depriving of it's spot?? And besides Mr Bumpkin, you live next to a football ground and there's a game on. What the fuck do you expect?
We shrug our shoulders and reckon it's just some busy NIMBY twat who doesn't even own a car & has stuck the note there for the hell of it. I pocket it as a crap souvenir.
Now, where were we? Ah yes, chips! Thankfully Chalmers has procured the location of a decent chippy from a steward at half time. We hit this and scoff lots of chopped up bits of fried potatoes before we saunter off the way we'd come, back down the shitty B-Roads we'd used earlier, homeward bound.
By the way, damn fine pubs in Lympsfield!