Pizza Cup is a competition despised by most hardcore fans – yet dear to us at Sutton after our first and only participation to it led us all the way to a Wembley final. So, on a quiet Tuesday evening, a trip to Leyton for a group stage game is not the most appealing, but not an idea to be completely rejected either. On a last minute call, boosted also by the earlier start (7.00 pm), I do decide to go – though I still recall the heartbreak of my one and only previous trip there, made about a year ago. Even though the play, at this stage, is somewhere in-between a PSF and a league game, at least I will get the chance to have a look at the new players that were less used in the official games and have now a chance to impress (or not).
This it is not actually a road trip, yet from West Sutton were I live it takes a good 1 hour 20'-25' to get there. I could have spared a quarter hour if I took the car instead of the bus to Morden tube station – but somebody in that borough had, since January, the brilliant idea of closing the main parking behind the station (which partly served also as parking for Sainsbury's) for an indefinite period of time and apparently for no reason whatsoever, as nothing has happened there yet from closing till now! And if I go there and can't find a parking spot in the small long term park area, I am left with no backup plan – as the other option I know, the National Trust Morden Hall car park, is closed from 5pm.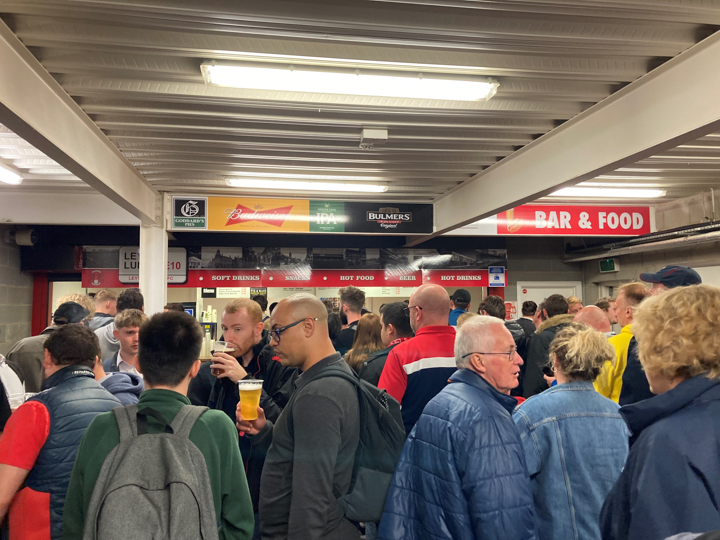 So, after the bus and a long underground ride on Northern and Central, I find myself in the centre of Leyton – which makes Sutton High Street look like a fancy upscale shopping street if you ask me. The reduced attendance (1073 with 161 away fans) made Leyton make a last minute decision of opening only the West Stand, in which away fans, after getting their tickets changed, are sent to freely mingle with the locals, without any segregation! No incidents arise, luckily, as the general atmosphere in the stands is one of a PSF, but I seem to recall that there is a history between these two clubs, so it seems a bit of a risky call to me.
I got inside the ground with five minutes to spare, enough for a pint and – oh, there goes my diet today! – a decent burger (no chips, sadly) made on the spot. Ironically, I start with the beer only to notice that the burger stand is set two meters outside the covered area that bears the sign "no alcohol beyond this point". Ok, so what to do now? I put the beer aside in a corner with the hope no one touches it, I get the burger and return to the beer that waited patiently for me without incidents. This has consumed my five minutes and I can hear the referee's signalling the start of the game so I grab quickly a few more bites, finish the pint and run into the stands just in time to see the number 10 from the reds, Sotiriou, handling the ball with ease in our area between four yellow shirts and setting up with a clever pass Wareham for an easy goal.1-0 Orient. I'm so glad I rushed!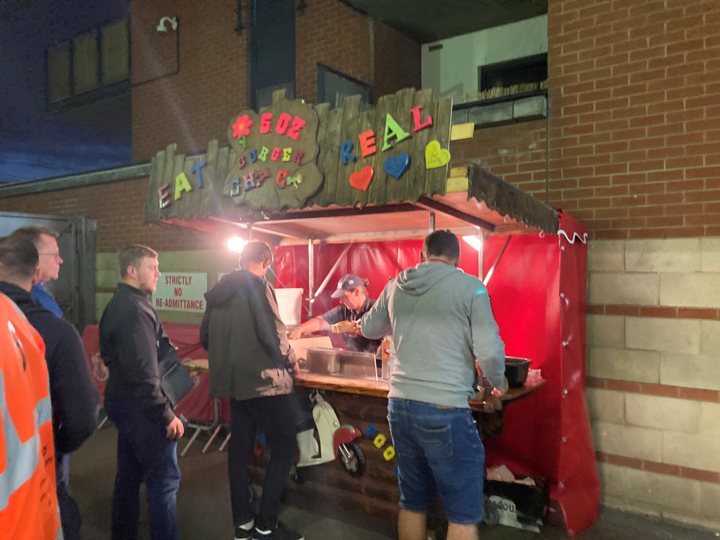 Not much time passes and Leyton have a nice action on the other side that sets free in the area the same Wareham (whom, I later read is a Chelsea loaner) for the double. 2-0, in less than 10 minutes – certainly not the start we would have hoped for. Wait, it's not over just yet, as Kouassi takes a surprise shot after a ball poorly deflected by a defender on the edge of the area and we're only one down again.
From here on Orient is hammering us for the following 20 minutes or so, showing – even with only three starters from their Saturday game – with they are top of the league undefeated. I count about 8 clear chances, including two great saves by House and a long distance shot hitting the bar. So, after the first third of the game, the chances score is 10 to 0.5 for them, as our goal came basically out of nowhere.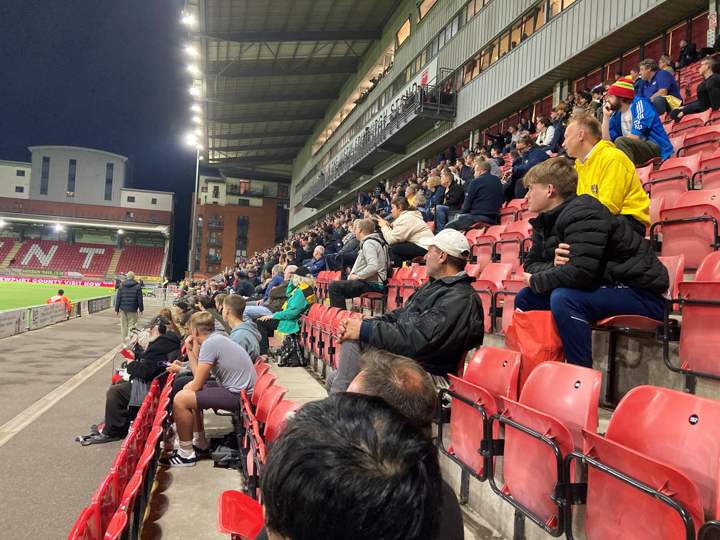 But we get away with it and start to finally count in the opposition half. Eastmond comes in at the break, reviving also Ali Smith, who was not himself for the whole first part. And our pressure is now finally disturbing the reds, we stay up and look like we could turn the game around. Kouassi is close to his second, but his powerful shot from inside the area is deflected by a defender barely over the bar. Eastmond goes also agonizingly close from a free kick, while at our end Coby blocks incredibly on the line a shot from Sotiriou, with House well beaten.
Matt pushes by sending in Bugiel, Wilson and John – but Neufville is already tired and Kouassi as the other winger is not exactly a solution. He does not produce less then Gambin – only because that would be impossible, but is clearly out of his place there. We still have a threatening long distance low shot from Bugiel that goes wide before Eastmond stumbles upon an opponent, gets his second yellow and, from the resulting free-kick, Leyton scores the third and kills the game.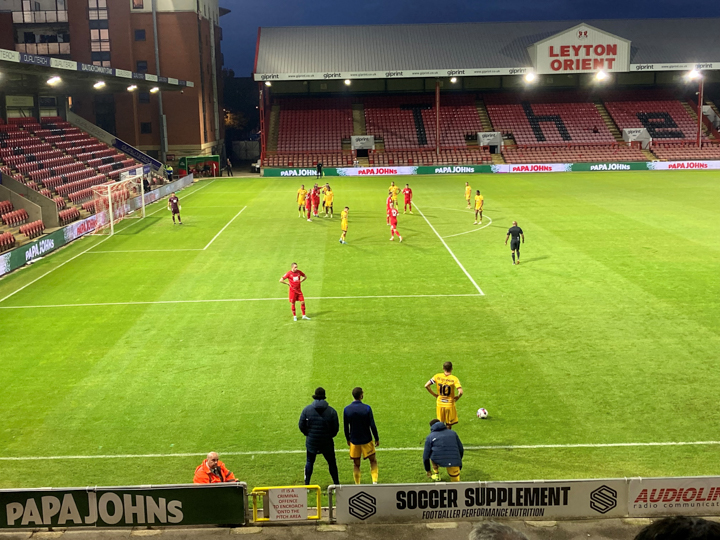 Coming to conclusion time, it's been obvious for everyone that compared to last year we lack in depth, which that is what got us that great Pizza Cup run. Last year there were Olaofe, Bennet, Wyatt, Davis, even Korboa. Now the guys who stepped in – Kendall and Gambin mostly, as well as Thomas and Hart who were not available yesterday – are yet to prove they are able to play at EFL level. Kouassi is an extremely talented striker, but he certainly has a lot more to learn. And Pierre is strong, especially in the air, but his fitness (and optimal weight) are still to be recovered. Also, he is the same body type as Coby and I feel that fast combinations put them in obvious difficulty.
And our terrible away record of this season stays on after this game – well, if only the home record will also hold after Saturday, I'm still happy!
Gabriel