The games and the miles just keep on racking up for the U's as we head into the festive month. After Saturday's trip to Brizzle and a slightly dour slide out of the FA Cup, we're saddling up and heading to the Wild West once more tonight with a trot over the Severn Bridge into the Land of our Fathers (well, 4Days father anyway) and a reunion with old Conf South sparring partners Newport County.
Now, we last met the Exiles back in that awful 2007/08 season before we went in opposite directions. They made it to the adventure and endless star filled skies of the FL, whilst we went to the more blazers and rich tea biscuits Ryman Prem. And since then, they've also shed the confines of Spytty Park, the athletics venue on the Southern edge of town we were familiar with visiting and moved in to Rodney Parade, a much more central location in town, to share with the local JOLLY JOLLY JAPES wrestling outfit. This means that tonight is a new ground tick. And we're darned excited, I can tell you.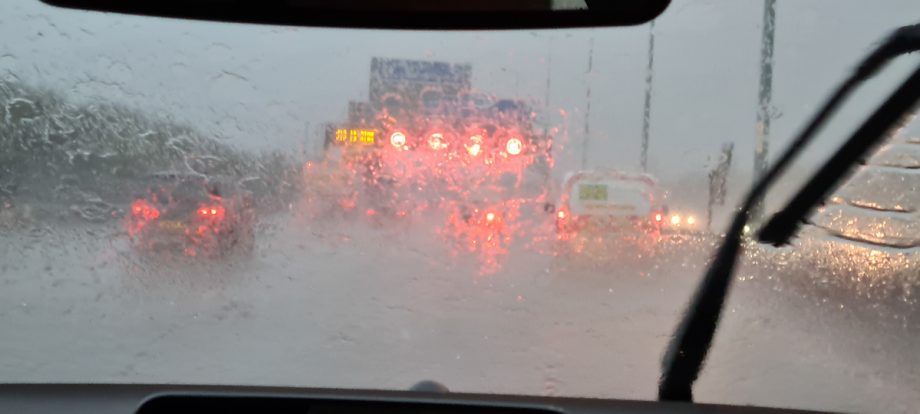 Going back a couple of weeks to the Orient away trip, Greek raised the possibility of perhaps making this a cheap overnighter by bagging a Premier Inn out by the M4 for £30 and making an earlyish start back for home in the morning. A proper night on the tiles was not being suggested, just that we didn't need to do it there and back in a day. Of course, having suggested this, it being sort of discussed and no one seemingly being up for it, we ended up deciding that a couple of car loads would just go down and drive back after as we always do with these outings. We'd been warned that the weather today would be a bit poor due to something called 'Storm Barra'. Which is a bit concerning, as if they've named a storm after the bleak former National League outpost, it must be pretty grim stuff indeed.
My first real taster of the inclement conditions comes shortly before the 2.30pm departure time I'd agreed with West Sutton's foremost private investigator. The rubbish and our food bin needs to get put out, so I decide to time this with heading out a minute or so before my ride arrives thus making the hop from chores to awayday that bit more seamless. As I head for the bin shed in our exclusive cul-de-sac, I note that I'm glad to be a soft as shite indoors office monkey as there's two lads out in the wind and the rain knocking up a new boundary fence for the property. Rather you than me lads. With the rubbish sorted, my plan to stick around out here and wait the couple of minutes for collection lasts about 30 seconds before I mutter "Fuck this" and scurry back into the foyer of our block where it is neither cold, windy nor rainy.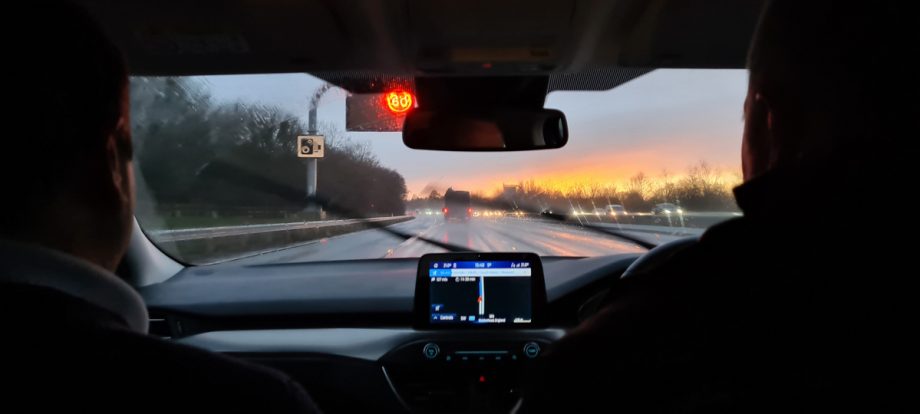 Soon after, transport arrives and I'm hopping into Magnum's Ferrari 308 GTB Ford Focus, along with Steve, fresh back on these shores on a short break from his blatant tax exile working commitments out in Dubai and we're off to Welsh Wales. As we depart, I note that our driver this evening is not wearing some form of exotic pantaloons today. I can't think why, we barely mentioned it Saturday. The rain falls steadily but our run is pretty clear and we get to the M4 with no real bother at all. Although 'Barra' gives us a nice taster here with the rain and visibility falling as fast as each other. However, as we edge past Reading, we can see clearer skies ahead on the horizon and further on, we're treated to a lovely sunset. Chatter is fairly simple on the road, Steve mainly being filled in on recent performances and then advising Magnum of a primo parking spot not far from the ground in Newport.
With a nice slice of the trip knocked out, we hop off the motorway at Membury to grab a cuppa, so I message Greek & Mr X, somewhere a short distance behind us on the motorway in case they fancy it too. Here we also find the supporters coach parked up and the familiar face of Keepo outside smoking. There's a few other boats about too such as Fish the Cabbie and Frakey, all either emptying bladders, topping up on nicotine\caffeine or all three. A quick chat here, some nibbles (Bacon Wheat Crunchies for the fucking win!) and a cup of splosh in hand, we're back on the road. The rest of the run is just as easy and we find ourselves parked up in the Friars Walk shopping centre next to the river with a footbridge over just outside that takes us straight to the ground. Sweet! Right, it's 10 to 6 lads. Pint? Pint.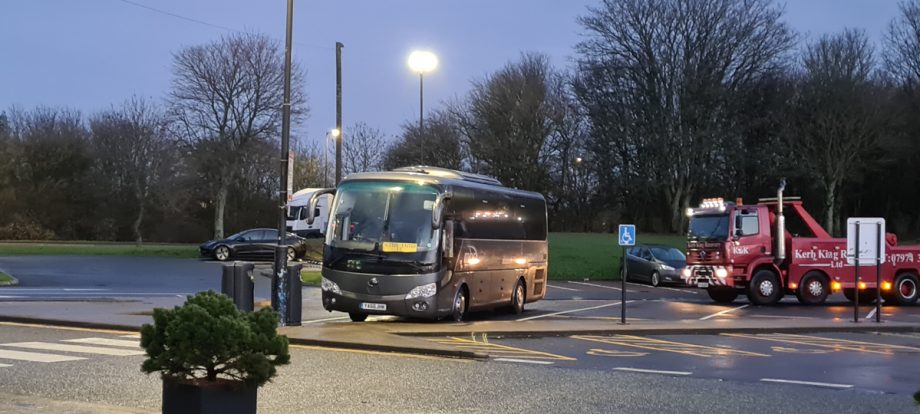 Steve's Saints recce from their Carabao Cup tie here this season pays off again as we head 2 mins round the corner to the Potters, a chain style pub, but with a half decent selection on the bar and that does nosebag. Perfect! Except for the fact that they stopped doing food at, well, right now actually. Fucks sake. So we grab a pint and ponder our next move just as Greek and Mr X bowl in. On hearing there's no chow, Greek suggests decamping to a BBQ place he spotted in the shopping centre on the walk here and with everyone here being a Vegans worst nightmare, this motion is passed without much need for debate nor a vote from the floor. We send them off ahead to get a table for five whilst we finish our beers and chuckle about possibly getting another in and standing them up. "It might look like they said 'table for five' to cover for the fact they're on a date" is my theory on why this could be decent comedy. However, rumbling stomachs win over niche amusement and we're back out into the wind to get fed.
We get parked, get drinks and get some food ordered. And for ten minutes, it's all a very adult and civilised carry on. However, this is us we're talking about here, so once the 10 minute mark passes, we're back to basically being children. Magnum, having already had to read the menu like a proper old man as "I've left my glasses in the car!", tucks his napkin into his trousers for some odd reason, which then triggers all sorts of alternative names for it , such as 'cum napkin', from all present. We also decide after a short spell of recalling all the Welsh words we know (it's not a lot, but there's a few!), that Steve is actually currently living in a far less rainier, but far more sandy version of Wales as it is as full of non-locals as it is natives and all the signs are bi-lingual in a funny language. Now, you can pick holes in that one all you like chief, but we're sticking with it. Here Magnum's attempts to download his covid pass for match entry are also thwarted due to the poor phone signal in the restaurant and he's subsequently taunted by the rest of us far more well prepared types as we show off our already downloaded stamps of approval.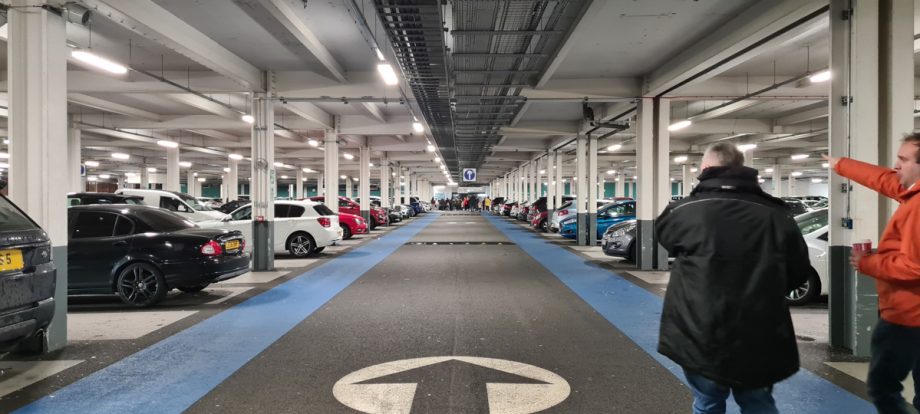 Food down, we wrap up and head for the ground the other side of the river via that handy footbridge I mentioned earlier and after a brief walk in weather that can only be described as 'minging', we hit the turnstiles. Now, having been told to do the covid pass thing to get in etc for tonight, it's a little surprising to find that they couldn't be less arsed if they tried. My phone never comes out of my pocket to show any of that guff and I even have to ask the steward if he wants to check out the flag bag. "Not really, but suppose we should!" is the response before a quick peer in after I've unzipped it is all I have to suffer. Great. Inside, the hopes that I could perhaps get it in the seats under cover with us are dashed, as the open away end behind the goal is the only place they'll let me stick it. That'll weigh a billion tons after when it's pissing wet through then! Still, at least I've only got to lug it back over the bridge to Magnum's car boot, so could be worse.
Bouzanis, Wyatt, Barden, Eastmond, Goodliffe, Davis, Randall, Ajiboye, Milsom, Davis, Bugiel, Wilson. SUBS: Dundas, Sho-Silva, Korboa, Chalupniczak, Bennett, Boldewijn.
The U's are properly patched up tonight, with even more injuries robbing us of Issac and Louis this evening. It seems our gamble on the fitness of the latter on Saturday has not paid off. So, Easty drops into the back 4, Wyatt goes to full back, Milsom sits in the middle with Davis and Wilson gets a start with Omar up top. This doesn't help matters early on as the hosts properly press on from the start with the wind at their backs. Lots of early pressure, balls in to defend and several corners need to be seen off. Despite all the ball though, they don't seem to have much quality final delivery, so we're able to hang on in there and get a foothold, mainly through a bit of running up top from Dave and Donovan.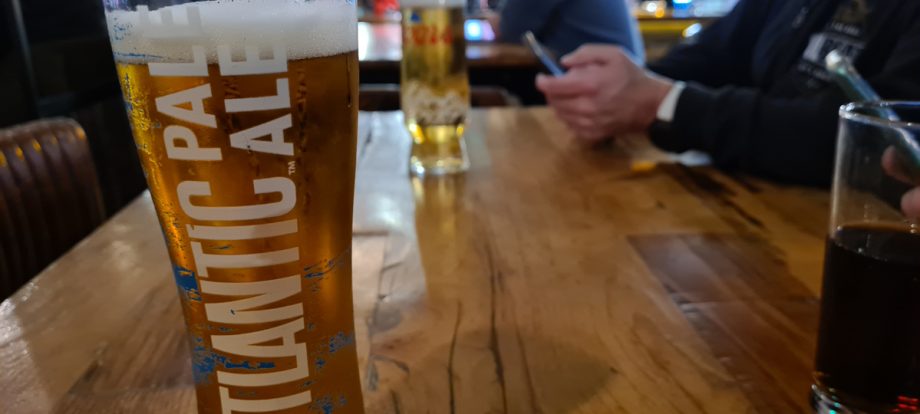 Despite this, it's still a nice surprise to us all when half way through the half, we find ourselves in front. Dave picks the ball up deep, little turn and a dart and getting in full flow, he goes past a couple of amber shirts and finds himself in front of goal to slot it past the keeps and into the onion bag. Fucking lovely stuff that, done bugger all and we have the lead. Nice. Stung by this, they come back but again, whilst having tons of ball, they don't really test Bouzanis that much with it and we're doing ok. Then 10 after the goal, they're chucked a lifeline by an already irritating ref. Easty slides in side on about 30 out from goal to ensure he wins a loose ball, their guy arrives well after he's won it and as he slides past, he clips the home player who after a brief delay, hurls himself to the ground like Gennady Golovkin's just taken exception to him spilling his pint. Of course, our fat plodding "I've done a Championship game you know!" peacock in black loves a bit of this and can't get the red card out quick enough. You'd have probably head the fucker crack the air like a whip if it wasn't already blowing a gale out there.
It's a frankly dogshit shout from the ref (only just nudging out the home club's description of said 'tackle' on the socials that we see later on) and makes what was going to be a tough ask tonight just that bit tougher. Matt rejigs instantly and after a conflab on the side lines, Omar "I've never played centre back in my life gaffer" Bugiel is Ben Goodliffe's latest partner at the heart of defence. The oppo have a ball in from wide headed well over at the far post not long after, but the next real incident of note is Bouzanis finding Dave on the far touchline with a launch. The fullback having got roasted once is wary of our little winger now and mistakenly stands off him, so Dave nips inside, finds it opening up for him and into the box where he ignores Wilson in support and bends it top far corner for 2-0. You cheeky little bastard!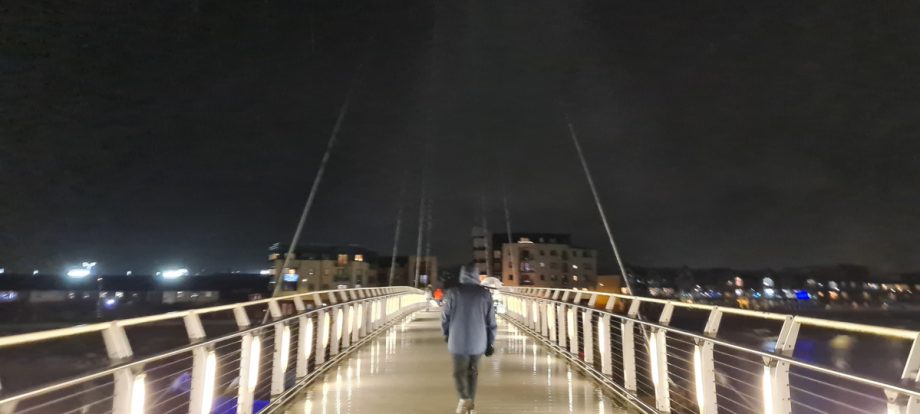 Bit of limbs in the away end and we're now feeling a touch optimistic. A two goal advantage to hang onto is far superior than just the one after all. Right, dig in lads! Wait, what's that? Kenny's fucked now? For crying out loud, can everybody stop getting injured please!? It's the end of the night for the large appendaged midfielder and of course, this requires yet another reshuffle. On comes Enzio, who slots into right back and Jon Barden moves into the middle. Moments later, a shit clumsy foul by their big lad up top sends Goodliffe to the turf in his own box and he needs treatment before hobbling back into the action to see out the half, which we thankfully reach with the lead intact and no further casualties. So, as the weather howls around the ground and we stay all penguined up at the back of the stand to check scores and other nonsense on mobiles while we await the restart.
We're relieved to see Ben out for the 2nd half, but we're under no illusions here, this is going to be a long 45 minutes. The general consensus from us amateur pundits is that we ideally need to see out a good 10-15 with no damage to the lead to give us a good shout of hanging on in there. And to be honest, for the first few, we look fine. Two banks of four and they're moving it around in front, trying to get wide & stick it in, but without too much success. There's a couple of long range efforts well off the mark and the little 14 they've brought on and is hugging the touchline in front of us looks like he's won a competition to be in the side such is his impact. However, before we've made 10 minutes, we lamely lose possession near side and never quite get back convincingly. A little exchange of passes, a guy advances infield and with a sighter, he has a bang, bending it top far corner beyond Deano. Ah fucksticks. I mean, fair play, it's a decent thump and all you wanker, but regardless of that, as I was saying. Fucksticks.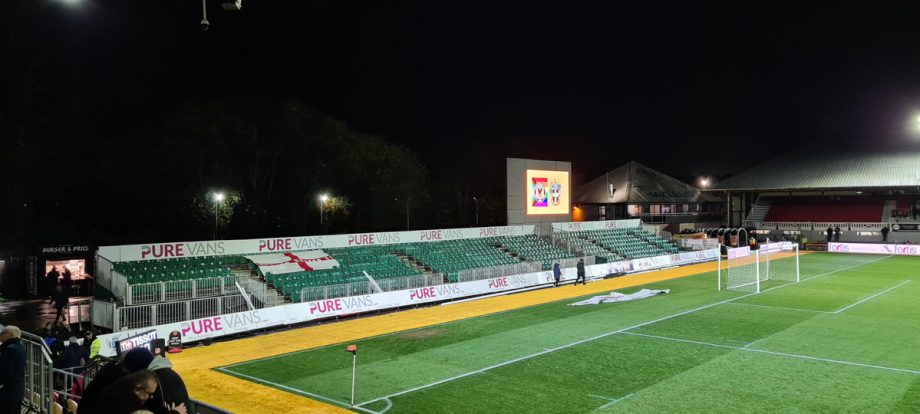 They raise their game a little here to try & blow us away, but they just can't seem to move the ball with the same snap they were first half and we're not looking in a massive amount of trouble. Of course, having said all that, just past the hour it's shit goal time. A ball is driven across from the near touchline and with it going well wide across goal, the green shirts all seem to be just trying to get out of its way. But it hits someone middle, plops down for the big 10 and taking a wild lash at it, he drills it into the turf for it to loop perfectly over Deano who's about a yard off his line. Like I said, shit goal. Everyone takes a glance at the big Tissot branded clocks on the touchline, which have clearly been robbed from Spytty when they moved out, to see 64 minutes played. Long way to go yet…
The lads to their credit stick at it manfully. Keeping those 2 banks of four and really dig in to try & keep hold of the point we have. Breakouts are rare, but usually run aground on it being just one lad on his own without support so he gets shut out, or a defender just gets a foot in to break it up. Bennett replaces a knackered Wilson with a few to go and this helps as it at least gives us a bit of a target to hit so we can hold the ball away from our goal and from here as the clock ticks down, they run out of steam and ideas and simply can't really break down the two banks. Up goes the board for added time and of course, where we're concerned this is the worst part of all. As it's prime toss off time and besides, we've not boned ourselves rotten miles away from home in midweek in a little while n…..oh for fucks sake Enzio!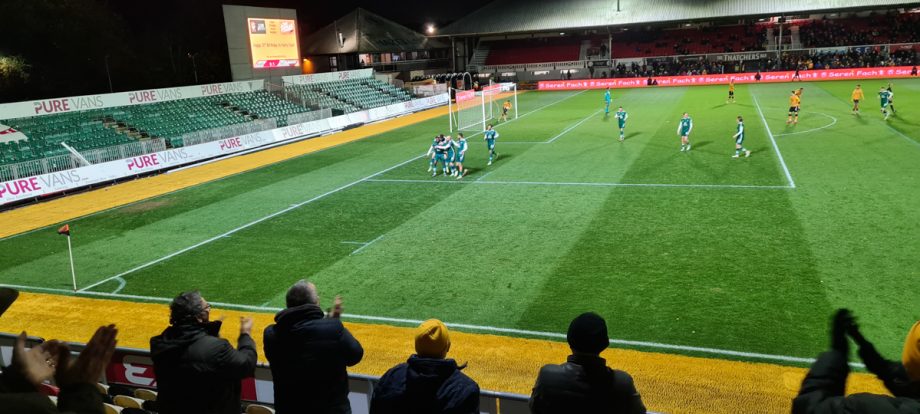 A ball in causes a bit of a faff, the ball is up in the air, going away from goal and is either Deano's or a goal kick either way, but a yellow shirt gets the wrong side of Boldewijn and the winger panics, tugging back his man who of course goes down quicker than Norwich City and our mate in the middle almost swallows his whistle trying to get it into his pie hole quick enough to give it. It's a stupid stupid thing to do so late on, but that's what happens when you're stretched and using lads in areas they're not familiar with, so we've no one to blame here but ourselves. Of course, their centre back skipped tucks away the peno and the kindergarten next to us is a sea of wanker signs. Le sigh.
The lads are clearly gutted at such a busted effort, but they deserve the plaudits for once again digging in so hard. If only we could reliably see these sorts of situations without getting shafted so often, we'd be practically safe already, maybe even top! I head back into the rain and drag the now soaked flag, which is wetter than an inappropriately signposted floor in a compensation ad, into the bag which when slung over my shoulder now feels like Robbo's sneaked in there for a nap after a particularly large dinner. Only a bit damper. Lovely. Back over the bridge sharpish, we wish Mr X, Greek and 4Days farewell until the weekend, throw our shit in Magnum's motor and make a run for the border. Again, the route is clear and we're soon back in England nattering about the game past, swearing at the knock off iFollow filmed footage Chalmers has put on the VIP top secret Whatsapp wotsit of the red card and other stuff in general.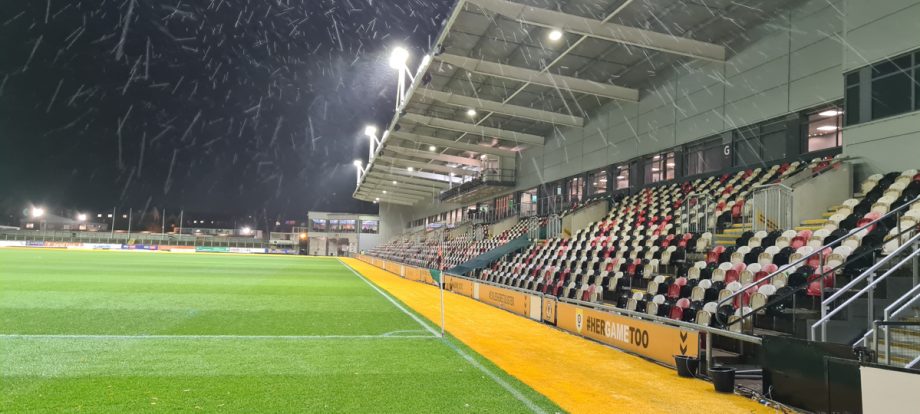 As we get closer to home and we near midnight, the front two in the motor flip the radio to 5Live as the latest Ashes series is about to start out in Oz. Neither seems confident and such optimism seems well founded when Rory Burns is skittled first ball and we all crack up laughing at the briliantly English cricket nature of it all. It gets little better as we edge homewards and by the time I'm getting tipped out into the cold early morning air outside HQ just before one, England are already 3 down. Some things never change eh! Back indoors, I tip the flag into the bath to let gravity do the work of removing the worst of the moisture and I hook the bag on a radiator to get it dried out by morning. Right, time for beddy num nums. Hopefully I won't have any nightmares about who the hell we're gonna have actually fit & able to play at Bradford on Saturday.
Unlike Matt.
Taz