Well I suppose that I couldn't get away with it forever. After managing to convince several friends and family members that I could never make a wedding-related event if it were to ever fall on a match day, they finally figured it out. What if it's a pre-season match? He won't be able to use the excuse "Sorry, can't make it, it's North Ferriby away that weekend" as using "Norwich under 23's at home" just won't wash. Ever. Well, unless you're Ipswich Lee of course…
And that is exactly what happened. Many moons ago, my cousin decided that she wanted to finally get married to her other half. Luckily he's a nice enough fella, well, except for being a Chelsea fan obviously. Luckily, they were also convinced to get married on a Sunday. I could say that "Leyton Orient Away" was the swinger or maybe even "Chelsea are at home" if the groom's opinion mattered for fuck all, but good old expense was probably a bigger factor. I eventually receive word from the Best Man that they were looking at the end of July as a date for the Stag Do. Not a bad date as there might be some football about, at least some sort of pre-season friendly to attend and replace the pre-season friendly I'd be missing back home. The only snag would be that it was the start of the school holidays and increase the price of flights and accommodation. Not to mention missing out on some Sutton football.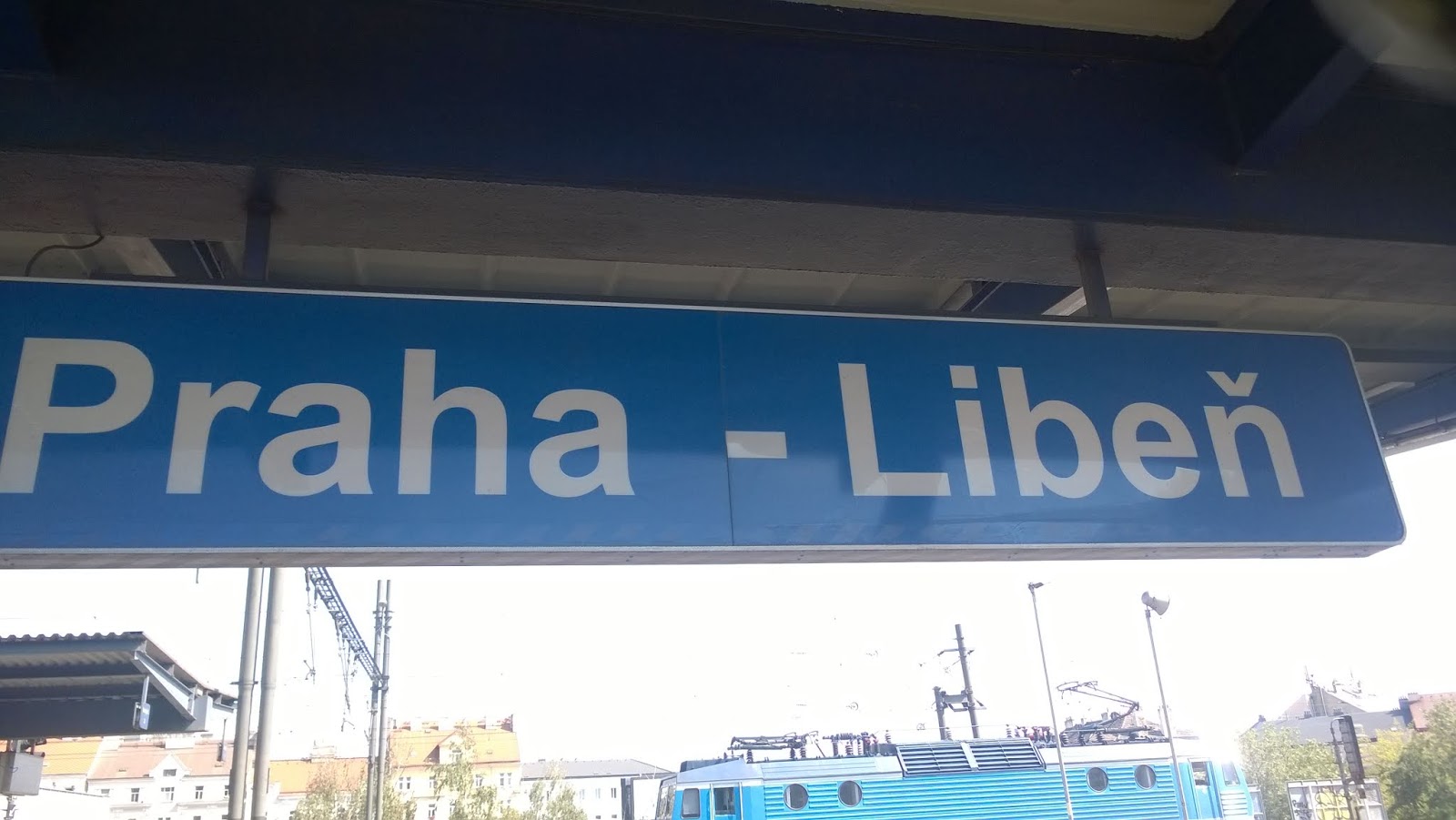 Prague…
The destination was also finally agreed upon and I would get the chance to visit the city of Prague. A quick butchers at the last football season and I see that not only were there a good few Prague-based sides but it appeared that their actual season started at the end of July! Result! The only snag might be that the bloody World Cup might cause it to be put back a week or so. Fast forward a few months and the fixtures are finally released. It appeared that only the top two divisions had kicked off the season and in this, it limited me to only five possible Prague-based sides. Obviously the week before (when the season kicked off) three of the teams were at home and down for being away for the weekend I arrived. Fuckin' typical.
This left Slavia Prague in Division One and FK Viktoria Žižkov from the second as my options. Unlike back home, it seems that game dates & times have a nasty habit of changing at short notice out here on the continent, as we found out with out trip to Serbia a couple of years back. The week before I was due to fly out, The Slavia match was being advertised as a 5 o'clock kick off, then it moved to six and finally to seven! Then the Žižkov was moved to the Sunday. Bugger! So that left me with only the one match. Well at least it was something I suppose. Needless to say that it clashed a lot with the Stag Do itinerary, a visit to a strip club no less! But once you've been to one strip club you've been to all strip clubs. Or at least that's what I told myself and hoped that it was the case. "Wasn't no Charlton Conservative Club event", one fella would remark later on. No one mentioned if they were able to liberate any fags from any of the ladies present though.
Your typical breakfast of Eggs, Sausages, Green Beans & Pasta…
So it's Saturday morning and I awake after a seriously heavy session the night before. After a spot of breakfast it's back to the squat apartment as everyone else is getting ready to head out for a spot of Footgolf somewhere outside of town. The weather back home might've broken overnight but no such luck here. It's fuckin' sweltering! Serious Betty Swollocks situation and no mistake. During my research before travelling, I'd managed to work out that there was a tram that took me from the shithole apartment all the way to the ground in the east of town in about 15 minutes. All I needed to do was get a ticket before I jumped aboard.
Easier said than done, I can tell you. First, one of the seemingly rare ticket machines at a tram stop only took coins, and considering that I needed a ticket that cost less than a quid and I was only holding the folding, this was a problem. So I trudge off to find a shop that sold tickets and after the fourth attempt without any success I decide to fuck it off and walk it instead. It's a nice day and my destination was only three miles away! Cleverly using the tram lines as my guide I begin to trek east. Despite the heat and the sweat, the clouds above began to form into what was obviously an impending thunderstorm. Then suddenly it hits and for five minutes the heavens open, soaking me to the fuckin' bone. Although, it must've been a local shower that the boys that went to Footgolf didn't have a single drop! And that was the only rain all weekend. Where's the justice?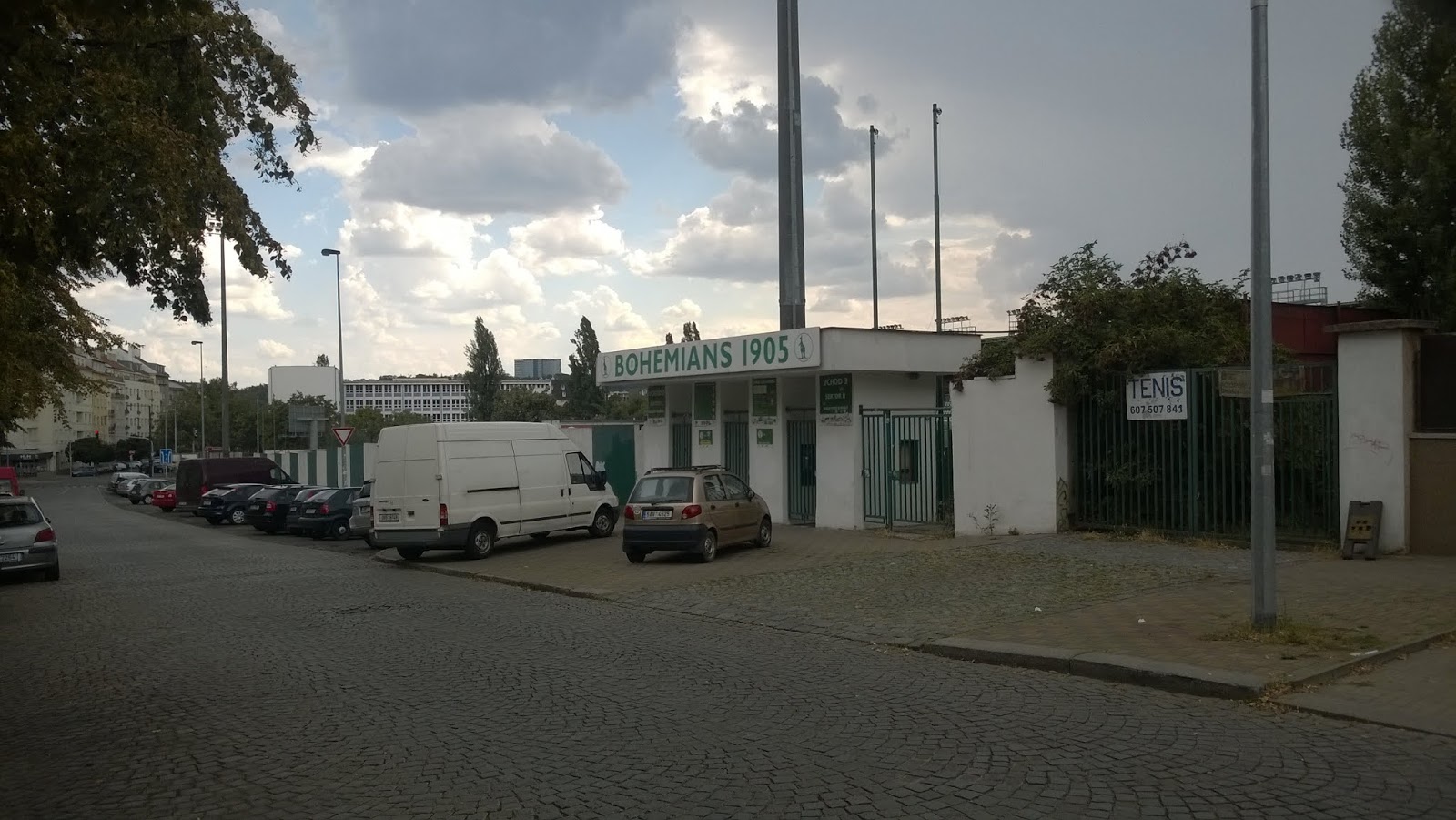 Ďolíček Stadium…
Taking refuge in a bar (who would've guessed it), I have a beer or two of the local Pilsner Urquell to dry out and wait for the rain to dissipate. Coming out of the bar I head off in the wrong bloody direction and it's not long before I'm lost. But what is that I spy in the distance? A floodlight pylon maybe? And like a schoolboy who has just discovered a peephole into the girls changing rooms or a copy of Razzle in the bushes, I head off and find out who or what it could belong to. And what do I find, but another football ground! Result. Turns out that the floodlights I 'd spotted belonged to Bohemians 1905's little Division One gaff. We'll have none of that *insert name of sponsor* Premier League naming bollocks here cheers.
It's one of those places that has a large main stand running down one side of the pitch. There is uncovered seating at one end and it looked like the rest was just hard standing. Apparently the Google tells me it also only has a capacity around that of our beloved pre-'elf' & safety "no standing on the perimeter" bollocks Gander Green Lane. I also clock the entry price on one of the gates, a mere 150Kč, that's like a fiver in real proper money. With no 'magic gate' to bunk in though and no one around to give it the old "I'm a sad tourist, can I take a few pictures around the ground?" patter, I instead make do with taking one or two from the outside. Old school.
No-one home I reckon…
I walk on a bit more and finally find the right tram tracks again towards the ground. Now with change from the rain forces bar stop earlier, I even find a tram ticket machine and purchase a ticket for the way back. Walking down a very long road I eventually come across not only the ground, a walkway across to a shopping centre next door but also a bloody Tesco's! Navigating yourself across the road is an experience in itself too. It seems that when the green man finally appears you can cross the road, but cars trying to turn onto the road are also allowed to go at the same time. WTF? Well at least they stop for you. Mostly.
Having had a couple of near misses with some fucking rusty old Yugo's, I heading straight to the ground to grab a ticket, on my way in I'm amazed to see a drive-thru McDonald's in the stadium car-park. Finding the ticket office, I could say that I breezed through with my firm command of the local lingo, but you all know that isn't gonna be the case. Luckily I find one bird behind the jump that can understand a bit of the Queens Own eventually manage to buy a ticket for 210Kč, which is like £7 or something. Haven't a clue where in the ground it is but I'll worry about that later as there is still plenty of time to have a mooch around outside before kick off.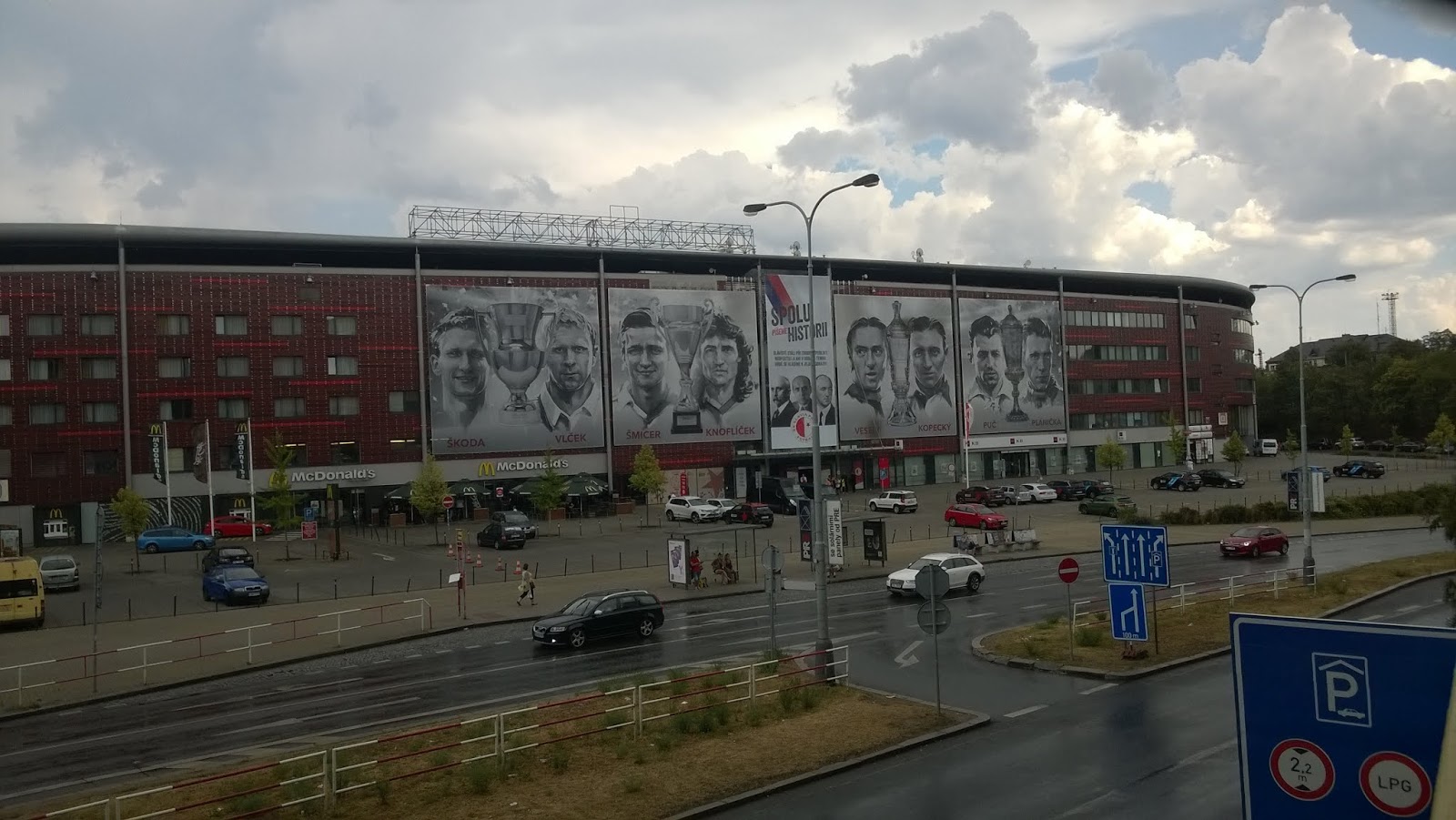 The Anthony Eden Arena…
So with a few hours to kill, I decide to have a wander round and see what's about. Not a lot it seems. There is a bar adjoined to the stadium, but that has a massive meeting of what seems like the stewards for the match going on, so I give it a swerve in case they use me for a 'pyro pat down' practice demo or something. Round the corner I find another bar, but people are already filling out on to the pavement, which means getting served is going to be a right pain. So there was no other option but to have a butchers at the shopping centre. Inside on the top floor is the food court and to my surprise it's filled with Slavia fans tucking in to a bit of nosh. Food that is. You have several option here from some random Vegan place, a curry-house & a Chinese. Feeling a bit hungry now, I decide to try a bit of the local cuisine so I head for something called 'KFC'. Cultured, that's me.
After that, it's time to do it proper and I head off to Tesco's to buy some cans. Which just so happens to be what everyone else outside in the square has seemed to do. So, when in Rome and all that. A quick smoke before kick off (bloody modern football stadia) and it's time to head towards my allotted entrance. With plenty of security, I get the traditional pat down. Thinking I'm OK, the steward gets concerned by one of my pockets. After establishing that I don't talk the lingo he gets me to go over to one side and with his 'friend', have a discussion between them. Another fella arrives and plays interpreter. He asks me to empty my side pocket of its contents. In it is only a sweat rag/Fosters beer towel but to the hired help they seem not too sure to allow it into the ground. It's not on the prohibited list. It's not a drum, or a flare or even a weapon. But still the conversation goes on. Then before I have time to ask what is going on I'm told that I can go through.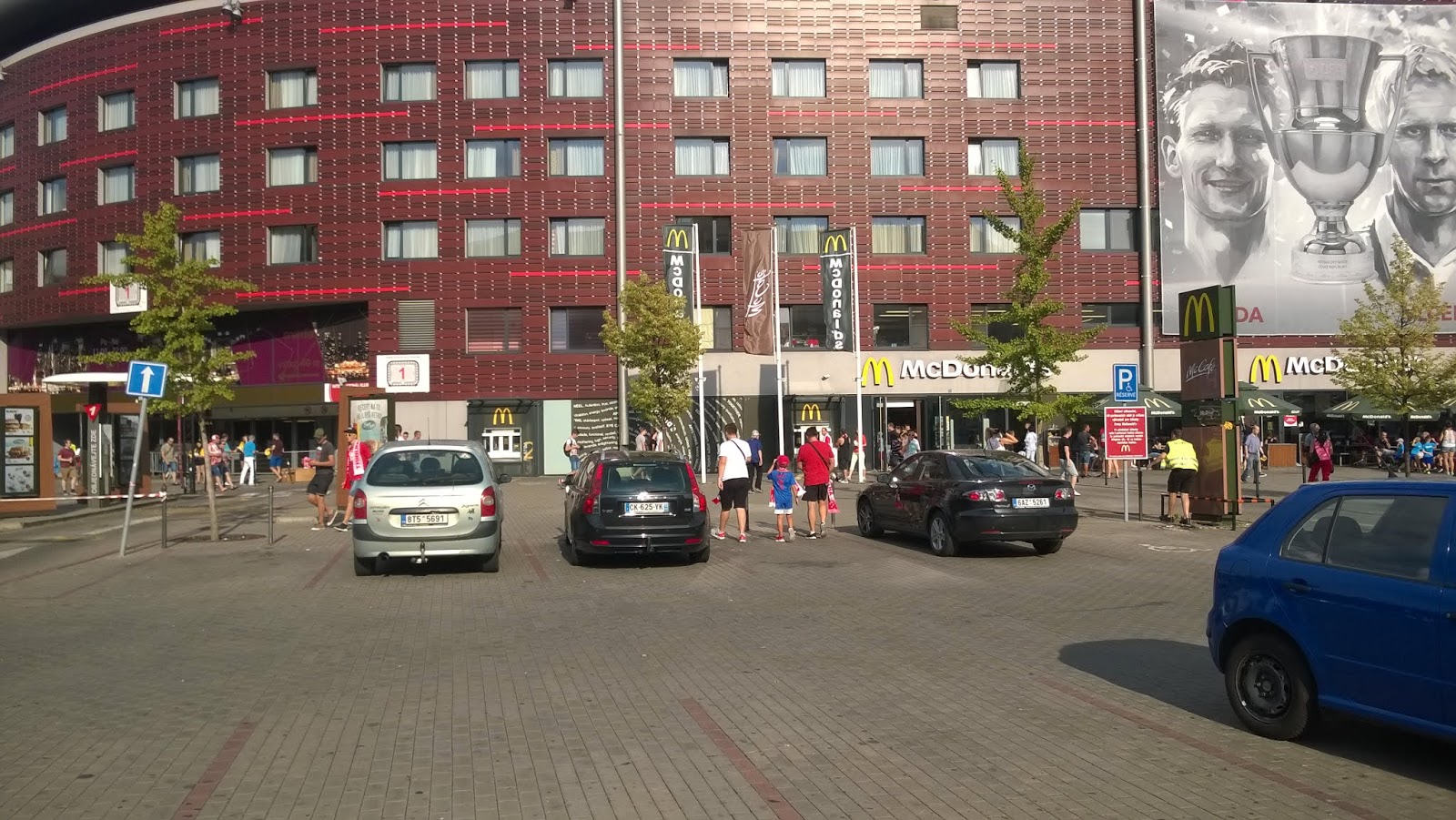 McDonald's drive-thru…
Inside the ground and I'm stopped by a product saleswoman who soon gives up when she finds out I'm not local due to my standing there and looking at her like she's mental. First stop is the beer counter, when it's a pound for a pint or close enough. Yeah £1! Doubt I'll see that sort of price anywhere on our travel in the Conference this season, not even in Wrexham. Trying to locate my seat I find the sector I need to be in. And without the help of the very unhelpful steward I eventually find it and sit down. Like the Marakana in Belgrade you come into the seats in the middle of the stand as the ground is slightly dug in.
Taking my spot to the left of the goal I see that the hardcore fans are at he other end and the tiny bit of segregation is to the right of me where the away fans are going to be. But I doubt ther'll be many on show today as Slavia are playing Karviná, and you'd have to have a Geography degree like Mr X or you wouldn't know that it's right on the eastern borders. Or as I like to call it "smack in in the middle of Czechoslovakia". Plus it's a three hour train ride away, so a bit like Hartlepool coming to us.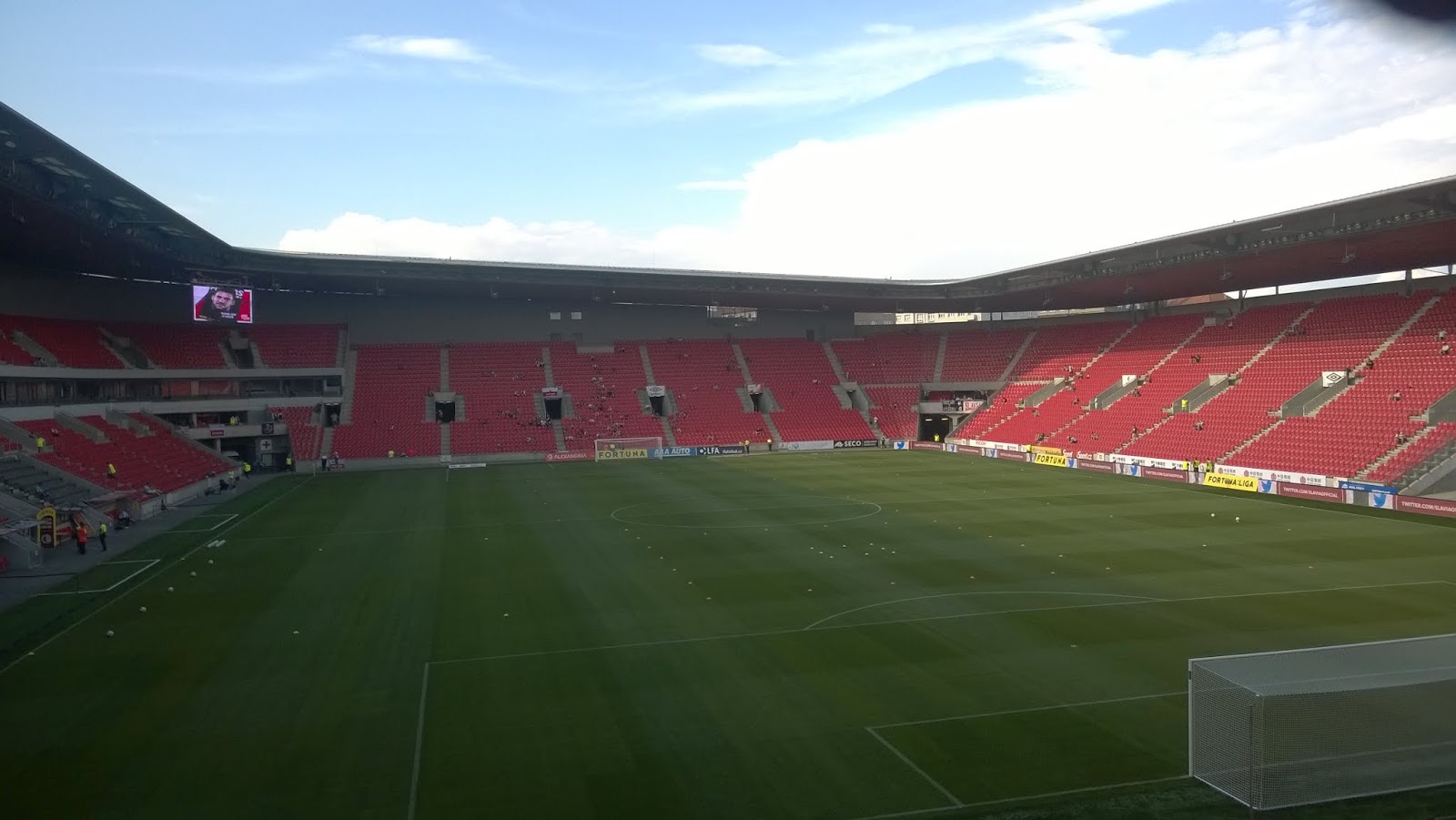 Let the build-up begin…
With two big screens, one in each corner, there is plenty of stuff to watch pre-match. I didn't realise that it's Slavia's 125th Anniversary this year so there is plenty of historical footage on the screens. Most of the writing/audio is naturally in 'foreign', but one thing that sticks out is several times the name 'John Madden' flashes up. Even one of the sides has a banner with the name on it. Hold-up, John Madden? The former American football commentator that put his name to that series of video games? Of course not, but that's what I first thought. Turns out that a Jock called John Madden was manger of Slavia for an amazing twenty five bloody years (1905-1930) way back when.
With the ground filling up, things begin to get intresting. The excitement builds so much that people are even bringing out their popcorn (the problems of modern football for you right here). Around me also it appears to be a bit of a couples area as several fellas have brought out their other halvess as well. What's funny is that it also seems that they are being chaperoned by the girl's mothers! There is also one or two English Stag Do's in attendance including one from I what seems like Birmingham. Judging by their accents and the fact that the groom-to-be is in not only sporting a green fairy dress but is also sporting a large Aston Villa tattoo on his back.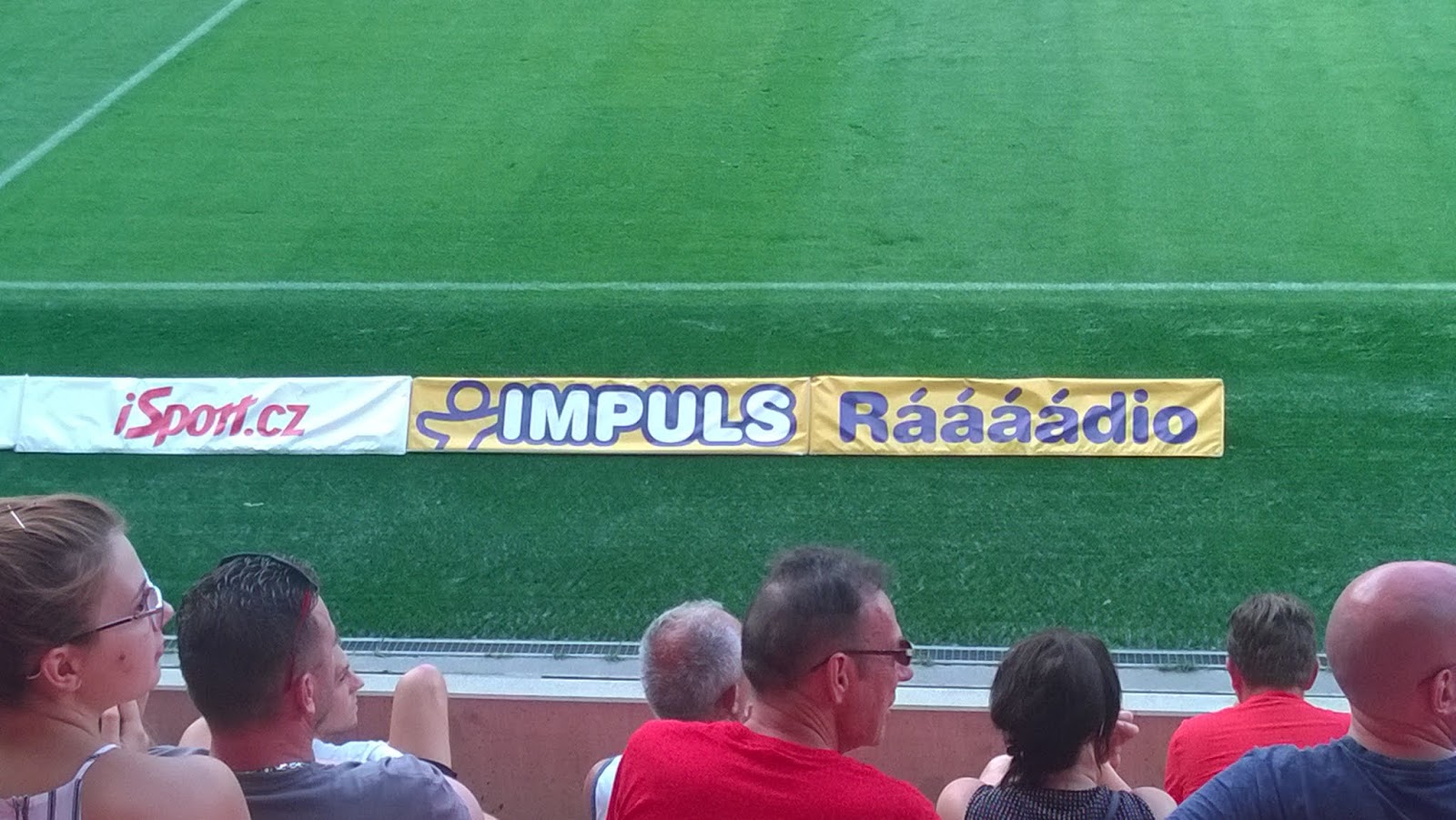 That's why I call it the Wireless…
Soon the players are out and the game begins. But not before there is a fella in the centre of the pitch, who whilst trying to evade the streams of water as the sprinklers are activated, he tries to announce the home team in a rather unique way as he appears to only know the Christian name and needs the help of the home faithful to tell him the rest. The problem is that he says it three times for every fuckin' player and by the time he reaches the midfielders, everyone is waiting for him to finish and fuck off.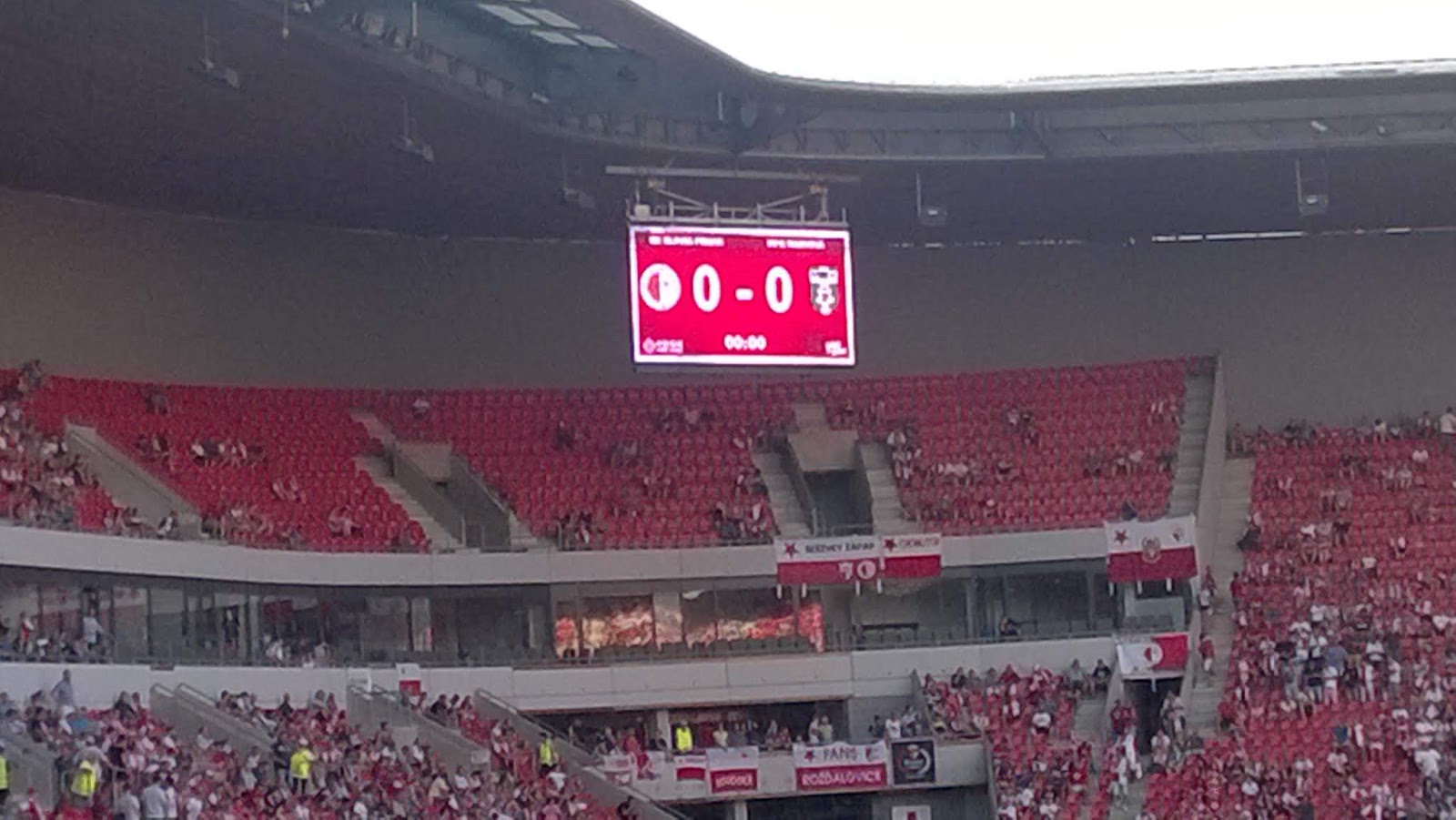 Right, let's get on with it…
Slavia Prague – Kolář, Coufal, Ngadeu, Deli, Bořil, Souček, Zmrhal, Hušbauer, Sýkora, Stoch, Škoda. Bench Warmers: Kovář, Tecl, Zelený, Kúdela, Baluta, Frydrych, Pokorný.


Slavia started out the game very lively and you could see that, like Scottish football, there are those at the top and those at the bottom. It seemed that it was only a matter of time before Slavia got their break. Summat like ten minutes in and some good work down the right had Slavia try and play the ball into the box and there's a coming together of players. The ref takes his time before blowing his whistle and pointing to the spot. For me it isn't a penalty (Clive), but for The Firm Leader it would be a nailed on spot kick no doubt. I know I'm 'old skool' but I think it needs to be a foul and not just some contact for it to be a penalty. And by foul I mean blood drawn. Or a limb lost. Anyway the Slavia talisman that is Captain Škoda (yes, really) takes responsibility and slots home a terrible penalty that on the replay shows how bad it was. What was the keeper doing? Still, this is the excuse for flares to go off in the home end. Only two mind you, but then again, it was a fuckin' shit penalty. Quickly enough there is a fireman there to put them out as a steward escorts out three fellas. Not bad lads, only twelve minutes into a match before you're ejected.
Once again the announcer had a problem saying the fellas name and repeats the first name three times and lets the crowd do the rest. I also got to see those silly goal GIFs of the player celebrating on the scoreboard. Which is shit, as it's bad enough on that bloody Twitter. Now with their backs up, Slavia went for the kill. Several times the poor Karviná keeper was called into action to save his shoddy defence with two flying saves that kept his team hanging on by a thread. Surely it was only a matter of time…
On the half four mark, Slavia finally doubled their lead. This time it was a short free-kick that came out to the right hand side and the cross was met by the head of non other than Škoda (I'm really not making this shit up), who then guided it into the back of the net. The crowd went wild and celebrate by waving their scarves around their heads. Afterwards, Slavia take their feet off the gas a bit and let Karviná have time on the ball. Their best chance was a cross deep into the Slavia box that came to the head of an unmarked Karviná player, but his header was high behind the goal. So 2-0 at the break then.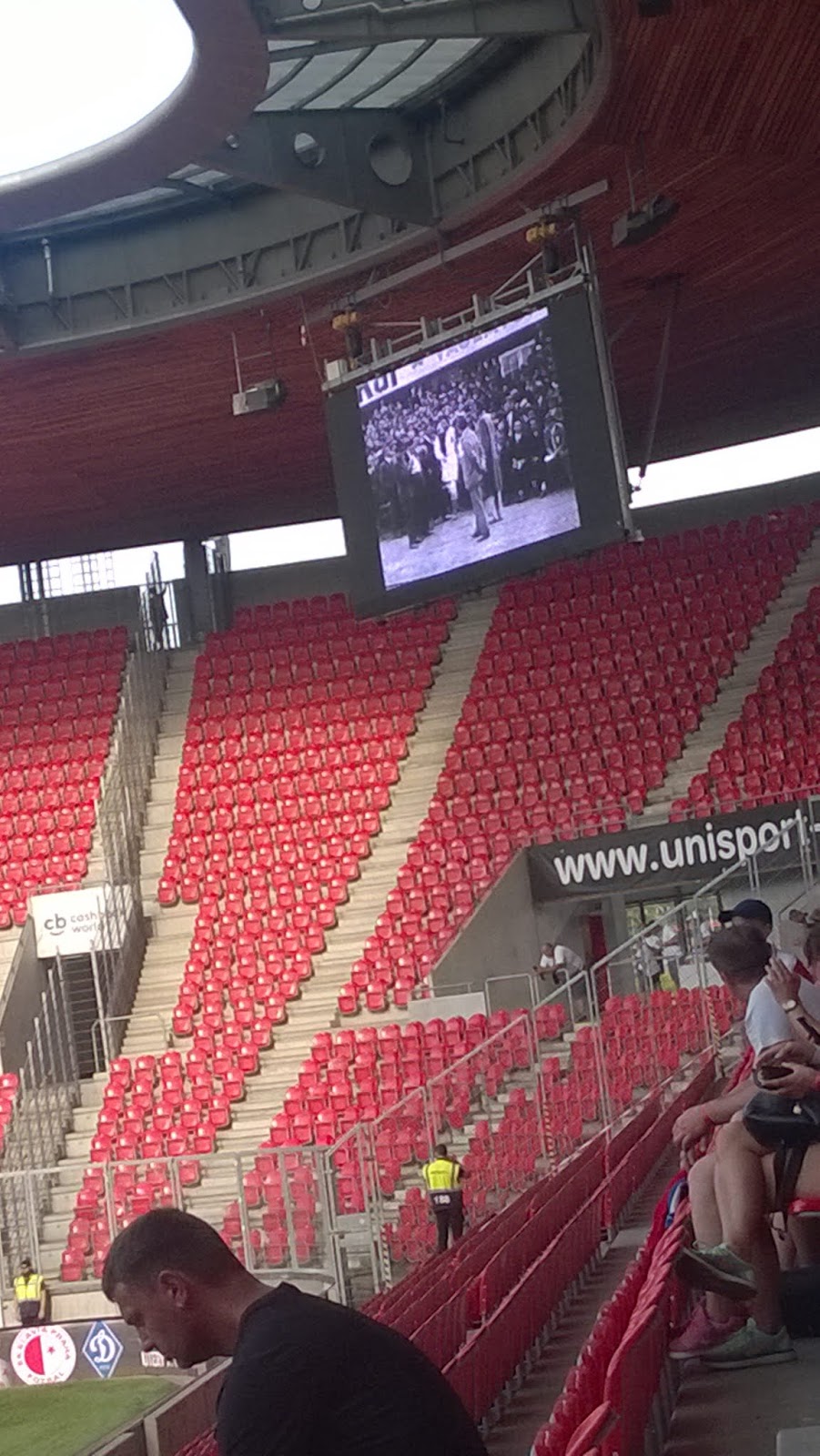 Away section…
At half-time I check the queue for food & drink and it's way too long for me and appears to be descending into something an Englishman would not like to be a part of. Bloody Europeans. Instead, I re-take my seat and soak in the atmosphere. The problem with this is that the sound system is bangin' out none other that Inner Circle's 1993 hit, Sweat (A La La LA LA Long). I also catch a sight of the fella in front of me who has purchased a hot dog. Except it doesn't look like one from back home does it?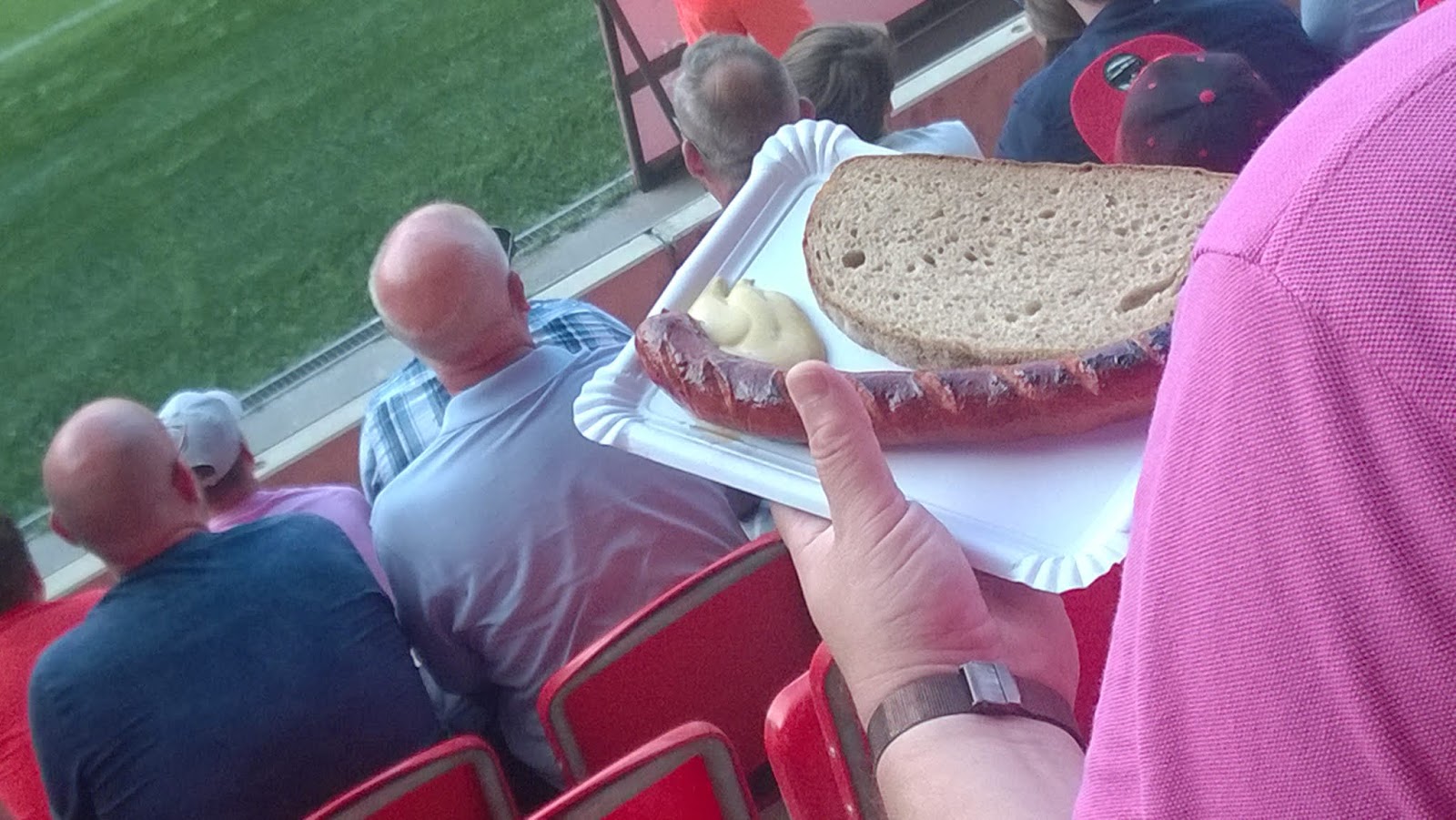 The Czechslovak Hot-dog…
Second half. And it's more of the same as Slavia try to step it up a gear. Having lost one player through injury, Karviná are forced into making another sub as a second player goes off injured. Once again the Karviná keeper is called in action to keep his team in it by excellently saving a one on one inside the six yard box. Slavia also miss a few chances with shots that go high and wide. Now the home fans are in full swing and we even get to see some sort of synchronised mobile phone light display from the far end. Impressive.
With twenty five minutes to go, it's Goodnight Karviná Vienna as Slavia kill the match. This time it's someone called Hušbauer who receives the ball outside the Karviná box. Whilst trying to find an opening he is pushed to the right -hand side of the area as several players try to tackle him. Then there is an opening and he cuts in and slots the ball home.
Substitutions are made and one of them, Baluta, comes up with the goods. Running onto a through ball he calmly slots it home to make it 4-0 to the hosts and pile on the misery for the away team. You can see why they only stayed out of relegation last season on goal difference. At this rate it might be goodbye Karviná already. At least their support kept on trying to encourage their team. Well I think they were trying to be encouraging, not speaking the lingo they could have all been calling 'em useless cunts not fit to wear the shirt for all I know.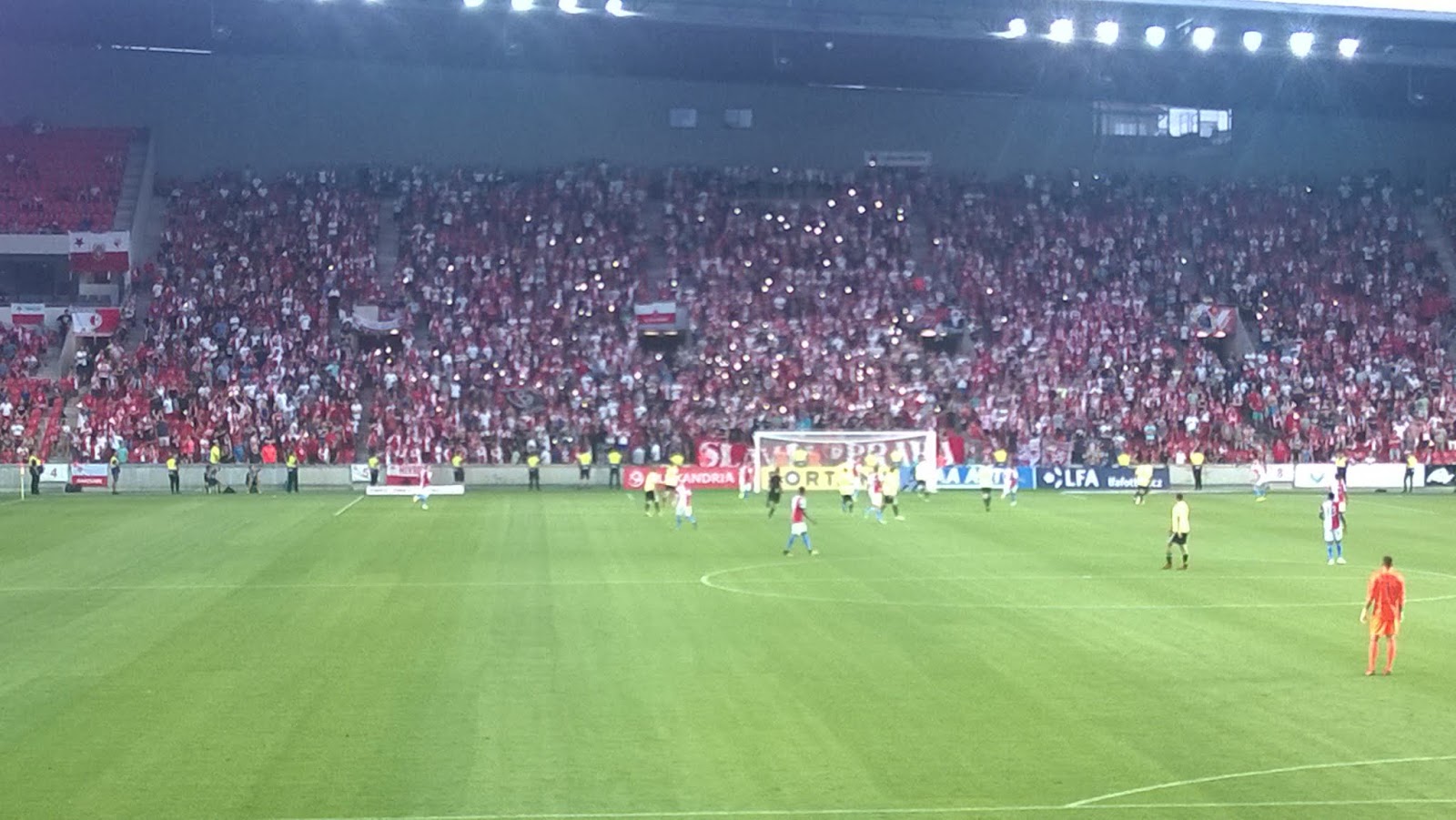 The Home massive…
After the match and plenty of people stick around. I'm not too sure if this is as regular thing, but the Slavia team then sit/kneel in front of the home support behind the goal and wait as the fans show I think their appreciation with a chant. They then walk round the pitch clapping the rest of the support. I don't think you could see that happening back the home. Especially after a defeat! Mainly as we'd have all long fucked off for a pint. Fair play to the Karviná players as they head off towards the twenty or so travelling faithful and proceed to shake as many hands as they could on the front row through the segregation fence. Reminds me a bit of the Barrow 9 from last season.
So now it was time to head off back to the centre of town and find out where the rest of the stag party was at. With plenty of people massing at the tram stop, I decided to head down to the stop before to beat the crowd and get a place. The tram arrives just as I get there, perfect timing for once, and I hop on. I also validate my ticket, which no one else seems to do. A mere twenty minutes later and I'm back where I started and getting ready for another night out on the tiles.
Well, so that's that then. Unfortunately I'm not allowed to give too much away from the rest of weekend (What goes on tour stays on tour and all that bollocks), so there is nothing left to do but drop in the trademark Gandermonium penalty video for your enjoyment, but don't worry, normal service will resume when we start our new campaign away at Harrogate this weekend. Obviously this is to be done properly with a two night bender in the offing. One day we'll learn, one day…
Duke
Att. 12,103