Having failed to set the Conference South world alight in the previous 5 months, there were signs of life towards the end of 2014 and we'd managed to win a few. Will this be the catalyst for one of our now customary post-Xmas charges up the table in the final third of the season? Will any of the crew find themselves miles from home and having to sleep on a station again? Why do we bother? You'll find out all this and more in this exciting final installment of our end of season review!
Maybe.
FEBRUARY
Having suddenly discovered we can actually play and score goals again, we pop to the tropical isle of Canvey to play Concord. Where we always draw 0-0. So it's no surprise that we again draw 0-0. We also lose new skipper Glen Southam for six games after he's sent off for an off the ball incident. It being his 2nd red on top of getting 10 bookings means a late season break for the midfielder. Chris Sessegnon is recalled by Ebssfleet and Billy Medlock is shipped out to Met Police for some game time.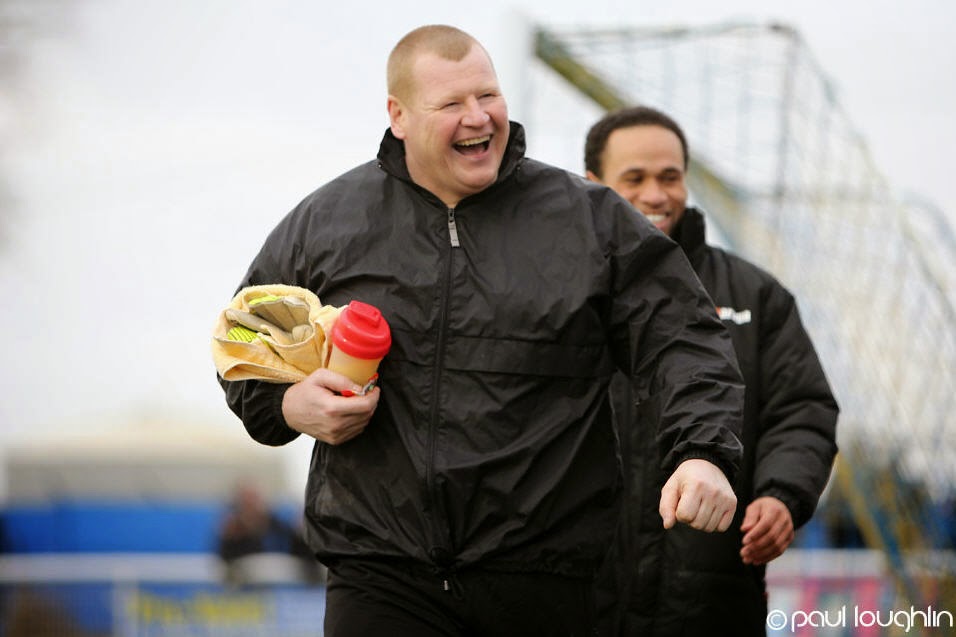 Guess who's back? Back again!
One surprise return to GGL is that of Wayne Shaw, banished after that incident before the Kingstonian Surrey Cup tie at ours last season. Having the portly stopper around once more certainly puts some much needed smiles on faces.
The draw seems to stutter our mini revival and normal service is resumed at home to Weston on for a Valentines 'Ladies Day' that some miserable cunt writes into the NLP to complain is 'sexist'. Dan Fitchett rounds off a bright start and shows why he'd been named Conf South Player of the Month by putting us ahead. Then it all goes wrong. A shit free-kick is given away and curled in to once more bring an opponent whose contribution to proceedings so far had been minimal at best, level. Then soon after they're streaking clear on the break to make it 2-1 and that's that. They pack the defence and despite our pressure, hold on for the win.
Another rare midweek trip takes us down to Gosport, where some of the crew get to enjoy the ferry over the harbour whilst other head down by car. You can probably guess what happened. Started well, 2-0 down to 2 chances, we pull one back via Scannell before we get caught pushing up in the last minute. Shaq immediately replies but there's no more time left (3-2) and that optimism we had last week is once more ebbing away fast.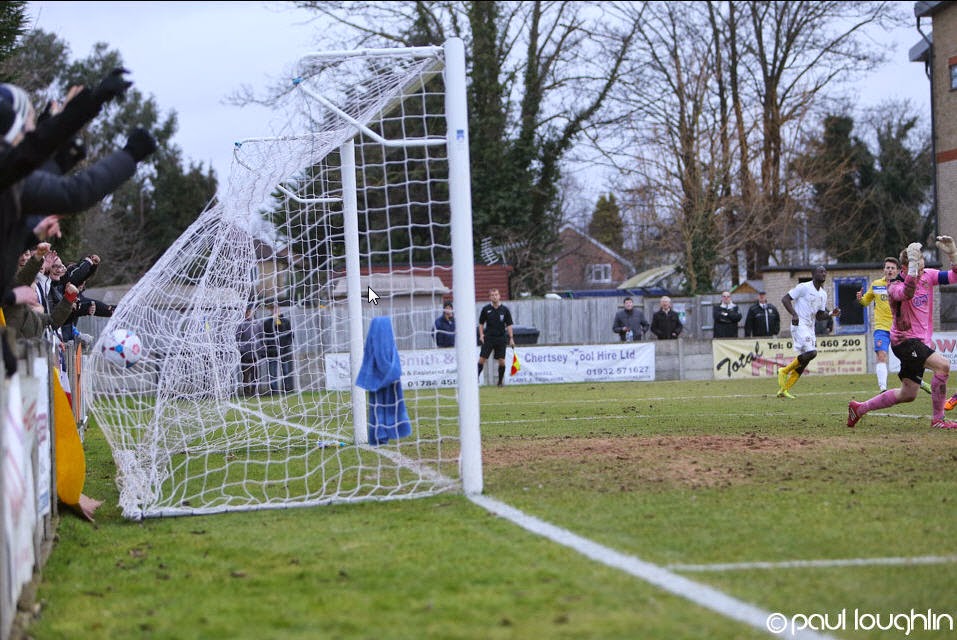 Wellard @ Staines. Voted Goal of the Season
Still, with a visit to rock bottom Staines to come, surely we'd restore some confidence right? RIGHT? A dire game follows that whilst we dominate, we make very hard work of. And it's not until with 3 minutes left that the hosts resistance is finally broken as Wellard does his little trick of cutting in along the 18 yard line and twatting it in (1-0), it gives us the 3pts but hardly convinces.
One amusing aside in February is the Kingstonian goalkeeper Rob Tolfrey doing 'a Shaw' at home to Bognor and leaping into the crowd at Full time to trade punches with an oppo fan. The irony of this given Wayne's return to Sutton this month isn't lost on any of us. The club also misses out on announcing some big developments for the summer when the home game with Bromley is rained off. We'll have to wait until the re-arranged tie to hear what's in store now. Bugger.
MARCH
We kick off the penultimate month of the season with the visit of current league leaders Bromley to GGL. Keen to show we're better than our position suggests, we set about them and dominate for an hour but with only Gomis' 1st half effort to separate us. Then, as per normal, we go and ruin things from nowhere. Howe flaps at a high ball and Slabber nods in the leveller before no one marks at a corner and the ball just hits Slabber again (2-1) to give the visitors the points.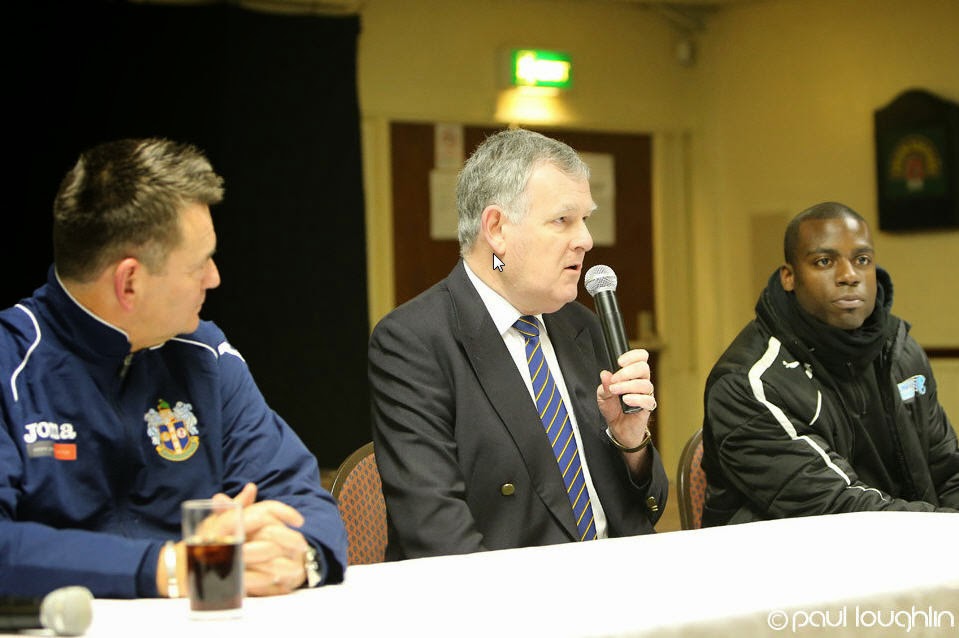 Dos, Bruce & Marvin do some announcin'
Afterwards, the big news is finally revealed. Firstly, we're to start a long overdue academy, run by ex-player Marvin Williams. Secondly, we're applying for planning permission to get a 3G artificial surface installed in time for next season and finally, there are 1000 season tickets being offered at the ridiculously low price of £99. So at least the evening ends on something of a positive note.
However, despite this attempt to boost morale, the Bromley defeat seems to take all the wind out of our sails and we proceed to turn in a shockingly poor performance at home against relegation threatened Hayes. Typically, their one chance goes in and we fail to make anything meaningful ourselves. Thus a rubbish 1-0 defeat is completed. A terrible game at Stortford follows, where the main entertainment is provided by the huge circus tent in their car park, giving us plenty of material. We have a couple of chances 1st half, nothing second & they hit the post. About as 0-0 a 0-0 as you're ever likely to see.
Any hopes of the side showing some life are dashed after just 52 seconds of the home game with Gosport. More shocking defending leads to the goal that the visitors never look likely to surrender, or extend to be fair (1-0). Suddenly, the positivity post-Bromley game seems a million miles away. In the bar after, Taz does little to raise spirits by failing to pull out the winning key for the the Strikers draw meaning he gets a paltry 50 quid instead of over 1900. Fuck off March, you're shit.
This picture perfectly sums up March. It stank.
Unsurprisingly, Dos gives a rather forthright assessment after the Gosport game. No one in the squad is safe & everyone's place is now under consideration. Sadly, this warning does little to nudge the team into action and after a fairly bright first few minutes away to Eastbourne, a rubbish penalty is conceded and again, that one goal is all that's required for a distinctly average host to claim all 3pts with another 1-0 to close out a rather miserable month. Naturally, the gang manage to entertain themselves with discussions on their favourite Blue Peter presenters, copious amounts of beer after and someone missing the train home.
To boost our own morale a bit, we decide to book a post-season cultural tour to Berlin for beer & football.
APRIL
Whilst we're really quite glad to see the back of March, we're not exactly hopeful April will be any better. Still, we won't get a better chance to end that awful run than against Chelmsford at GGL, a side currently in form almost as shocking as our own. A vastly improved showing at least gives some hope, but with a 0-0 looking nailed on, Kev Amankwaah pops up with a 93rd minute winner (1-0). The relief around the Borough's Premier sporting venue is palpable. After, Taz's syndicate is pulled out of the bag again in the Strikers draw. This time he leaves the duty to Belly who successfully bags the £2150 on offer. Everyone gets bought a drink and then the crew go out to a Conference South drink up in Waterloo to get utterly steaming to celebrate.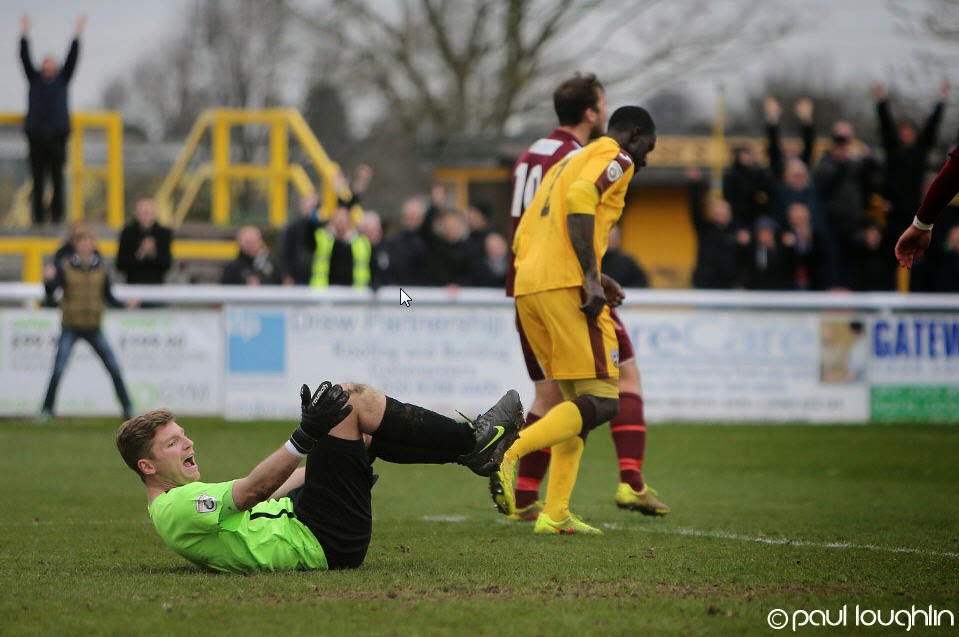 WE SCORE! WE WIN!!
Elsewhere in the Borough, our near neighbours announce a completely ground breaking and totally unique offer for 1000 cheap season tickets. Over at GGL we curse our luck that we're not as forward thinking as them before we remember we'd actually announced our own cheap ST deal a month ago. Wonder where they got that fucking idea from eh?
Easter Monday for most people is lazing about eating chocolate. We instead go to Boreham Wood via Farringdon (which is for drinking purposes and not to knock off Safety Deposit Boxes in nearby Hatton Garden. With Taz's safe opening record, we'd still be there) and again after a bright start go behind to virtually the title challengers first chance. We have opportunities, but go down 2-0 when a blistering 2nd half free-kick rounds things off. The trip to 2nd place Wood is followed by the visit of 3rd placed Basingstoke. Hopes of a result aren't high, but a bizarre 1st half goal gives us the lead before a soft pen (really? surely not!) allows the visitors to level. And again it looks likely to be a draw until we once more pounce at the death with Shaun Cooper nodding in a loose ball to snatch a welcome and surprise 2-1 win!
The penultimate match of this somewhat forgettable season is away to Bath. Which at least has the benefits of being a pretty bloody good piss up.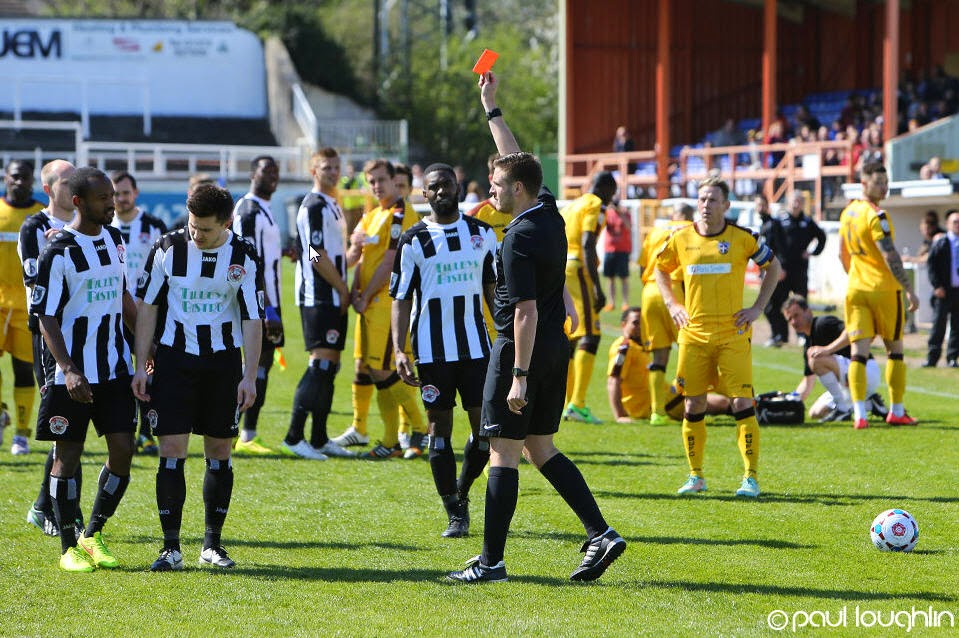 Fastest red we've ever seen!
We're not expecting much from the game between two sides with nothing to play for, but the hosts give us a leg up with a ridiculously quick red card after just 18 seconds! Spillane loops one in to put us ahead midway through the half and having weathered a 2nd half comeback, Fitchett trundles in a second to seal the points near the end (2-0). We then head back to the pub. One more to go!
Elsewhere, just the 2 months or so after the incident and a good 6 weeks after clearing Bognor of any wrongdoing, the FA hits K's Rob Tolfrey with a 7 match ban for his 'Wayne Shaw' style episode. By some coincidence, this comes right after they can no longer make the play-offs. What are the odds eh? Sadly, Tolfrey requests a private hearing, so no one is any the wiser as to why he went batshit mental in the first place.
The last day sees the Maidenhead last day fancy dress tradition return to the place it all started. Rumours that Carshalton will be hosting Maidenhead for a fancy dress day in pre-season prove unfounded. GGL is also abuzz with the news that the U's are off to Jersey in pre-season, which quite frankly is a fucking ridiculous idea if you ask us. Thankfully, no one is asking us, so we'll just shut up & fly out there in July to get tanked up. Bedsente Gomis (deservedly in our opinion) gets the Supporters PotY award before a rather forgettable 90 minutes that sees Binnsy fire us ahead early doors only for us to fade and lose 2-1 to a customarily late and scrappy goal. The fact this is the 9th time we've lead at home this season and not won tells you all you need to know about the campaign. The defeat means we finish 15th, just the 10 places and 20pts off the playoffs.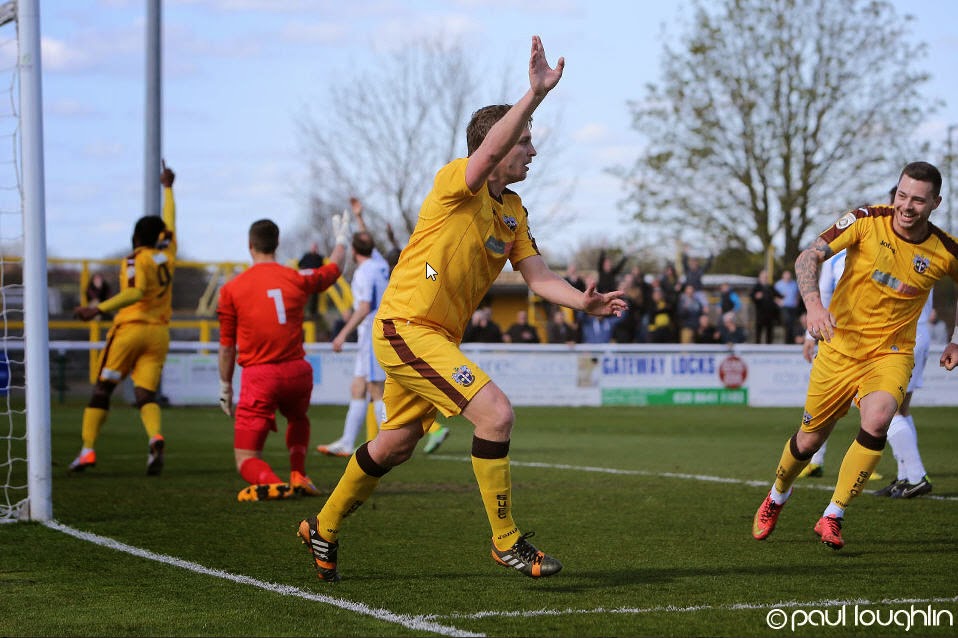 Yep, that was me. I did that.
So near and yet so far.
Afterwards, Dos & Bruce host another short Q&A to let us know that Sutton Common Rovers are moving back to the borough and will be sharing at GGL, along with their juniors setup. Also AFC Wimbledon ladies will be using the new pitch and a women's team of our own is due to start up. It seems it's all go round here!
League wise, Bromley see off Borehamwood to take the Conference South title, then Wood beat Havant and Whitehawk sneak past Basingstoke in the playoffs to set up a WoodWhitehawk final. This is a tense affair and goes to extra-time before Wood snatch victory and a first visit to Conference National football. Elsewhere in the Southern League, Corby snatch the title in the last minute of the last day but as they'll probably go North so it seems we may get Lowestoft andor Oxford City moving across. We also see the return of Truro after they get past St Neots in the SL play off final. Coming down from the National, Dartford are the only real Southern victims and return for sure this time after a reprieve last year.
Typically, it's the Ryman grabbing the headlines again with more last minute rule fuckwittery where Enfield Town are barred from the play offs after a late 3pt deduction for something that happened at Xmas. With all the appeals, their play-off games don't even kick off until Thursday 14th nearly FOUR weeks after the end of the season! Enfield's appeals fail, so Met Plod take their place and subsequently lose their semi-final to Hendon, presumably because their team have already been in Ibiza for 10 days living on Stella and chips. Breathing a sigh of relief they're not involved in all that old bollocks are Maidstone, who are promoted as Champions. In the Ryman Play-off final, Margate see off Hendon 1-0 at Harrow.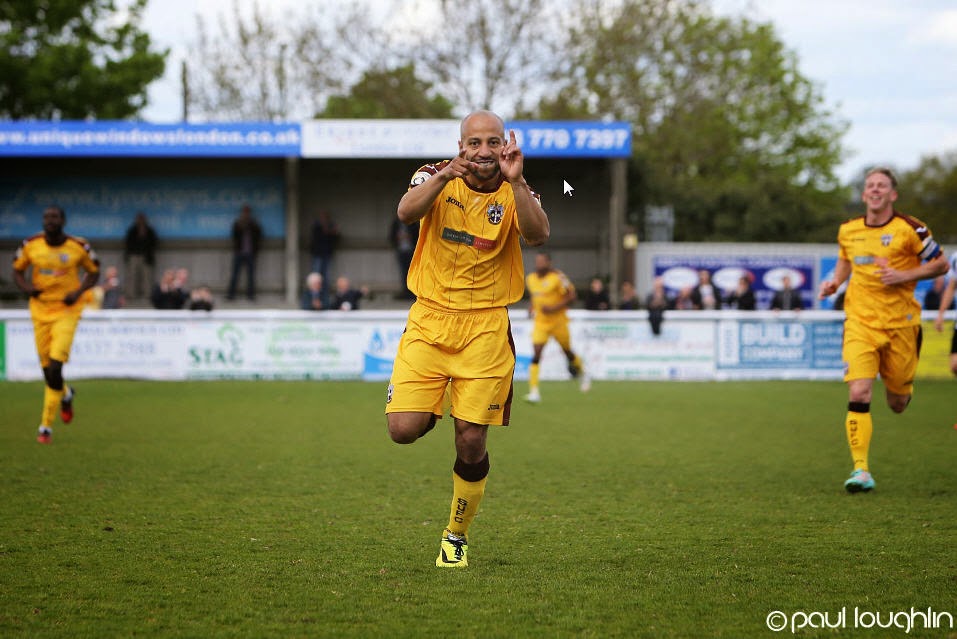 Binnsy does 'The Binnsy' one last time. Ta'ra fella.
Ok, that's your lot. The season is dead and we've got to go and urgently polish up on our Deutsch. Next stop for us is Berlin, for bier, fussball und wurst. See you next season.
Auf wiedersehn!
Our thanks as always go to the absolute gent that is Paul Loughlin for letting us nick his pictures so as to lend a small air of professionalism to this nonsense! Check out his vast library of work HERE.